Hosting a wedding can be an overwhelming affair! With the long list of things to do on your big day, planning the rehearsal dinner might just take a back seat. But your rehearsal dinner does not have to be the typical formal setup. You can skip that and plan something lighthearted instead to ease the tension before the big day arrives.
This casual start is the perfect way to begin your wedding weekend, making it easier for your friends and family to mix and mingle. With lots of delicious food and fun touches, these ideas for rehearsal dinner will perfectly complement your nuptials. Try pulling off a memorable evening so that your guests leave craving more. Following the suggestions below and checking out the characteristics of a good host recommended by the Tahona Society will help you throw the best rehearsal dinner ever.
Treasure The Family Shenanigans In All Its Glory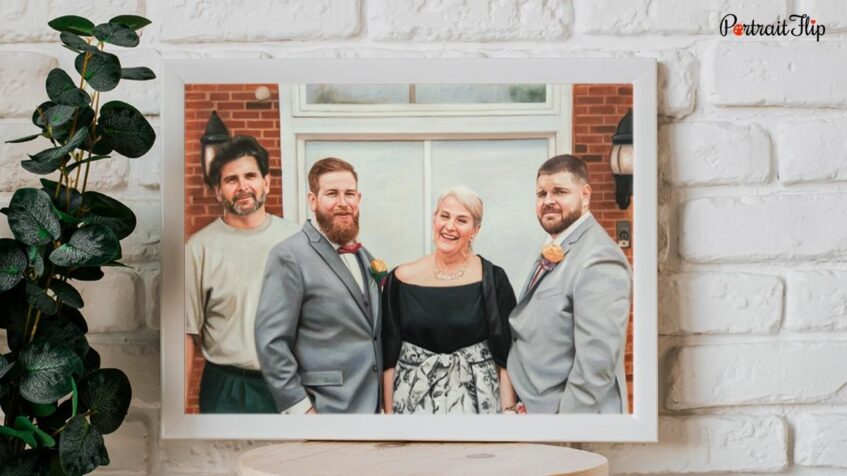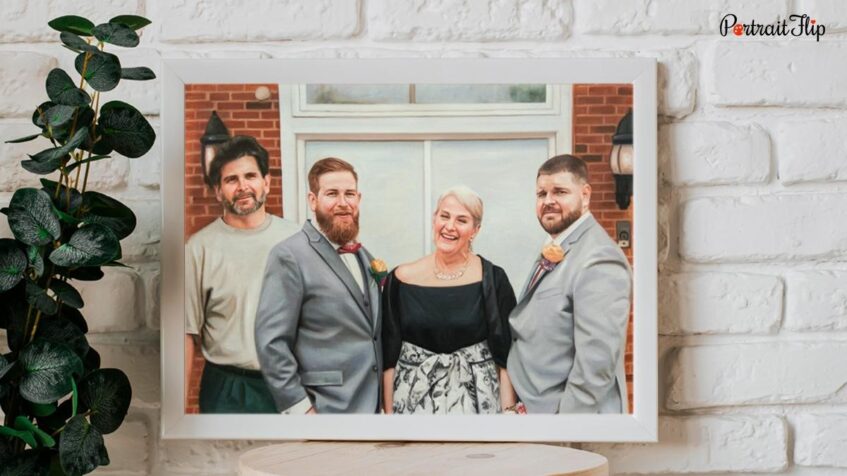 Wedding time calls for the perfect get-together with family and friends. Hosting a wedding rehearsal dinner as an informal affair gives you the chance to spend time with the people that matter to you most in the world. A rehearsal dinner is a perfect occasion to invite all of your nearest and dearest family and best friends. It's an occasion when toasts and conversation flow, and pre-wedding jitters almost disappear.
The endless night was filled with laughter, tears of joy, sadness, and all kinds of emotions. That very moment when everyone close to your heart is celebrating your happiness together—wouldn't you want to freeze that moment forever? Did you even know that was possible? Yes, you heard that right; you can now cherish your favorite moments forever with custom family portraits from photos.
The best part about paintings is that you can memorialize that moment for generations to come. A custom painting of your rehearsal dinner will be the best way to remember that special night. After all, the time spent with family and friends is worth every second, every minute, and every hour.
Have an Outing-Style Setup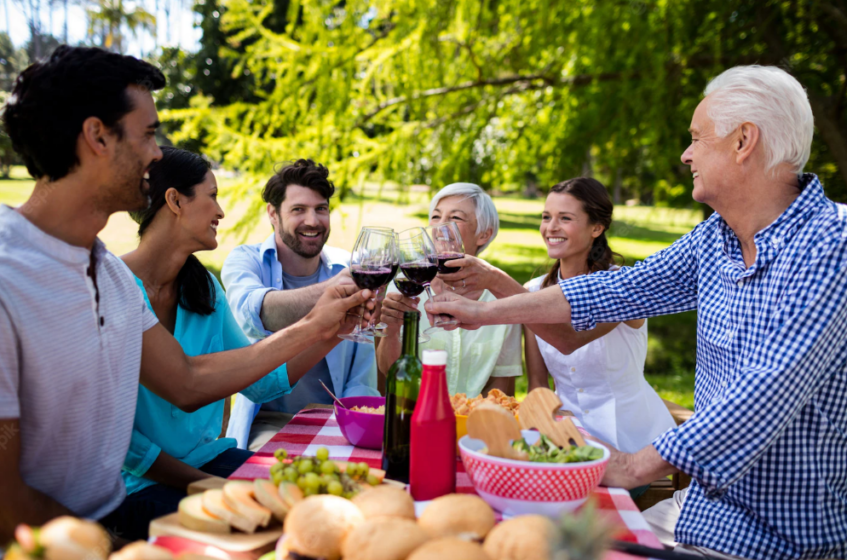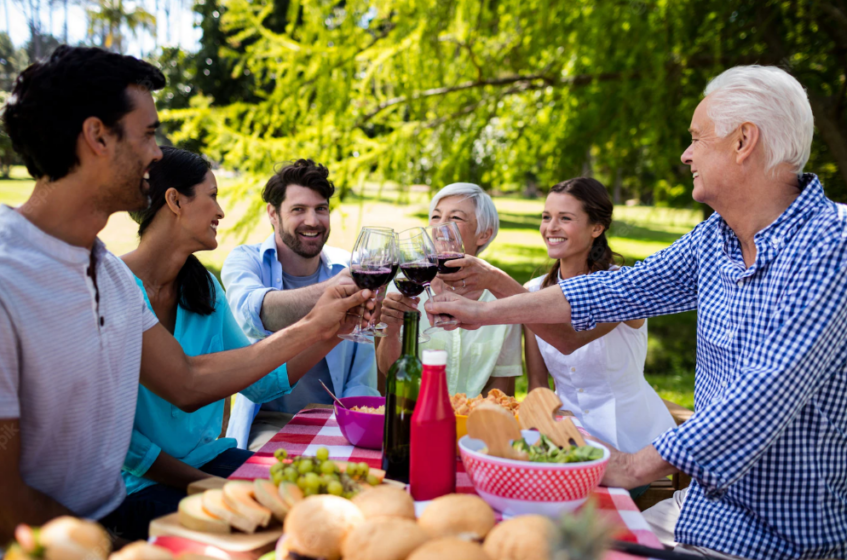 Wouldn't you want the night before your wedding to be something relaxed and fun? If you are planning a summer wedding, then one of the coolest ideas for rehearsal dinner is to have a picnic-themed rehearsal dinner. It's a chance to celebrate the night before the main day on a more intimate level, making it more lighthearted and easy-going. Nobody can ever shy away from a good picnic, so it's a great excuse to get outside!
One of the best locations to host a picnic rehearsal dinner could be a park with a pavilion. It will generally have easy access and close parking for unloading all your picnic essentials. You don't have to worry about the weather with a covered area and picnic tables. The park will be the best choice if you have kids coming in for the rehearsal dinner, as it will keep them entertained.
If you want to have a minimalistic and intimate affair, then a picnic in your backyard would be your answer. The best part about having it at your home is that you can even cut down on the average rehearsal dinner cost. You can comfortably host a rehearsal dinner with a smaller group of guests in your backyard and have a little BBQ set up, yard games, and a bonfire.
Your wedding night is going to be a fancy affair, so make the rehearsal dinner a lot more homey and laid-back!
Create an Experience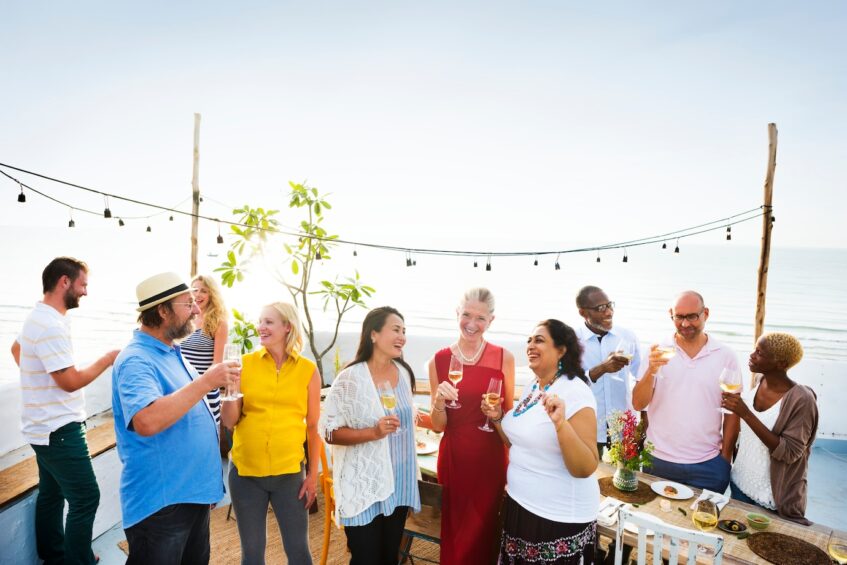 A fun day with family and friends can never go wrong! This idea is perfect if you have a day or two between your rehearsal dinner and wedding day. Take advantage of the area if your wedding is going to take place in a picturesque location. Look for a focal point in your rehearsal dinner venue, such as a water body. You can charter a yacht, or even hire a riverboat cruise to host a cocktail hour on board where guests soak in the gorgeous sights. Finding a location will be easier if you are hosting a destination wedding, as you will have a lot of options for sightseeing. Creating experiences like this will be the best way to add those extra memories and pictures to your wedding album.
You can choose from a range of experiences like playing lawn games, wine tasting, screening your favorite movie under the stars, having a guest chef cook a special meal for the guests, or having a wedding portrait artist capture those special moments for you.
A surprise exertion like this one can help you make your guests comfortable with each other and make them feel special. This is one of the most unique ideas for a rehearsal dinner that will encourage conversation and create great excitement for the wedding day ahead.
Try out different cuisines, as your rehearsal dinner has to be memorable and enjoyable. Most couples expect their rehearsal dinner to be more casual than their wedding. However, it's time to explore new delicacies and menus and have them at the buffet.
Get Creative With the Food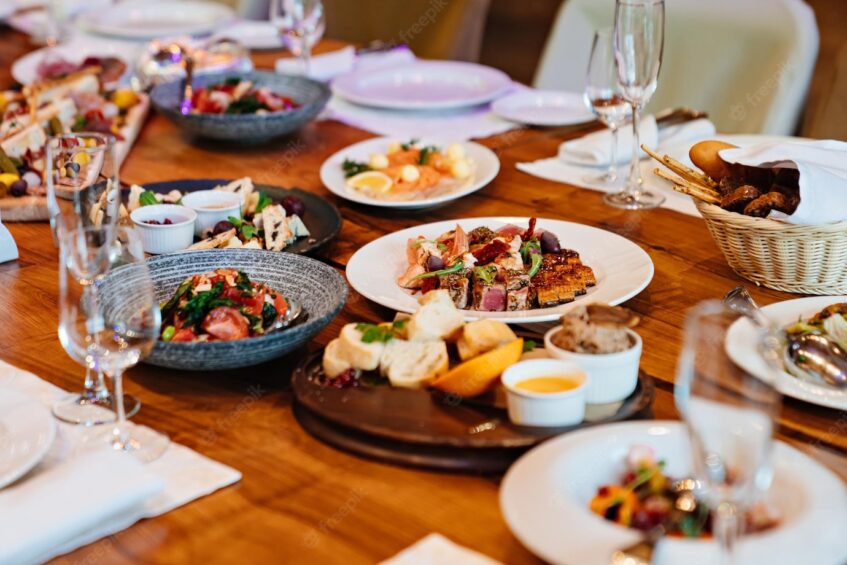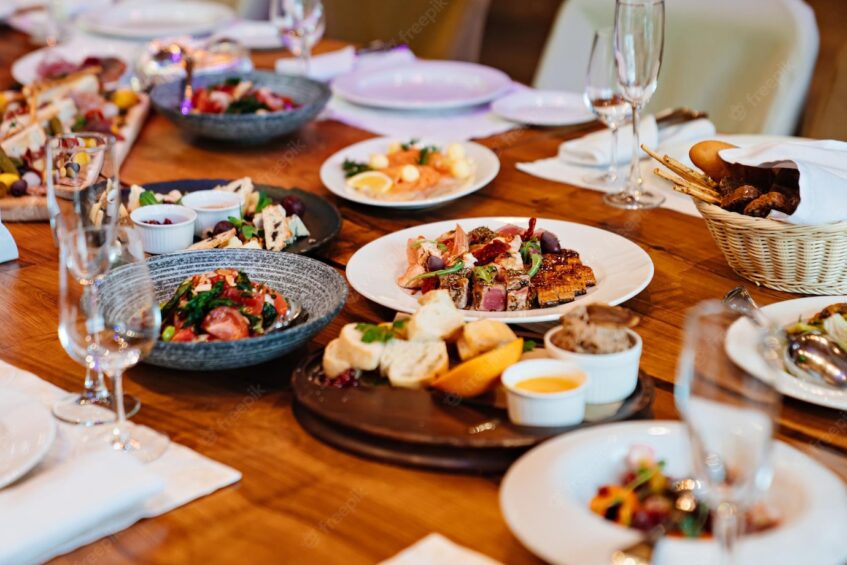 There are plenty of things to consider before planning a rehearsal dinner menu. Starting from the venue of the party to the number of people invited at that time, everything comes into play when choosing what's being served.
Always make sure to consider what both you and your entourage would enjoy and incorporate those delicacies into your menu. When you're shortlisting rehearsal dinner menu items, make sure the food considers the whole meal from a visual perspective. Well-presented food not only satisfies the tummy but also the soul. Trust me, these rehearsal dinner menu ideas are definitely going to get a lot of that extra attention.
What better way to kick things off for D-day than to treat your tribe to a theme party? Your rehearsal dinner should always reflect your personality as a couple. Get motivated by family history, the films you love, or even your rehearsal dinner venue. From a classic Hollywood night to a tropical luau on the beach, the sky's the limit if you opt for a theme party.
If you are a couple with different tastes, then make sure your theme has a piece of both of you. If you are a bride who loves all things retro while your groom has an English heritage, then you can opt for a mod party channeling London in the '60s. If you both enjoy some country music and BBQ, why not have a good BBQ night? Pro tip: Do not forget to align your ideas for rehearsal dinner decorations with your chosen theme.
Tie It All Up With A Theme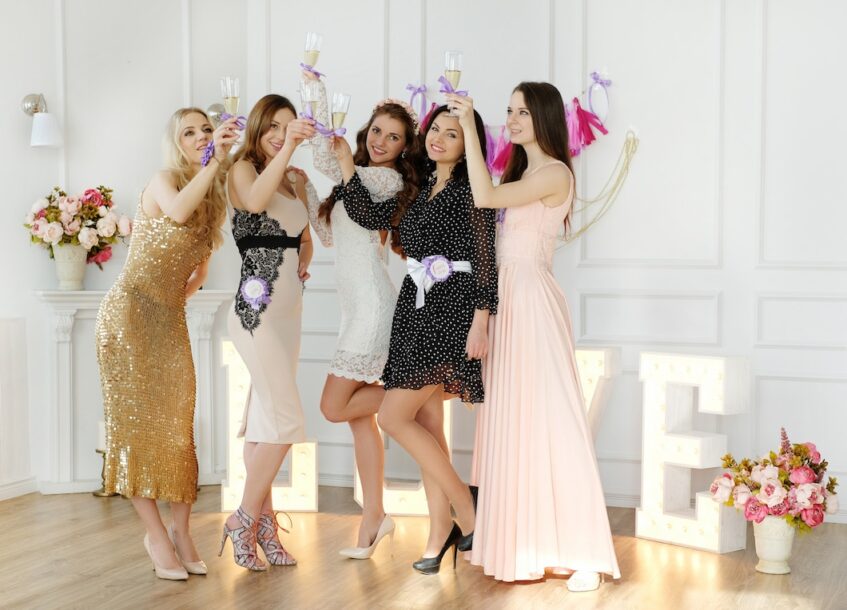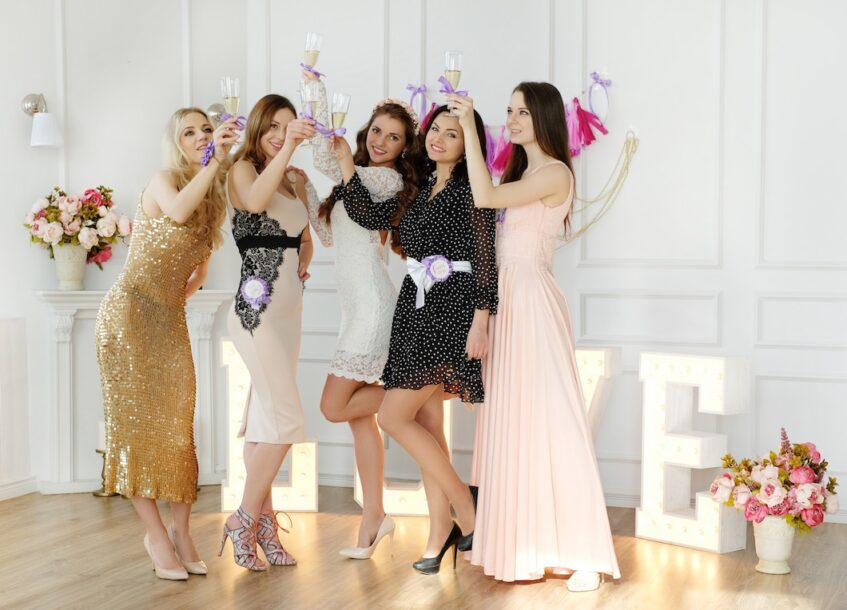 Add in that extra effort and coordinate your outfits based on the theme you have chosen. Whether you're having your wedding at a simple backyard function or a formal black-tie affair, your theme is going to tie it all together.
Ending Note
For couples across the globe, rehearsal dinners have turned into full-blown events. But, you don't have to stress out about panning all of it by yourself. Be it the expenses of the rehearsal dinner, venue, or food, make sure you delegate tasks among friends and family and turn them into the celebratory bash of your dreams.
I hope you found these ideas for rehearsal dinner useful; do let us know which one would be your favorite pick from the list. Also, let us know in the comments about your rehearsal dinner experiences and how you went about it all. Finally, if it's the last few hours before your D-day, make sure these ideas are going to make it count!