Diamonds will always be an important part of designer jewelry and high fashion. However, the right cut can make a big difference. The Asscher cut diamond made a huge impact on the fashion world in 1902 and has remained popular ever since.
Today, consumers can search for best deals and buy from Rare Carat to take home a designer-level stone to be proud of. So who designed the Asscher cut, why is it still a popular design choice today, and how can the everyday consumer get hold of them?
From The Asscher Diamond Company To Modern Designers.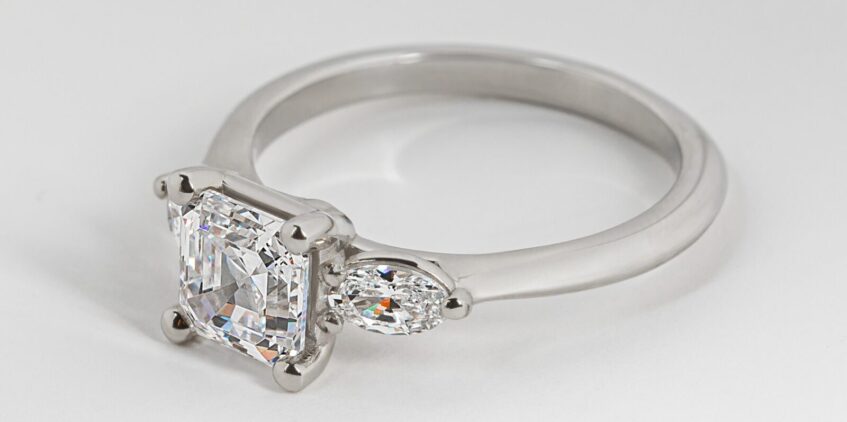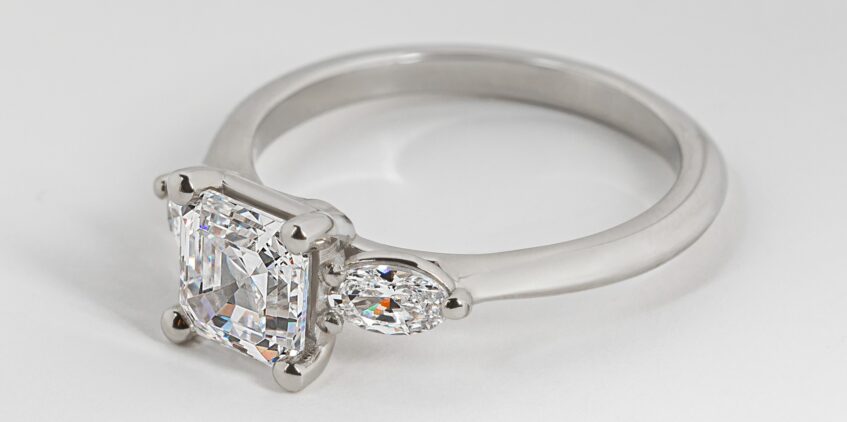 The Asscher cut diamond has been an important part of the diamond industry since its creation by I J Asscher Diamond Company in 1902. It was actually the first patented diamond cut, which means that no matter which designer uses the cut and the stones, his name will always be attached. The design is characterized by the large step facets and high crown that add even more drama to this square stone.
In the early 20th century, it became popular with arts and crafts and art nouveau designers as the hot new trend. Almost a century later, his descendants Edward and Joop developed the Royal Asscher cut to adapt the style further and add more facets.
Today, modern designers can take these stunning gems and use them in all kinds of statement pieces. They are perfect for engagement jewelry and anniversary pieces, but also for red carpet events.
How Do Asscher Cut Diamonds Compare To Other Shapes?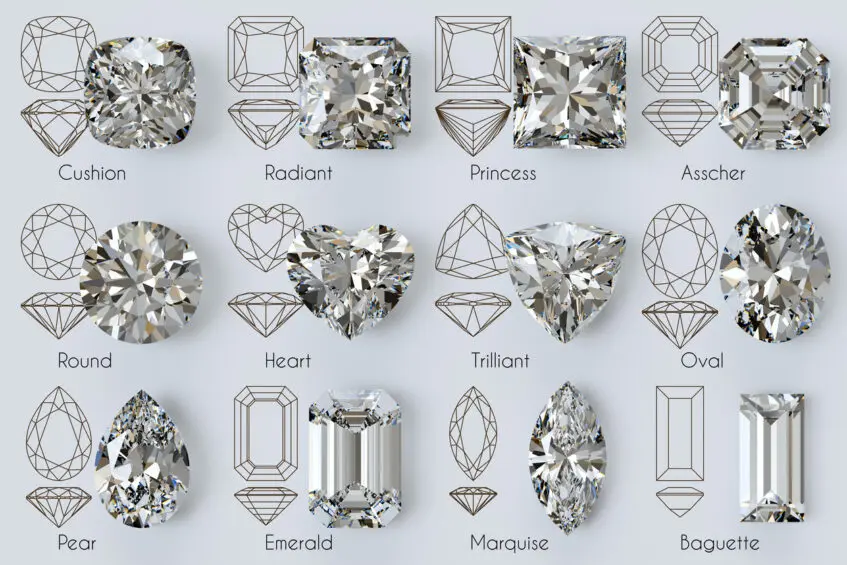 One of the great things about the modern diamond market is that designers have so many options to work with. The strong shape and cuts of this Asscher stone have an elegance similar to the emerald and an angular feel close to the princess cut. They are far removed from the more feminine round brilliant diamonds of the sparkling radiant cut.
Clarity And Carat In The Best Asscher Cut Diamond Rings.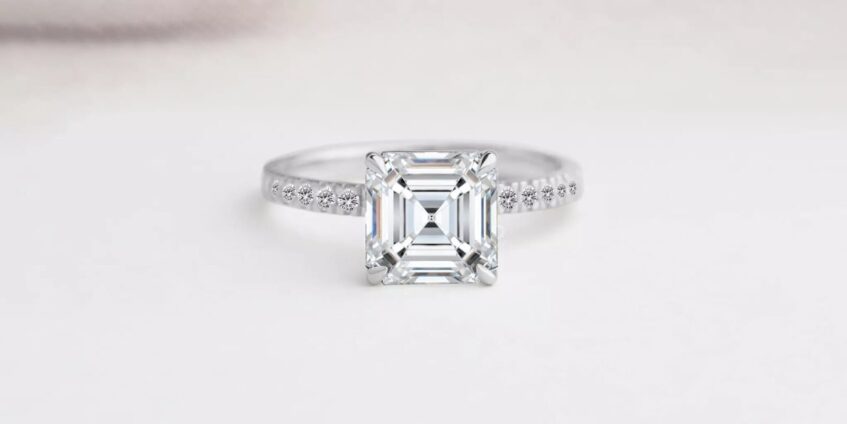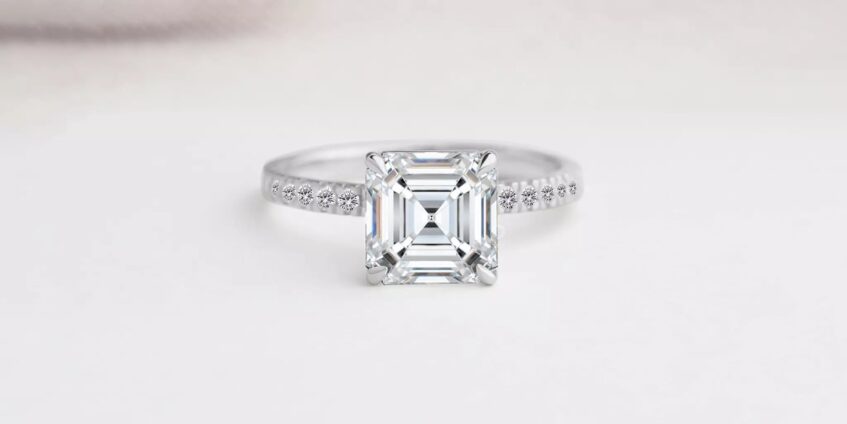 The clean lines and precise cuts on these Asscher diamonds are perfect for the clearest and most colorless diamonds possible. Stones with a more randomized effect like the radiant cut are better for those with inclusions and other imperfections. Clarity and color both work on a standardized scale, both of which consumers can learn more about at Rare Carat.
Clarity runs from the flawless to the included stones, with variations in between. Color is graded by letter, with D-F being colorless and those at the other end showing faint yellow tones.
Fancy Colored Lab-grown Asscher Cut Diamonds For An Ethical Twist.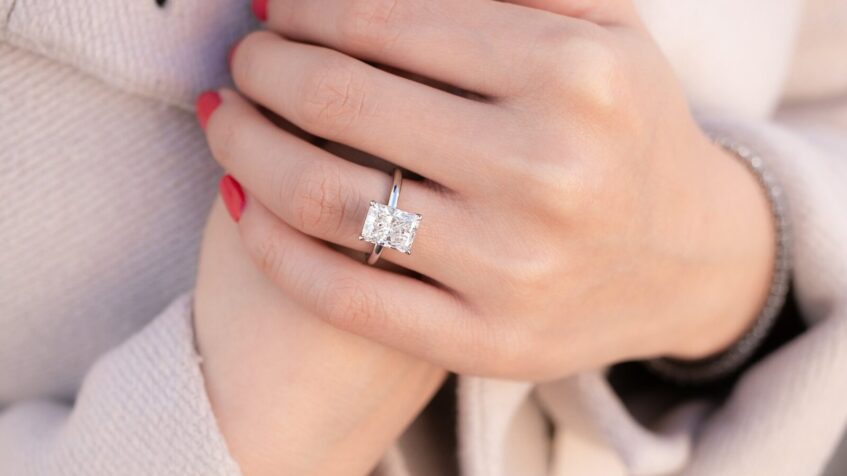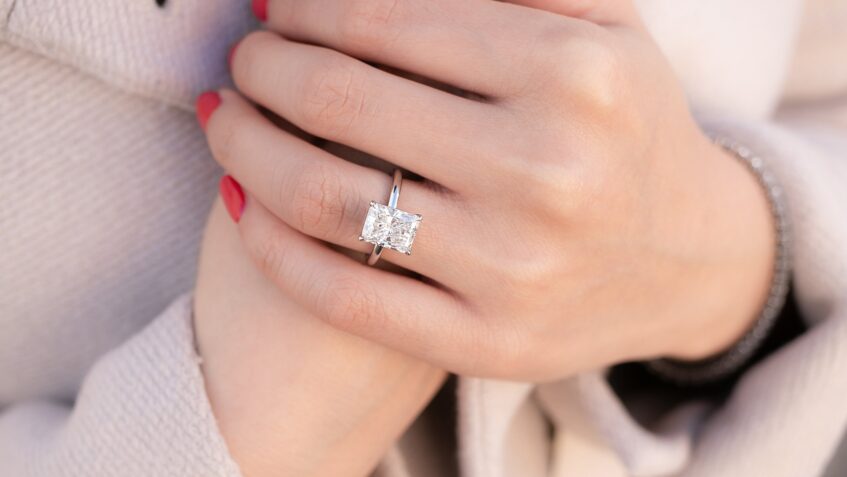 What's great about this designer Asscher cut stones is that they can evolve with modern trends. Celebrities can show that they have a conscience by deliberately turning away from mined stones and favouring lab-created diamonds instead. 
Lab-grown diamonds look just the same as mined eye-clean stones and have the same structure and quality. They are perfect for bespoke pieces too as labs can create stones based on trends, such as going larger at 4 carats, adding fluorescence, or going for fancy-colored options. These really make a statement at a high-end event.
Search For Best Deals On Asscher Cut Diamonds At Rare Carat.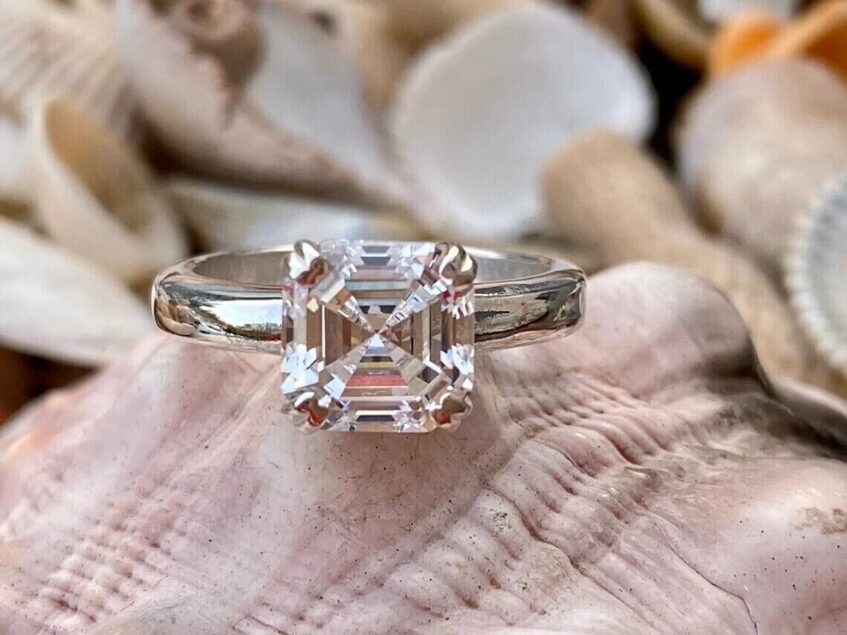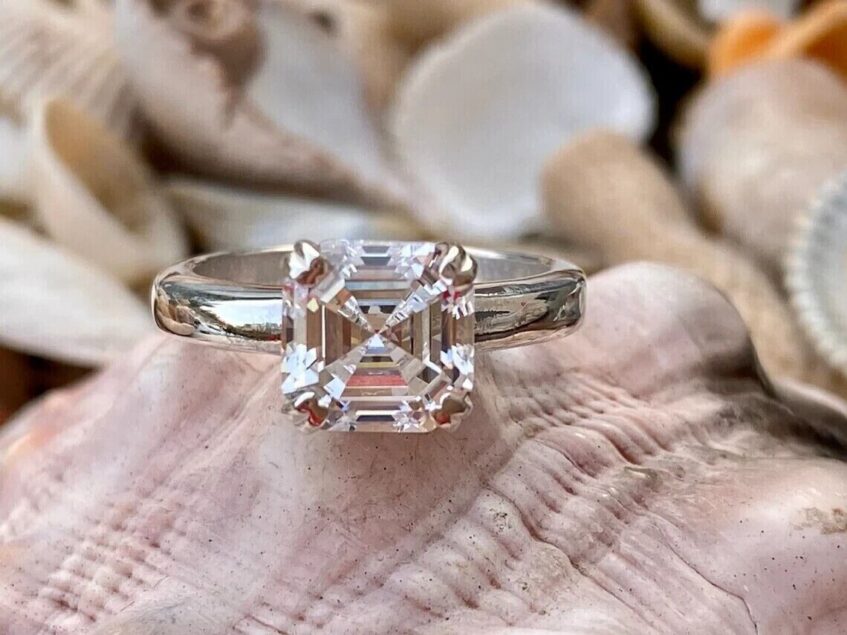 The best way for anyone to find the perfect Asscher cut diamond, designer, fiancee, or otherwise, is through Rare Carat. This user-friendly online marketplace has a great reputation for quality and customer service with a 4.9/5 Google rating. People get a wide choice when they buy from Rare Carat, with a sliding scale on color, clarity, fluorescence, and more.
Once they narrow down their preferences, they get matched with high-quality stones, and they receive detailed reports on each diamond before making a final decision. This all means that buyers get these stunning Asscher diamonds, fit for designer rings, at the ideal price.
It is easy to see why this elegant and timeless diamond is such a popular choice for designer jewelry. Jewelers are sure to create extravagant pieces for centuries to come with modern lab-grown options in all kinds of variants and styles. Still, it is comforting for consumers to know they don't have to pay a designer price tag when they buy from Rare Carat.