Wedding season will soon be coming to an end. With the autumn season now in full swing, it won't be long until the snow starts to fall! Winter weddings are gorgeous, so even though it's not the peak of wedding season, consider doing a snowy ski wedding! If you're in the midst of planning your special day, you've likely been considering the time of year, and big-ticket items like color scheme and venue. But you may also be tackling the idea of whether to have a live band play versus hiring a DJ for your music.
So which one is better? There are a lot of factors that go into deciding this, but ultimately you have to remember that since this is your wedding, that this decision is yours and your partner's alone. Every couple is different. But don't let others influence your decisions with their preferences because this is the one time you get to be selfish and do things the way that you want to!
WHY IS MUSIC IMPORTANT?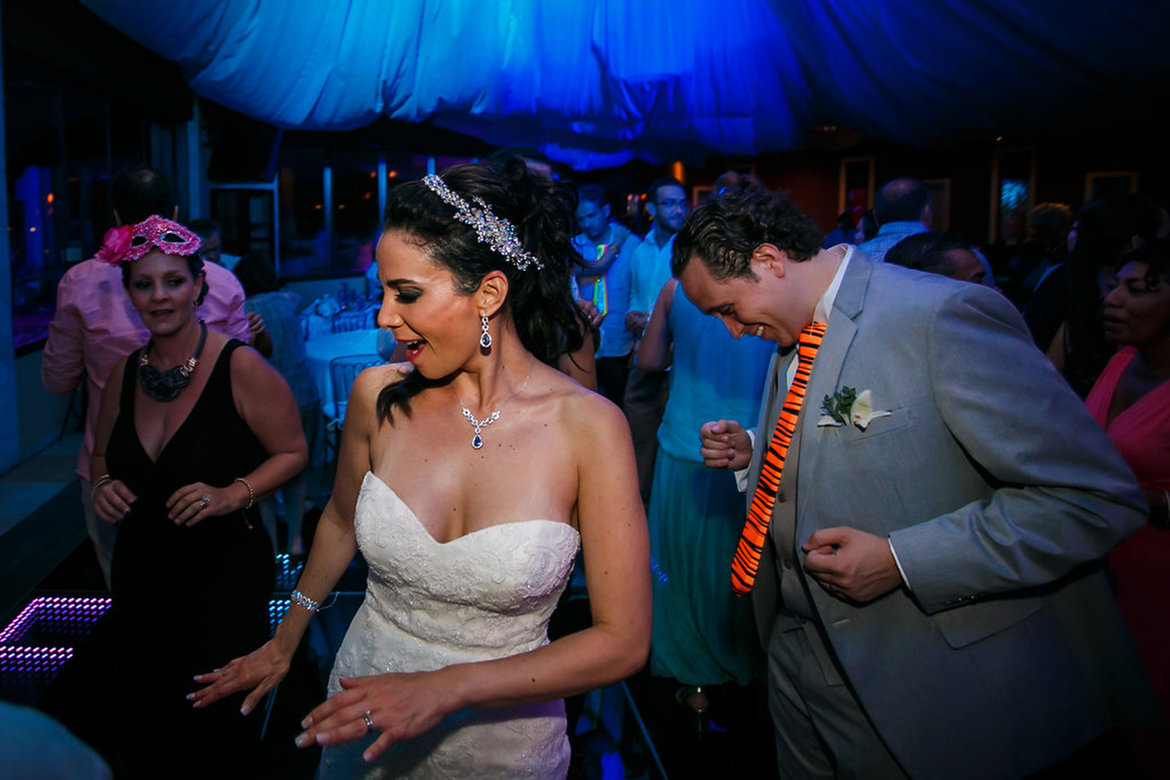 The truth is, music is one of the most important parts of a wedding. The reception is what your guests will remember and look forward to the most. They want to enjoy some food and have a good time. According to Adam Michaels from Around Town Entertainment, "the dance floor is the ultimate place to be during a wedding, and it's essential to get your music right on your special day. The goal of most couples is to have that type of wedding with high spirits and a packed dance floor all night long." You want to have a wedding where everyone talks about how wonderful it was and what a great time they had, so the music should be on point!
So, let's break down all of the pros and cons to having either a live band or a DJ, and what factors may go into making this decision.
IMPORTANT FACTORS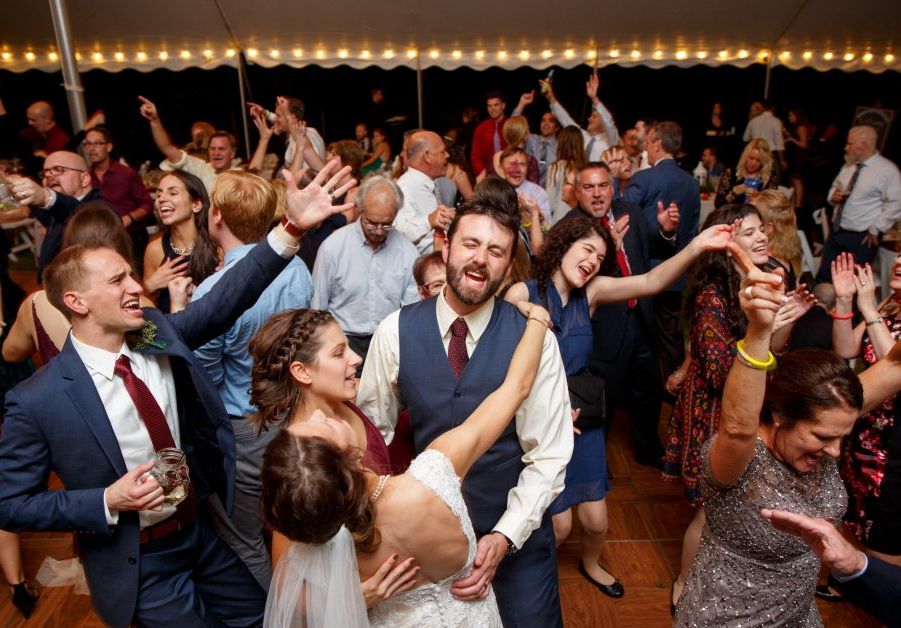 Before you decide on a live band or DJ, you first want to establish that kind of atmosphere you are looking for with your wedding. Do you want more of a dinner-party cocktail style type of evening? Are you looking for it to be a huge bash with tons of jumping, sweaty bodies having the best time? The vibe you are trying to establish is going to play a large role in your decision.
Also, take into account the type of music you want to be played. This may go into the type of "theme" your wedding has, as well. If you're having an extremely formal dinner with 4 courses, maybe you are looking for lighter music, perhaps from a string quartet – or maybe you really want that big band feels? Or if your theme is more casual and you care about everyone enjoying the big "party," you may want dance floor lights and deep bass booming. Do you want something that both young children and adults can enjoy? Ask yourself these questions when you are looking at your music possibilities.
Keep in mind any certain songs that you feel must be played or performed, so you know that the band or DJ will make sure to have those on their playlists! Be sure to add songs that you do not want to be played as well because those can be just as important. If a band can't play one of your must-haves, you may have a problem that a DJ could solve using their music library.
Look at your budget and your venue. How much are you willing to spend on your music? What sort of venue rules/restrictions are there? There are numerous factors to consider.
THE DJ
To some, the DJ may seem like an obvious choice. With a plethora of songs and styles to choose from, you don't have to tie yourself to one particular kind of sound – you can have them all. Another pro for the DJ is that generally, they cost less than a live band. This can be affected by the reputation and equipment that the DJ has, however. On the plus side, DJs don't usually require a break like a live band might, so this is something to consider if you want constant music playing.
If the DJ will also be the MC, this is another piece to consider. Do they have a good commanding presence? Can they excite the crowd and get people on the dance floor? You don't want a wet noodle speaking into the microphone with a monotone voice in between every song – that could be a true party killer!
THE WEDDING BAND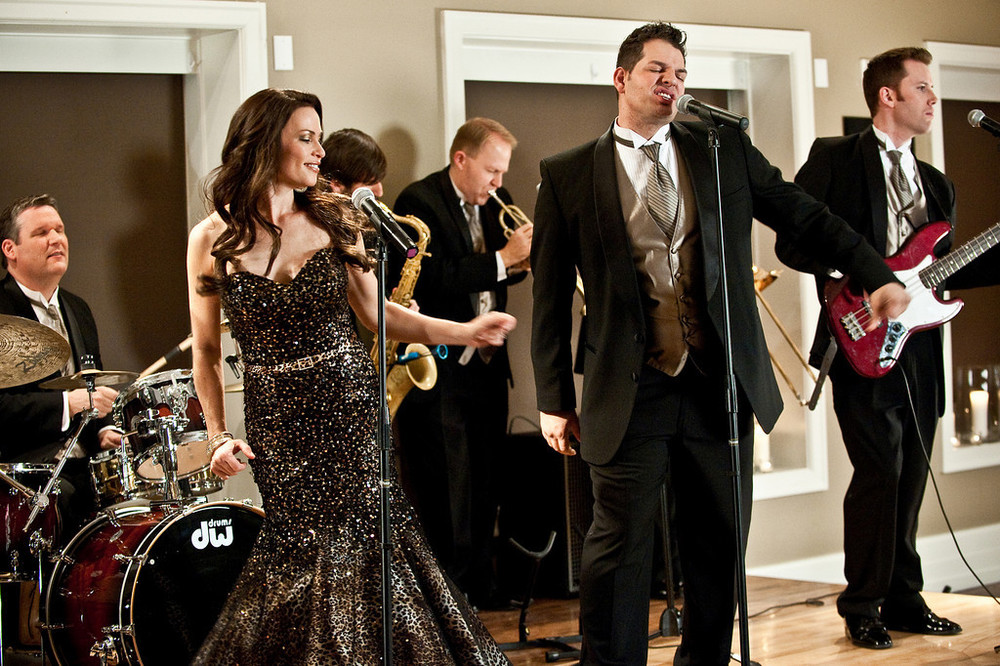 Sometimes there is just nothing quite like the sound of a live playing band. You'll want to be sure, as with the DJ, that a good bandleader has that personality to keep the crowd engaged and involved. Usually, bands are more memorable, because they interact with the crowd and act as a focal point, rather than being tucked behind a computer screen and soundboard.
Many live bands now have a large song repertoire, but keep in mind that they will still be limited in their song selections. It's undeniable that they usually do cost more than DJs and they also may take up more space than a DJ would with multiple members and their instruments. So while a live band may be a great idea, logistically it may not be the best fit for your day.
THE DECISION IS ALL YOURS
Whether you're more inclined to have a live band play or use a DJ, the choice is really whatever preference you and your partner may have. If you want to go all out to have the most memorable wedding of the year, money isn't a huge factor and you have plenty of room in your venue, a live band may be a perfect choice. A couple with a more limited budget that craves a wide variety of music styles and songs, as well as the flexibility of space, may go with a DJ.
Just remember to take into account all of the factors and don't make this decision on a whim. Do your research, look at your budget, and keep in mind the kind of vibe that you want to achieve on your day. If you're having trouble deciding, find a band and a DJ that you might like and see if you can attend a live performance to get a feel for what is offered, so you can better make this important decision!