In the past, when a couple was getting married, they were only waiting for the guests to decide what type of gift to bring them for the start of their new life. Today, most of the things that were associated with the traditional weddings are different, and the technology is letting us improve the communication between the couples and their invited guests, so they can get the present they want, depending on how much the invited people can afford. A wedding registry is also known as a bridal registry too, and with the simplest words said, it's an online list of the products and stores the couple listed, that they need for their new home or something like that, with all the prices and stores where the product is available.
The system is made in a way so the couple can share the link with their guests even months before the wedding, and they will check the products they will buy, without risk of duplicating. This will save a lot of time for both sides because the guests are able to pay immediately, and the product will be delivered to the couple, or they will take it from the store. Can you imagine how good is to go to a marriage celebration without having to bring a heavy gift in your hands? Also, it makes things easier for the guests, because they won't need to think about the gift. Some couples are using this service to engage the guests to contribute to their new home, honeymoon, or even paying for the venue they will hold the celebration, so they can ease the expenses related to getting married.
But, do you know how all of that is made, and how to do it for your wedding? See our tips and tricks below:
1. Find a website with ready-to-use templates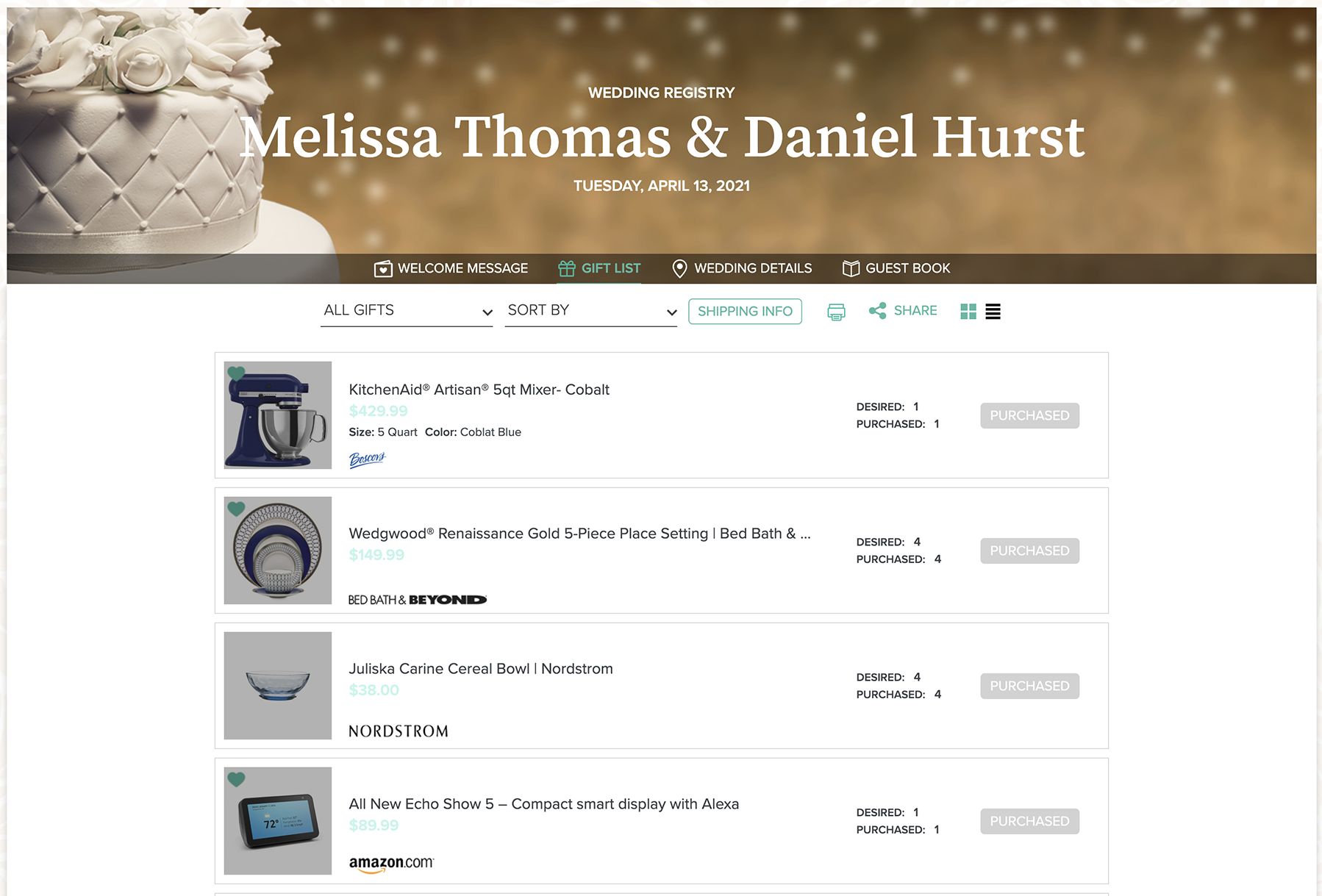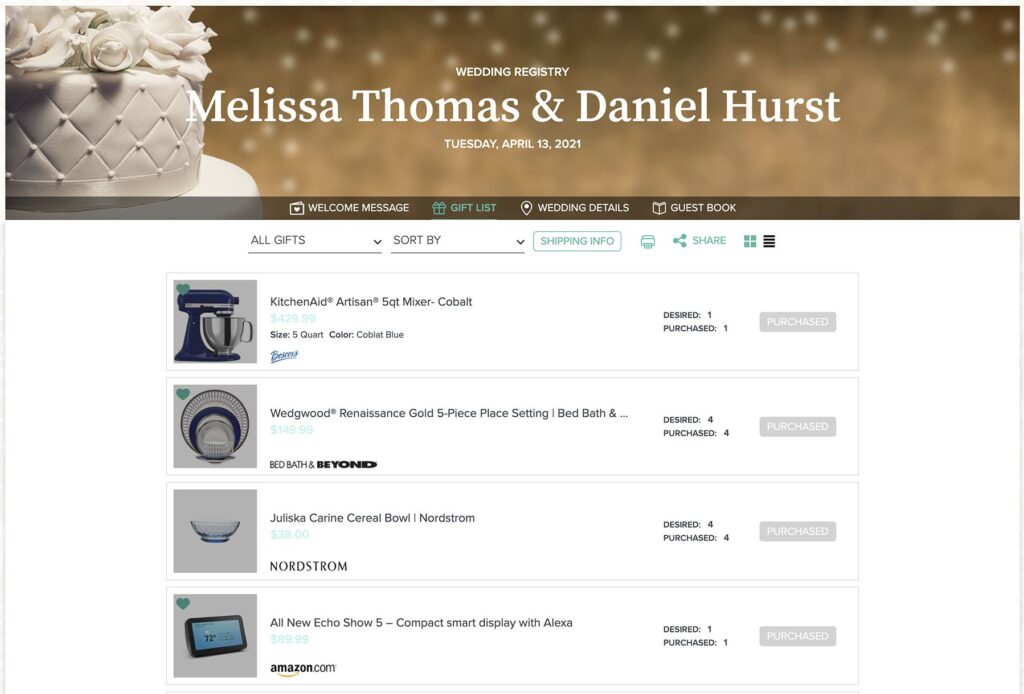 Not every couple is able to buy a domain and make a whole website, because even for the most experienced developers it's a time-consuming job. That's why there are websites like MyRegistry.com, that make things simple and easy for both sides. You can sign up to this website, choose what you need it for, create a registry and add the items you want. Most of these websites are synced with popular stores around you. You can choose products for your home, for the expecting baby, or cash gifts and cards, for your wedding trip. Yes, it's that easy. This action will, as we said, save a lot of time and money, and also will prevent the couple from unnecessary gifts they will only keep in the basement or pass to another family. Every gift is valuable and meaningful, and bridal registries are helping the couple and guests get the maximum of it.
2. Start it early
This is a useful planning tool, and you can start it at the moment you scheduled the wedding celebration. Planning will take a lot of time, so it's better to create the registry as early as possible, so every idea can be covered right on time. By doing this, you will have enough time to decide what you really need, or if it's worth it for some item to be listed in your registry.
3. What to put on the list?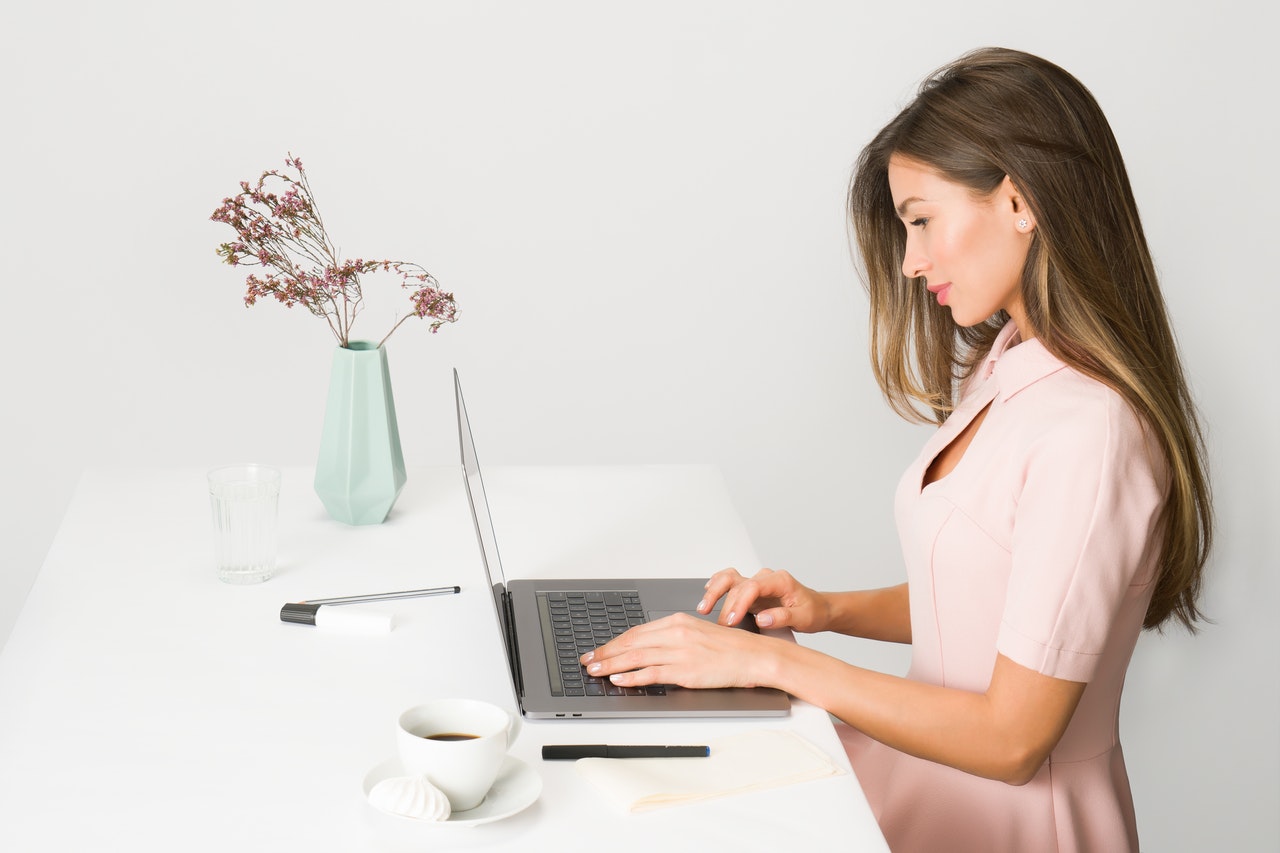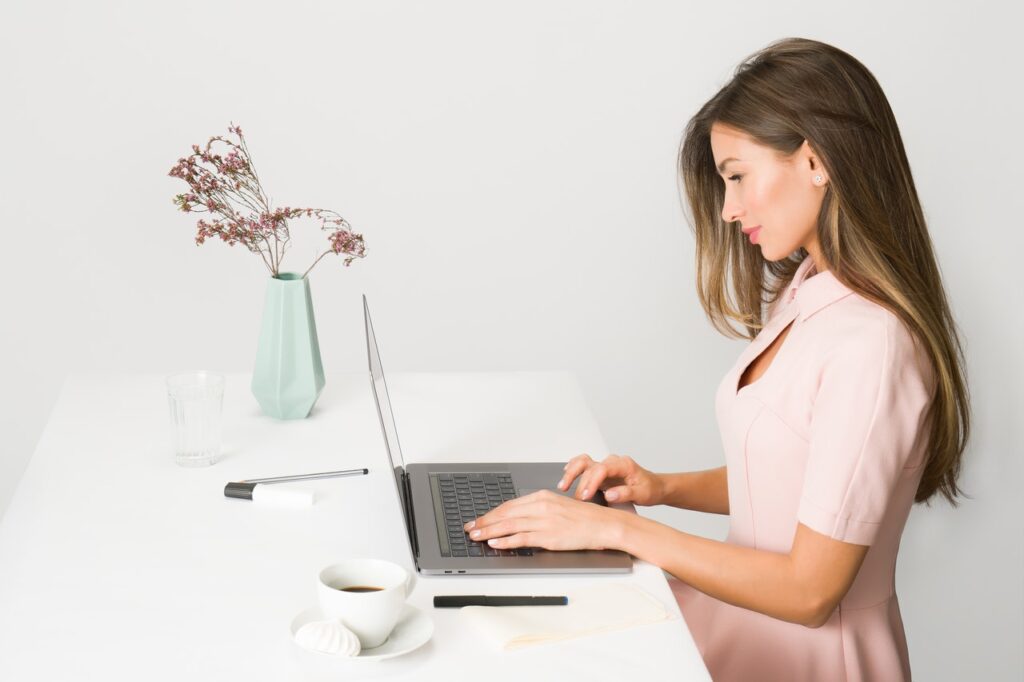 The answer is simple – everything you think you have to. You can add some of the wedding expenses, like flowers and decor, or ask the guests to contribute with your dress and suit. Next, you can list the household needs, especially when you are moving to a new home. If you expect a baby, you know that all those baby things are pretty expensive, even though they are small and with limited time of use. The pandemic also made things very complicated, since it caused a new economic crisis around the world. But, we all know that if we share the expenses, it can get easier for all of us. That means, you can even raise a fund where every invited guest will contribute with some amount of money, and the newlyweds can later use it for different purposes.
4. Think about donations too
Many couples who already work, and have their own home with full equipment and furniture, decide to raise funds for charities on their wedding day. You can find a proper cause or some person who needs medical help to treat disease and make your funds a donation for them. This is an exceptional way to receive your gifts, and be useful and recognized in society by your actions.
5. Free up from the traditional chains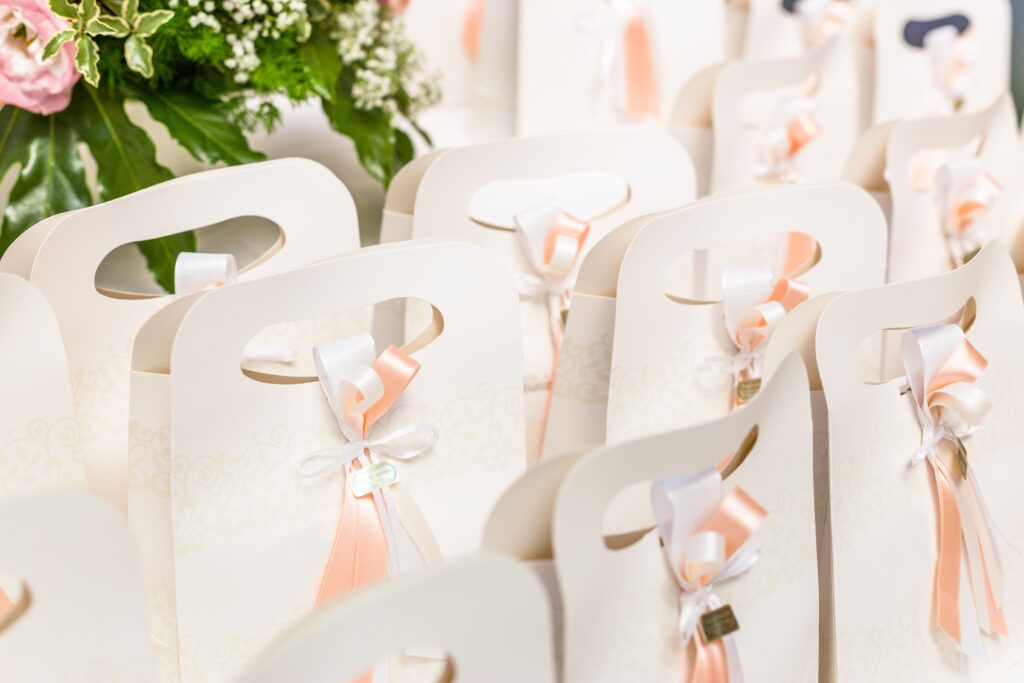 In the past, it was an obligation for the guests to bring some gifts to the couple. Then, most of them were asking for money instead of items, but that was pretty controversial because not everyone can afford a lot of money to give. That's why the registries are good. Young people today probably already work and have all the household items they need, and the guests can give as much as they can because some transactions can be anonymous. Knowing that we all live in a time of pandemic and crisis, we know how every dollar is important, so the guests shouldn't feel forced to buy or invest something. In most of the cases, the couples are organizing the small gatherings following the protection measures so they can share this important moment with the people they love, without expecting luxurious gifts from them.
When you are ready to get married, and you schedule your big day, feel free to open your bridal registry and share it with the people on your guest list. Some adult relatives will find it confusing, but as time goes by, they will all accept this simple way to give and receive a gift, without having to visit a store to buy it or spend more money than they can afford. You can adjust it as needed too. And we will only wish all the best to you, with great wishes for a beautiful life together in your marriage.