The big day is coming up and the to-do list is forever getting longer. The venue, dress, rings, and transport all sorted? Hair and makeup artist booked and honeymoon bags already packed? Good. Efficiency is key in the lead-up to your wedding day but even the most organized of brides may have forgotten about their eyelashes.
Making a statement with your eye makeup, even an understated one, is a must on your wedding day. While you may have already sent your eyeliner inspiration Pinterest board to your makeup artist or have been practicing the perfect eyeshadow blend with your bridesmaid, many of us fail to consider our lashes.
Of course, mascara is a wonderful invention and is a staple of most of our makeup bags but is this really what you want to be using on your wedding day? Let's face it, the big day is going to be an emotional one and tears of happiness and laughter are inevitable and even the most waterproof mascara can let us down.
Also, most brides will have their makeup applied mid-morning and this will need to last well into the night. Can you really remember the last time even your most expensive mascara lasted this long?
Thankfully, the invention of false eyelashes can solve all these problems. You may be a seasoned falsie wearer or a lash novice, either way, you may not know what style to wear on your wedding day. If you are using a professional lash extension artist, they should be able to advise exactly what works best with your eye shape.
However, with mounting wedding costs and free-time incredibly precious in the days leading up to the wedding, we understand not everyone is able to do this. Don't despair, you can still achieve a fantastic look with strip lashes by applying them yourself or asking your makeup artist to do so on the day.
With so many on the market, a trip to your favorite beauty store could leave you confused. Below are the 5 styles that work perfectly for your wedding day and what would suit you best.
Doll Eyelashes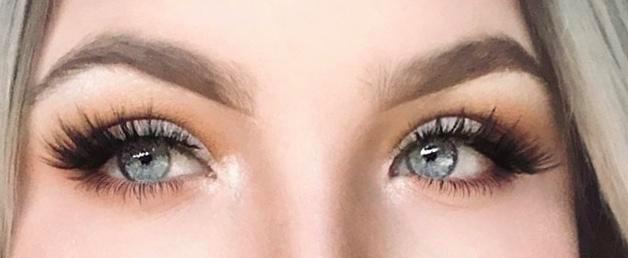 This style revolves around longer lashes in the center and creates the illusion of wider, larger eyes. If you have wide-set or downturned eyes, these eyelashes are perfect as it makes them look more open.
If you are going for the 'princess' look and are wearing a ballgown or a-line dress, these work perfectly with your theme.
However, if you already have round, wide eyes, you should avoid them or they could give you a more surprised and overly round look. If you are struggling to figure out if your eyes would be suited, Jessica Alba and Megan fox often don these styles of lashes, so it may be worth comparing your eyes to theirs.
Cat Eye
If you are wearing a fishtail or fitted dress, these look great! These eyelashes have longer lashes in the outer corners, steadily increasing from the inner edge. This gives a more sultry, sexy look.
If you are going for a '50s vintage look, especially if you are wearing a tea dress, then this should definitely be the style to choose.
These are excellent for round or close-set eyes as it gives the appearance of extending your eye outwards. If you want a striking look that will work for your ceremony and evening party then cat-eye is your best bet.
Avoid cat eye if you have downwards or wide-set eyes as it can give the appearance of smaller, uneven eye shapes.
Natural
Although your eyelashes may be all fake, you may be surprised to know you can still look natural. These eyelashes follow your natural lash line with their thickness and length but slightly enhance your natural beauty.
If you don't typically wear much makeup or are looking for a more subtle style, these are perfect as they give the illusion of a typical coating of mascara. If you tend to have thinner lashes, you should opt for these as they won't be so obviously fake compared to others on you.
If you are having a beach wedding or have chosen a more relaxed venue then these are definitely your best bet. If you are a mature bride, these are very popular as many worries too much fakery can give a 'mutton dressed as lamb' look.
Staggered Eyelashes
These strip lashes are a mix of long and short lashes applied along the entire lash line done in graduated spikes. These give a fuller, thicker and rather striking look.
If you are looking for the classic Kardashian look then this is it! These work with every style of dress but are particularly suited to a fitted style to echo that Hollywood glamour. Do be careful not to overdo it with the rest of your makeup, these lashes are enough of a statement that the rest of your makeup should be toned down.
If you have thin eyelashes, you should avoid these otherwise your eyes may end up looking messy.
Coloured Lashes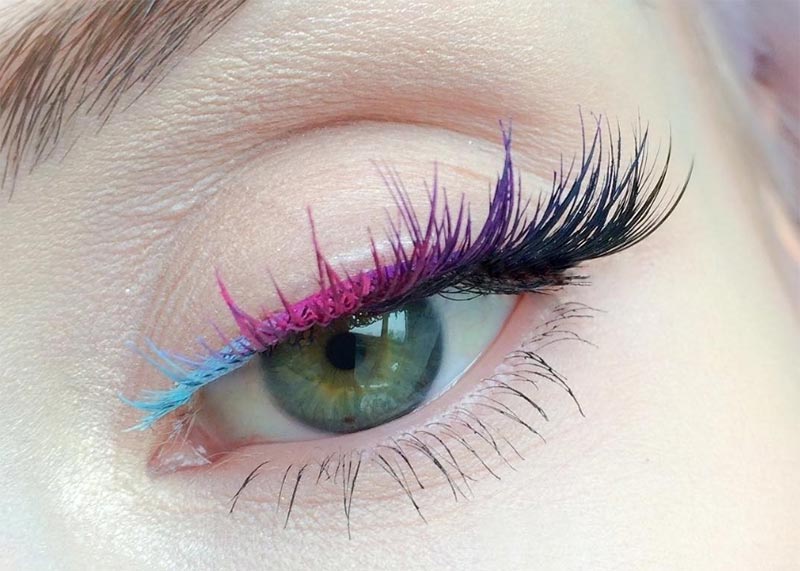 It may not be the first thing to spring to mind but colored lashes are the latest trend, especially for those having an alternative wedding. Are you having a festival theme or maybe going for a fantasy vibe? These will really set off your look.
These colored lashes come in all the above styles and every color you can think of. You need to make sure they don't clash with your dress and more importantly your natural eye color.
Similarly, if you want that real Disney Princess style, you can get false eyelashes with a very subtle hint of glitter to really make your eyes sparkle in photos and on the dancefloor.
It is even more important to apply these perfectly as the color difference can make it extremely obvious if they are not correct. We suggest investing in some high-quality eyelash tweezers, you can see a full range here. 
Sites like lovetoslay.co.uk offer free makeup samples, offering you the freedom to experiment with different looks at a fraction of the cost.