Being a bridesmaid is such an honor for every girl who was ever invited to that. But, it's also a stressful role, because bridesmaids must look beautiful, but not overshadow the bride.
Weddings can sometimes be stressful for everyone involved in the process, not just the newlyweds. It can easily happen to overdo something or forget something else. That is why wedding planners are often involved in the process, but sometimes that service can be quite expensive.
Brides have the most trust in their bridesmaids, who have a significant role in accompanying them in the act of getting married. What should be avoided at all costs is falling into clichés. Many times Hollywood serves us stories in which the bridesmaids wear the same dresses, have the same hairstyle and shoes, and are happy about it.
In reality, this is almost impossible. Wearing the same dress is a compromise that means one person will look too good, but another girl will not feel good in her skin.
Is it possible to choose the perfect dress?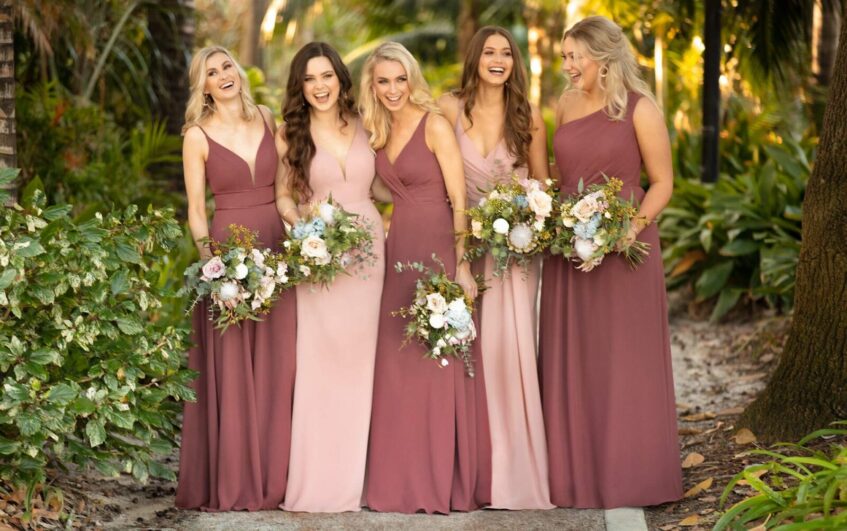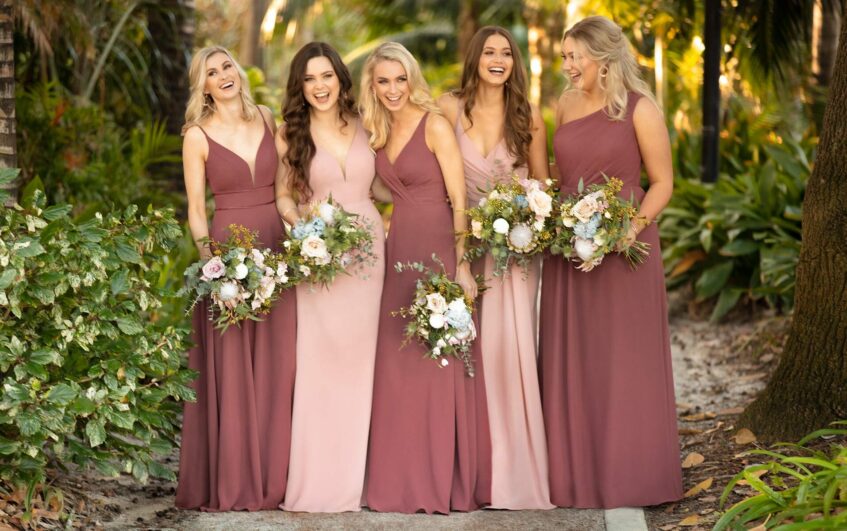 There is no direct answer to this question. It all depends on what the bridesmaids expect and what the bride expects from them. If you look at ChicSew you can find quite interesting ideas and even order a pattern that you like.
Many fashion experts would recommend you choose the classic A-line silhouette model, which looks good on any body shape.
The same goes for brides. This model makes you look lean and toned and can hide any flaws that affect your self-esteem. In addition, this kind of dress always looks beautiful but also offers enough comfort. At the same time, it does not restrict your movement, so you can dance throughout the ceremony.
What you need to pay attention to is the choice of color, because it can easily happen that bridesmaids look like brides. We all know that would be impudent and not proper etiquette unless the bride herself asked her attendants to do so.
At ChicSew UK you can also find a wide range of colors to choose from and look amazing. Of course, choose a model that you can afford to buy because it's not worth spending a fortune on a dress.
What models of dresses can you choose?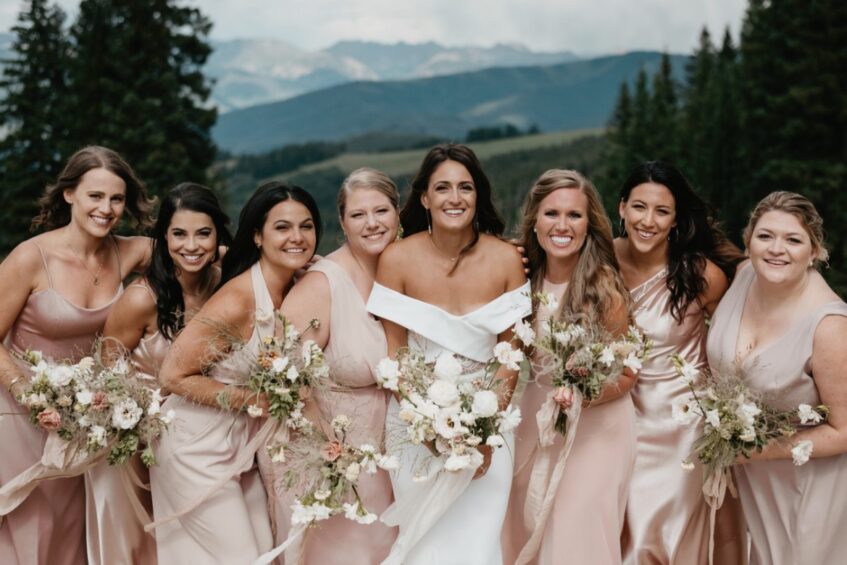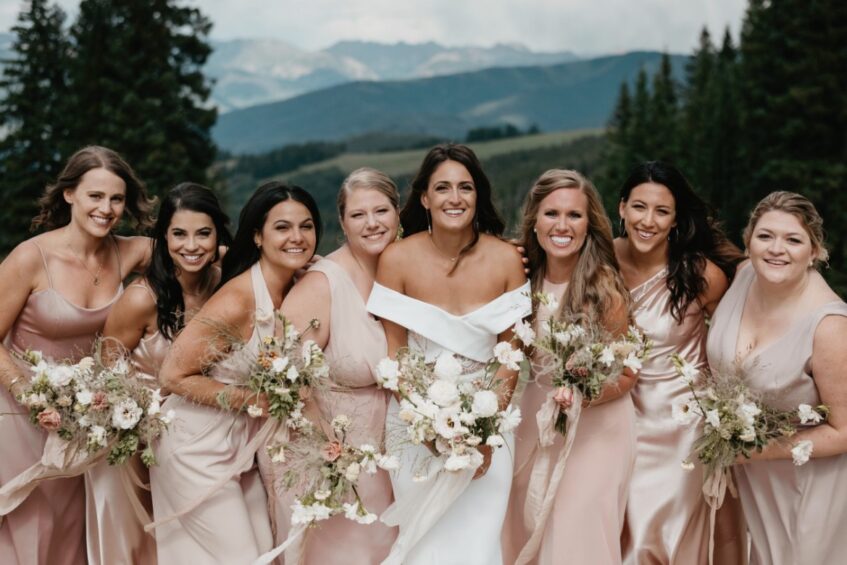 Every bridesmaid and bride must know that they do not look the same and that it is impossible to achieve an identical look as in fashion magazines. However, there are a few models that fit universally well, apart from the classic A-line model.
1. Chiffon Skirt
Chiffon is a beautiful material that is easy to wear, does not sweat, and does not add volume to the body. If you choose a dress with a chiffon skirt, you can be sure that in addition to looking beautiful, you will also feel really good and comfortable.
2. Godet Gown
This model is reminiscent of ball models from the 20s and 30s. In addition to the beautiful cut, you feel the materials like your second skin. If you want to look like a Hollywood star, then you can choose this model for your friend's wedding. Just try not to overshadow the bride.
3. Loose Curve-Hugger
This is a dress with a bold cut. It also looks modern but will never overshadow the bride. If you choose a bold color, then the bridesmaids can be the real attraction at their friend's party.
4. V-Necklines
Bridesmaids will look beautiful in a dress with this cut. It is a model that looks good on both tall and short girls. Also, this expression of the neckline goes well with many models of dresses, no matter what color you have chosen.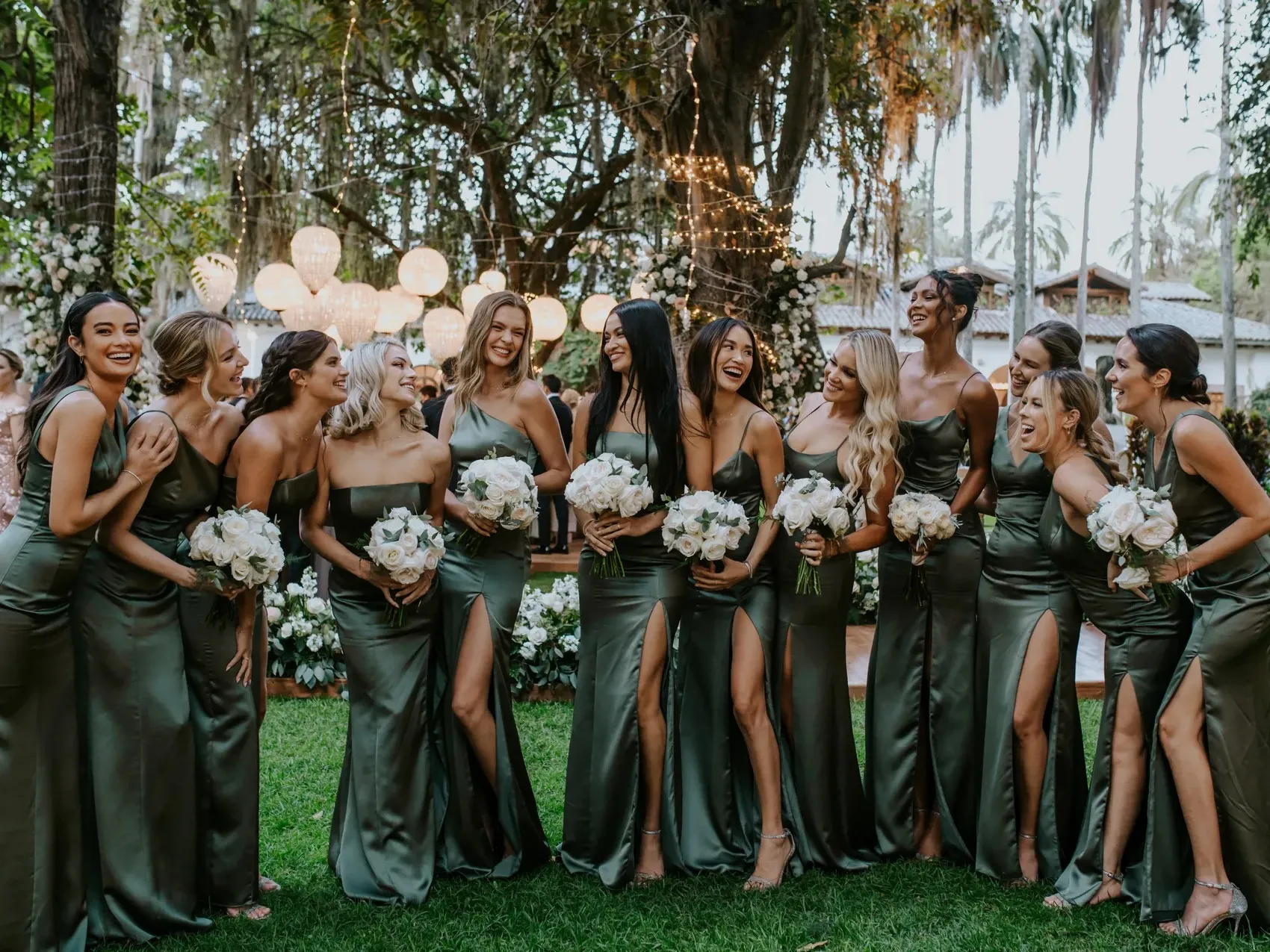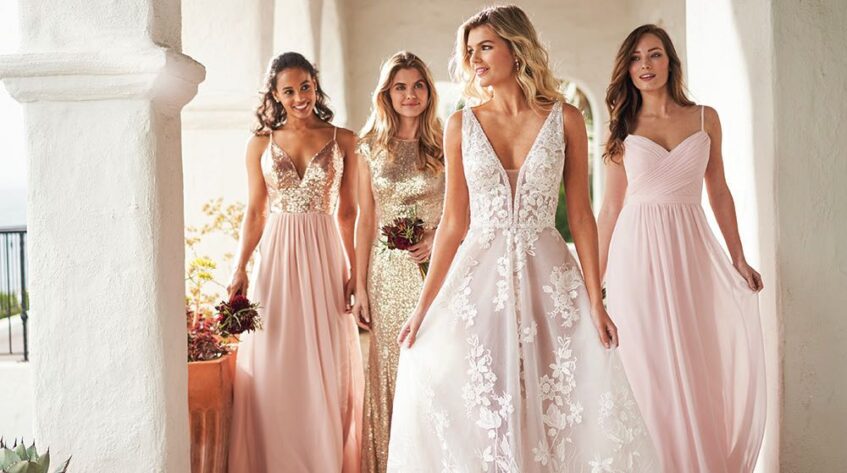 5. Knee-High Slit
This kind of dress model is gentle and elegant and fits perfectly on girls who are very thin, but also bigger, taller, or have bigger breasts.
This dress is soft and light and you can wear it even on other occasions. In this way, you have already chosen a dress for the wedding, but also for several subsequent celebrations.
Of course, not every girl feels brave enough for a slit dress, but we recommend you not hesitate.
6. Midi Skirt
With this dress, you avoid a ball look. Bridesmaids sometimes want to look elegant but understated. That way you can be sure that you have made the right choice. If you buy a midi dress, you also have a great dress for cocktail parties or formal ceremonies.
7. Illusion Neckline
If you have a larger bust, you can add an illusion neckline for more support. This cut is easy to combine with any model of dress.
8. Short-Sleeve
If you want to cover up your arms, these sleeves give an elegant and delicate look. Of course, in this case, too, it is important to avoid the color white, unless the bride asks you to do so.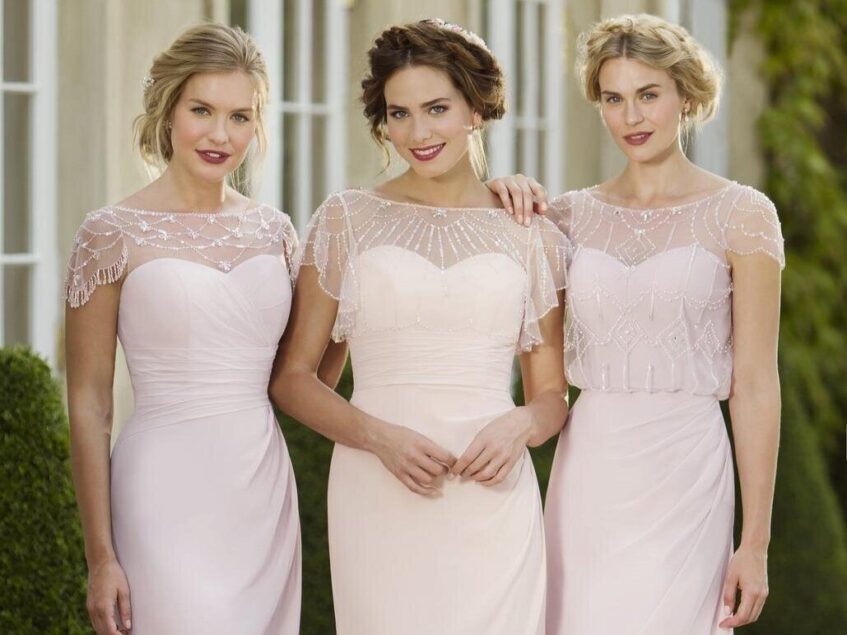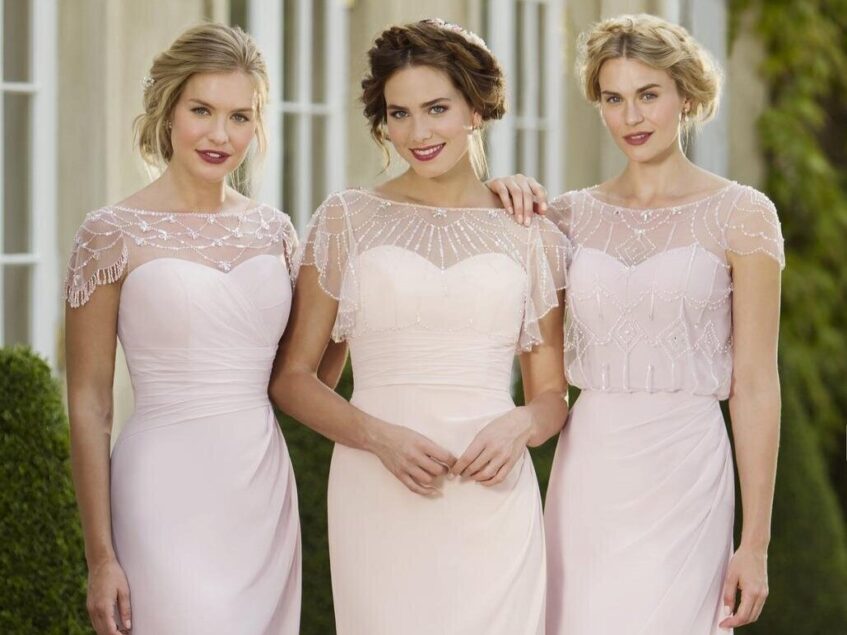 9. Nearly-Cropped Top
This is a non-traditional choice that is very fashionable among girls. Of course, it looks good on thin and bigger girls, and you can wear it on other formal occasions as well. Convenience is just another big bonus in the whole story.
10. Wrap Dress
This dress is easy and beautiful to wear. It is an ideal choice for girls who love to dance and are tireless on the dance floor. It resembles an A-line but is still not so challenging to wear and combine.
Final Verdict
The A-line classic model is an excellent choice for all bridesmaids, regardless of their body shape and other attributes. This model looks great on everyone. Of course, the challenge is to choose the right material and cut it in the upper part.
That's why we recommend you avoid the Hollywood uniform look. It can be a bad choice, but it can also have a negative effect on girls' self-esteem.
We hope that we helped you determine the model, cut, and color the bridesmaids would wear on the wedding. We offered a few solutions that fit all girls, so it's up to you to choose the best one for the upcoming wedding.