Do you want something different and interesting at your wedding? Do you want to surprise your guests so that they remember your wedding as the most interesting they have been to? Well, of course, you do, that's the whole point of organizing this reception in the first place. You want your guests to have the time of their life, and for everything to look amazing.
Weddings are nothing new, as most of us have been to so many of them. Hence, we understand if everything seems to you already seen and boring so much that you would prefer to give up the whole ceremony. But, don't. Although stressful, decorating a wedding can be such a fun task.
That is why we have researched for you and decided to present you with the most interesting wedding décor ideas that you too can have on your most beautiful day.
1. Turn old barrels into a bar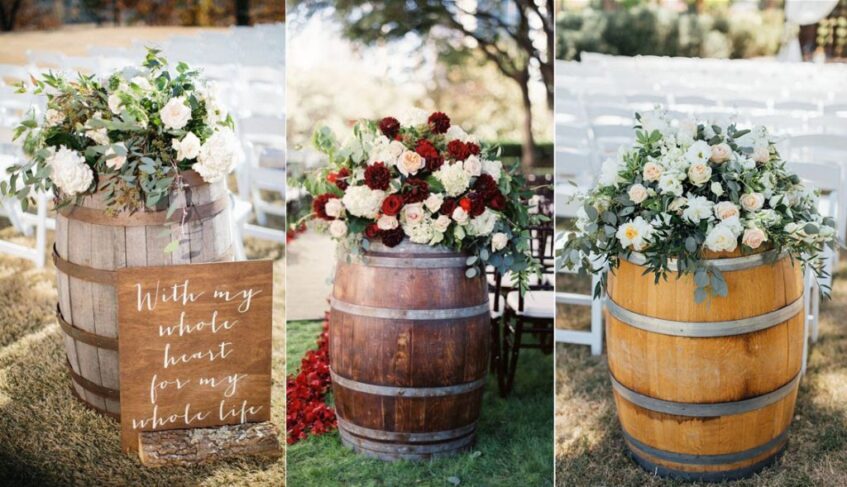 Two wine barrels, one ordinary wooden board, and in the blink of an eye – the perfect bar is ready! Arrange drinks, and aperitifs or create a sweet table full of cakes, donuts, and fine, tasty desserts.
If you add a nice tablecloth and lots of green and floral details to all that, you will create a wonderful and functional decoration. If you don't know where to find these details, go to Sziqiqi.
Another fantastic idea with which you can make your "wedding bar" even more interesting and noticeable is a large "bar menu" board on which there will be a list of all the drinks they offer.
We suggest adding a board with some humorous text that will attract guests to come for a toast. Encourage your guests to take action with this fun and adorable decoration!
2. Lanterns, lamps, and lanterns for a romantic atmosphere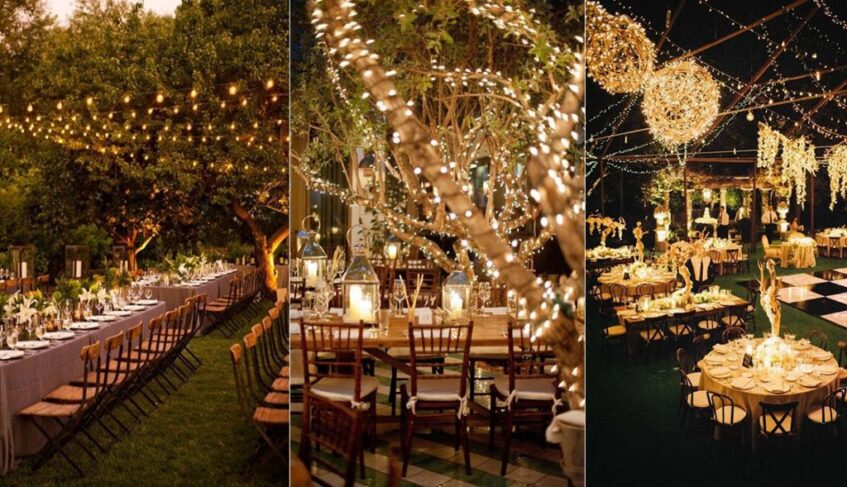 In order to bring a gentle and romantic touch to the entire ambiance, avoid "cold" lighting, as is usually the case in wedding halls. Instead, go for lamps and lanterns in warm tones to decorate the space above the tables.
3. Floral curtains for a touch of charm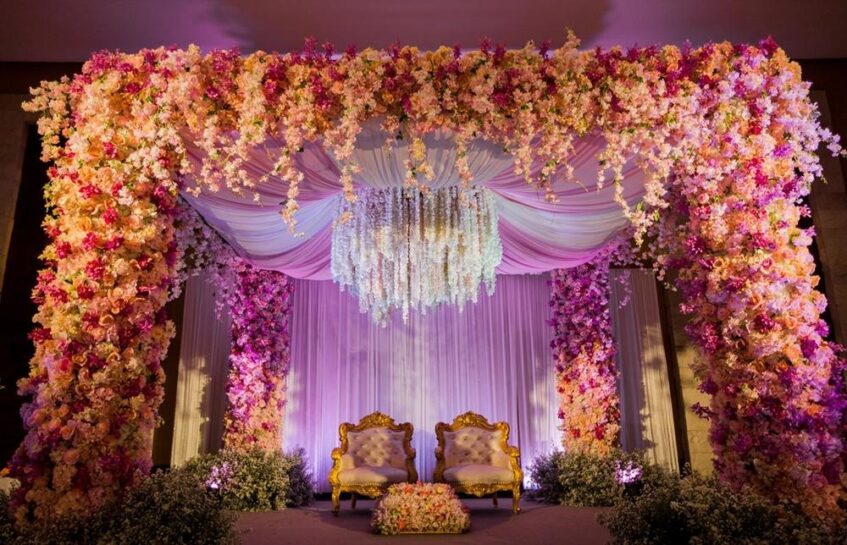 If you are an incorrigible romantic at heart who accepts nothing else for your wedding than a real little romantic fairy tale, we advise you to complete your wedding yard with impressive curtains made of your favorite flowers. That is if the wedding is in the open.
4. Old discarded pallets as decorative boards
Wooden pallets have been a favorite material among interior designers for many years, who use them to create fantastic pieces of furniture. You too can quickly and easily make perfect decorative details for your backyard wedding with the help of pallets. Make a signpost that will direct guests to the desired place – to the dance floor, sweet table, parking lot, or toilet. On the second palette, write the sequence of events throughout the evening.
There are a couple of tricks aside from decoration that can make the event even more interesting and memorable. Read below what we suggest to make your big day unique and fun.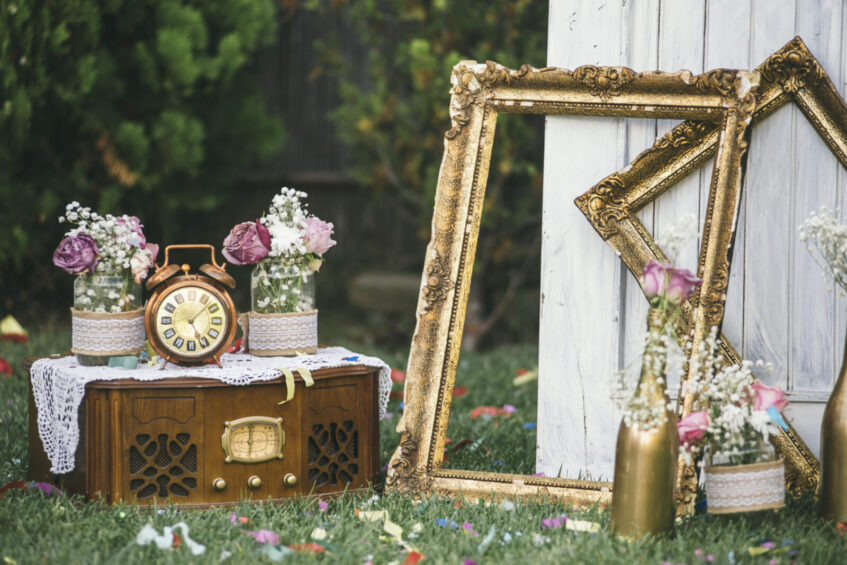 Surprise them with your choices. For example, let your grandmothers throw flowers instead of girls
Coasters can be decorative, but also contain a space where guests can write a message and wish you happiness in marriage
Hand out sprinkles to guests and have them light them when the cake is served or during the first dance.
Let the path to the altar be covered with printed messages and photos of you from the first day you started dating.
When your feet hurt, put on old shoes, and write Mr. and Mrs. or Just Married or any nickname your loved one calls you on them.
Let the podium be sprinkled with glitter
Instead of gifts for the guests, display all the sweets on the table and let your guests fill the bag themselves with their favorite flavors.
Have your bridesmaids wear dresses of the same or similar color.
Make a table for the children and put sweets, toys, and crayons on them so that they too can have fun at the wedding.
Decorate the toilets with photos from your childhood.
Your wedding bouquet can also be different. Instead of standard options, opt for paper flowers, for example. If you're feeling bold, go for the huge ones.
All of this comes easy when you have a wedding planner by your side. But, if you're planning a wedding yourself, below are some tips that can help you make decisions about decorations.
Consider a color palette, not just one color or two. By adding at least several shades of the main color, you will add depth to the overall look.
Use different textures. Don't be afraid to mix different fabrics because the final result will look great.
Use tables of different shapes. You will make the hall different and more interesting.
Pay attention to the lighting with which you can create a romantic, but also an atmosphere of fun.
You can use other items besides flowers for decorations, especially if you are trying to save money. A glass vase with water and just one floating flower can look just as wonderful as a vase full of flowers.
Another option, if you want to save money, is that instead of flower arrangements on each table, place a larger one at the entrance to the hall or somewhere inside the hall.
Don't forget that the cake is also part of the wedding décor. And it can be of different colors and textures, decorated with flowers. In addition, the hall will gain an additional dimension if you place a dessert table.
Once again, decorating can be a lot of fun, so don't be afraid to realize any idea you find charming and interesting. Guests should have fun, yes, but this is your big day and it should be exactly as you imagine it to be.