Almost every bride before the wedding thinks about making wedding hairstyles with extensions. This beauty treatment gives your hair the desired volume and length, and a 1 million dollar look on this special day.
It remains only to decide which bridal hair extensions are suitable for your hair. We are here to help you choose the best option and make your wedding look elegant and at the same time very comfortable.
Wedding Hair Extension Guide and FAQs
Every bride knows exactly how she wants to look on her wedding day. Every detail matters: from the dress to the hairstyle that will enhance your beauty.
Today many clients prefer short haircuts: they are more comfortable, practical and look very modern. However, on your own wedding day you want to be a young romantic bride, not a business person. The image of such a bride is usually associated with long and silky locks.
Fortunately, you can realize these dreams by choosing wedding hairstyles extensions.
Make hair extensions in advance
Ideally a month before the wedding so you can get used to the new hair.
Choose the right row material for extensions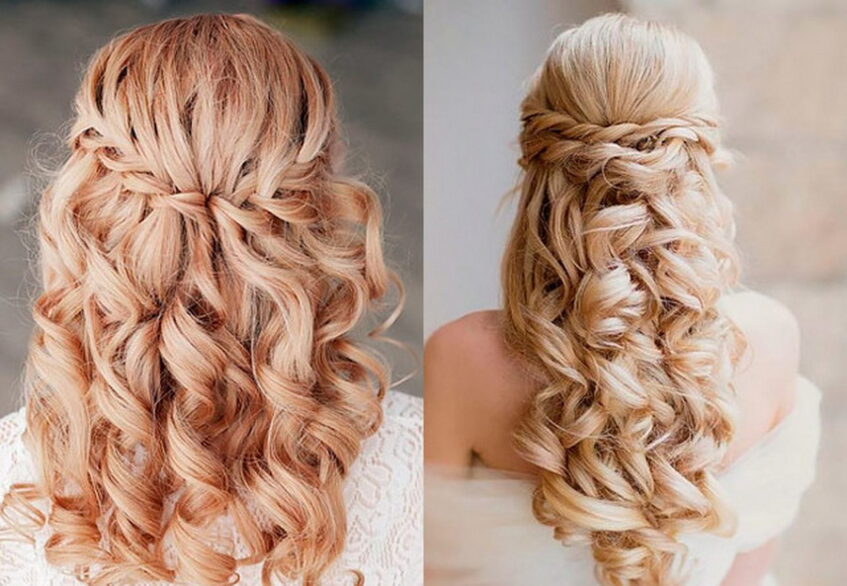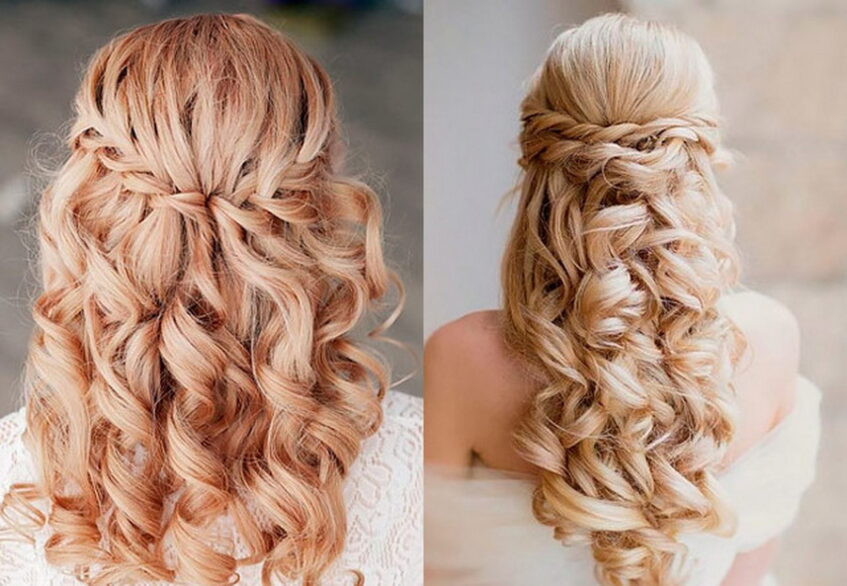 If you have soft, fine hair, it is best to use Slavic hair.
Russian hair is suitable for brides with denser hair texture. Here you will find a large selection of bundles of various lengths, weights, structures and shades- all for your perfect wedding hairstyles extensions!
European hair is the best option for clients with thick hair that want to add some length. Bundles up to 90 cm long are available in this line.
Decide on the extension technique
If you do not want to wear long hair permanently, we recommend ordering custom clip in extensions. You can change your hairstyle only for the wedding and then turn to your natural hair.
Custom clip-ins are fixed with small clips. That is why this extension technique is not suitable for clients with too short haircuts, otherwise, the attachment of the clips will be visible in the hairstyle. Ideally, the natural strands should not be shorter than 3-4 inches (7.5-10 cm).
Other than that, this is a great solution to quickly transform your hairstyle! Custom clip-ins are made taking into account all your wishes: head size, hair color, desired length, thickness, strand structure, etc.
If you need luxury hair not only for the wedding, we recommend trying permanent hair extensions: fusions or hand-tied wefts.
Fusions are one of the most popular wedding hairstyle extensions. In this case, the extended strands are fixed with keratin bonds. Ideally, the hair technician should work with gel keratin: then the bonds will be completely unnoticeable, and you can make any hairstyle. By the way, this is the best solution for clients with very short haircuts, when hand-tied wefts or clip-ins can not be installed.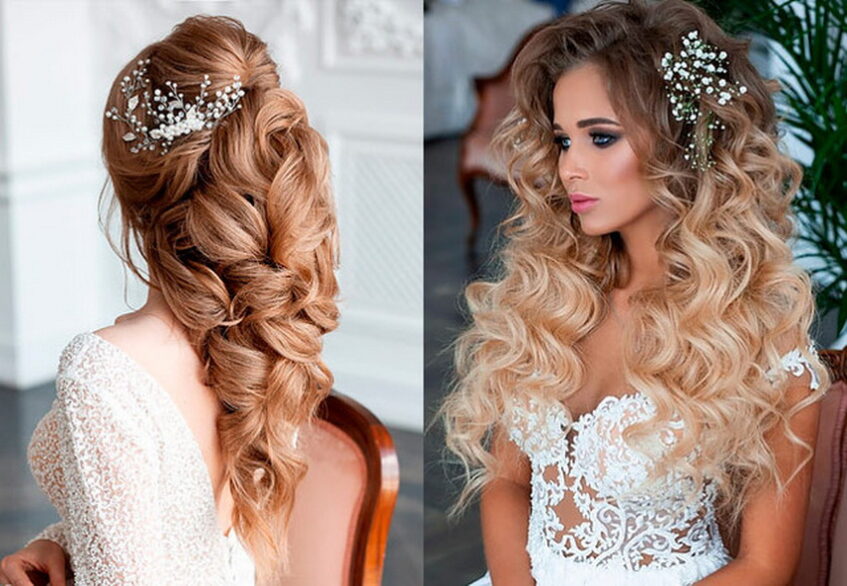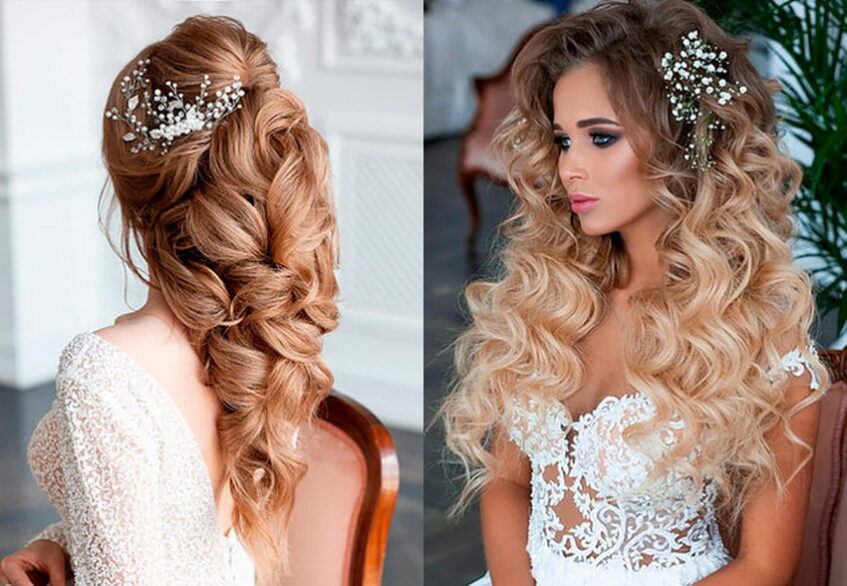 Hand-tied wefts are hand-made tresses tailored to your needs. They are very thin and neat, which is especially important for brides, who want to make their extensions look as natural as possible.
The weft is fixed by sewing it into a thin braid, made from natural hair. Therefore, the natural strands should be at least shoulder-length, so that the hair stylist can braid them and sew in a weft.
Both these extension techniques do not cause discomfort in wearing, look very natural, are safe for health, and are suitable for almost any type of hair.
To order custom clip-ins or hair prepared for keratin bonds or hand-tied wefts extensions, contact the I Love Slavic Hair company.
Here you will find a large selection of Slavic, Russian and European hair, carefully disinfected according to all world quality standards. Such raw materials will serve you for as long as possible and you will feel like you have always had this hairstyle!
At I Love Slavic Hair, you will be helped to choose the best option among all the wedding hairstyle extensions, so you will be delighted with your bridal hair!
Make a reapplication procedure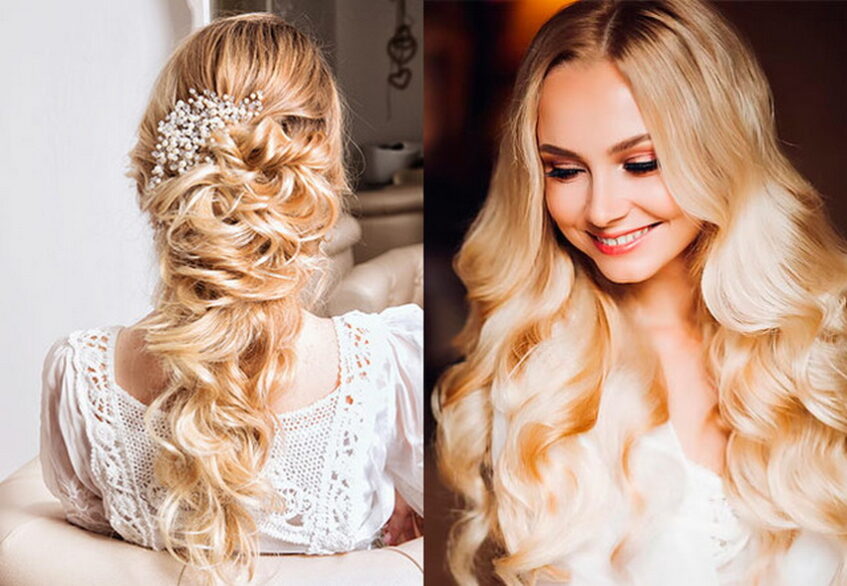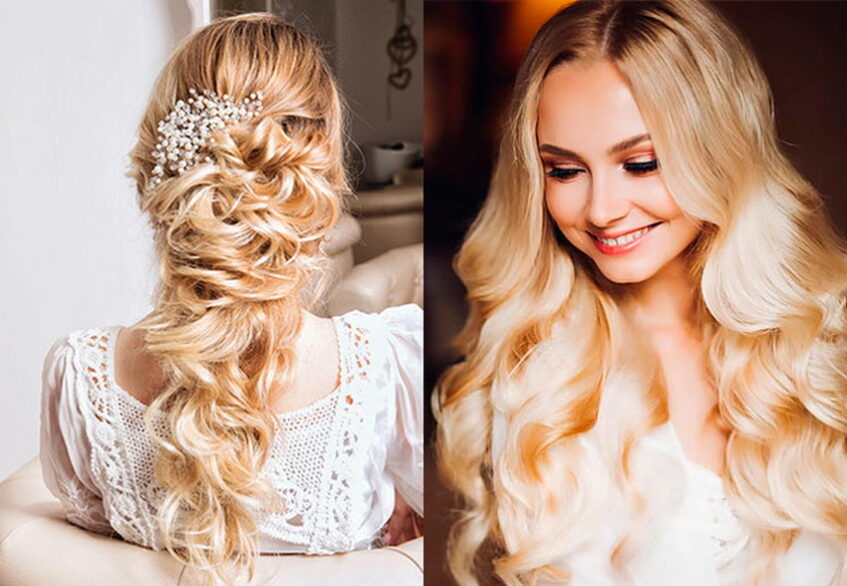 After a month, your hair will grow out a little. Therefore, if you do permanent extensions, it is better to make a reapplication procedure and be sure that the fixing place of the extended strands is invisible to others.
Make a trial styling
It is necessary to understand whether this look suits you or it needs to be somehow adjusted to the shape of the face, the chosen dress and other nuances of the upcoming ceremony.
10 Best Wedding Hair With Extensions Ideas
Let's take a look at the 10 trend wedding hairstyles extensions, among which you will definitely find something for your wedding:
1. Half Back Bridal Braid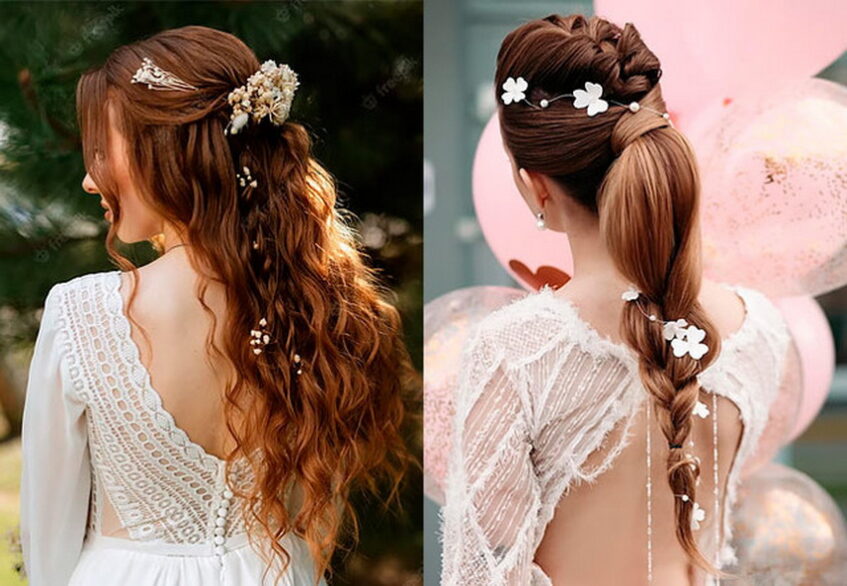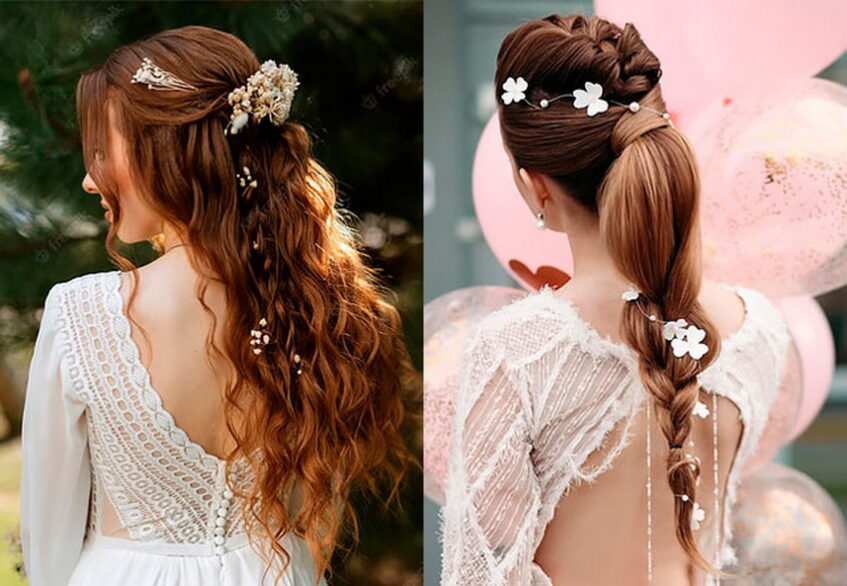 Make a beautiful airy braid at the top of the head, and slightly curl the remaining strands. Fix the hairstyle with texturizing spray.
2. Big Soft Waves
This classic hairstyle is suitable for almost any wedding look.
Ask your hairstylist to make large curls and comb them to make them look lighter and more natural.
3. Classic twisted bun hairstyle
A perfect solution for brides who choose a minimalist dress with an open back.
Make a neat bundle so that the hair is as smooth as possible. It looks very elegant!
4. Messy Curly bridal knot
To do this hairstyle, make the large locks and collect them in a low loose beam.
In this case, the hair should be styled a little carelessly. To do this, you can use a salt or texturizing spray.
5. Vintage Waves
Divide the hair into wide strands and curl it to get smooth waves. The resulting hairstyle should be voluminous and at the same time very neat.
6. Textured Milkmaid Braid
Another beautiful classic hairstyle that will suit those brides who want to open their faces. Make the braid around the head and pull it a little to the sides so that it looks more voluminous.
7. Low Soft Waved Ponytail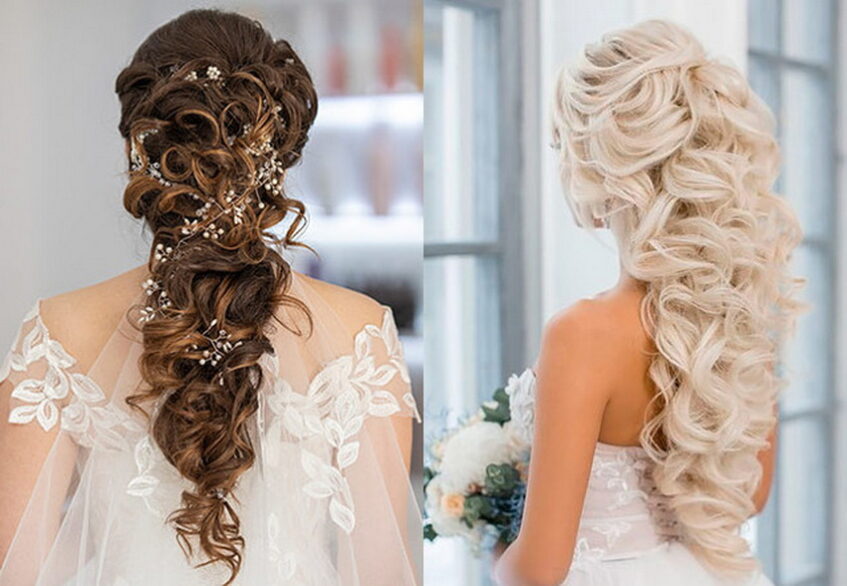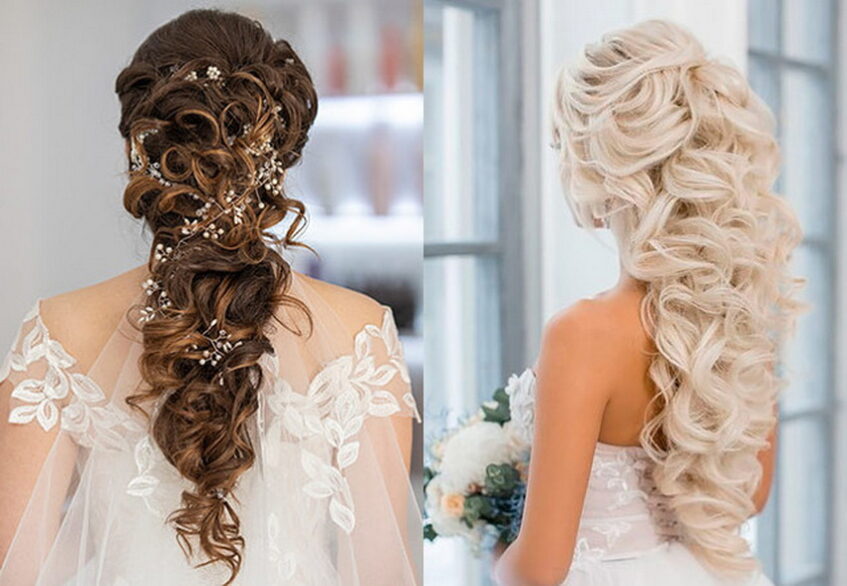 Make a low tail and give it a volume at the top. Use a salt spray for this purpose.
Curl the tail to get very large locks. Make sure they are smooth and do not look too sloppy.
8. Waterfall Braids
Make a fine, neat braid around the head and weave your hair through it. This look perfectly suits both classic and boho style wedding dress!
9. High Ponytail
Ideal for brides who do not like curls. Make a high smooth ponytail. Wrap a strand of hair around it to hide the place of fixation. Straighten and fix the rest of the hair with gel or hair wax to make the hairstyle perfectly smooth.
10. Bombshell Boho Braid
First, you need to curl your hair and make a standard braid. Do not make it too tight, as then you need to pull out some thin strands and give them a slightly shabby look.
Now you know which hairstyles will be trending in this wedding season. Thanks to the extension, you can easily make any of these styles and have a look exactly like you always wanted!