Choosing the perfect wedding dress can be daunting, especially when you want to highlight your unique style. Before ever knowing the type of dress they are looking for, many brides are often sure they want a long sleeve wedding dress. Boho brides tend to gravitate towards the romantic and carefree look of long sleeve backless wedding dresses—even brides who identify as more traditional or vintage love the elegance of a long sleeve gown.
A long sleeve wedding dress is an elegant and sophisticated option that can be perfect for a fall or winter wedding or for a bride who wants a more modest look. If you are a bride getting married in summer, a long sleeve dress should still be a consideration if you opt for one made from a lightweight, natural fiber. Here are some tips on how to pick the perfect long sleeve wedding dress for your special day.
The Puff Sleeve Long Sleeve Backless Wedding Dress
Puff sleeves wedding dresses are a favorite of many brides. These wedding dresses are becoming more and more popular among modern brides. These dresses highlight the uniqueness of their sleeves, which are voluminous and puffy, giving the dress a romantic and whimsical feel.
The Yaya Bohemian long sleeve backless wedding dress from Dreamers & Lovers makes the ultimate case of why a bride should choose a long sleeve dress with these statement sleeves. Puff sleeves can also be a great way to balance out a dress and create proportion. For a bride with a narrower waist and wider hips, puff sleeves can help to balance out the overall silhouette of the dress and create a more balanced look. Puff sleeves can also help to balance out a larger bust or broad shoulders, creating a more proportional and flattering overall look.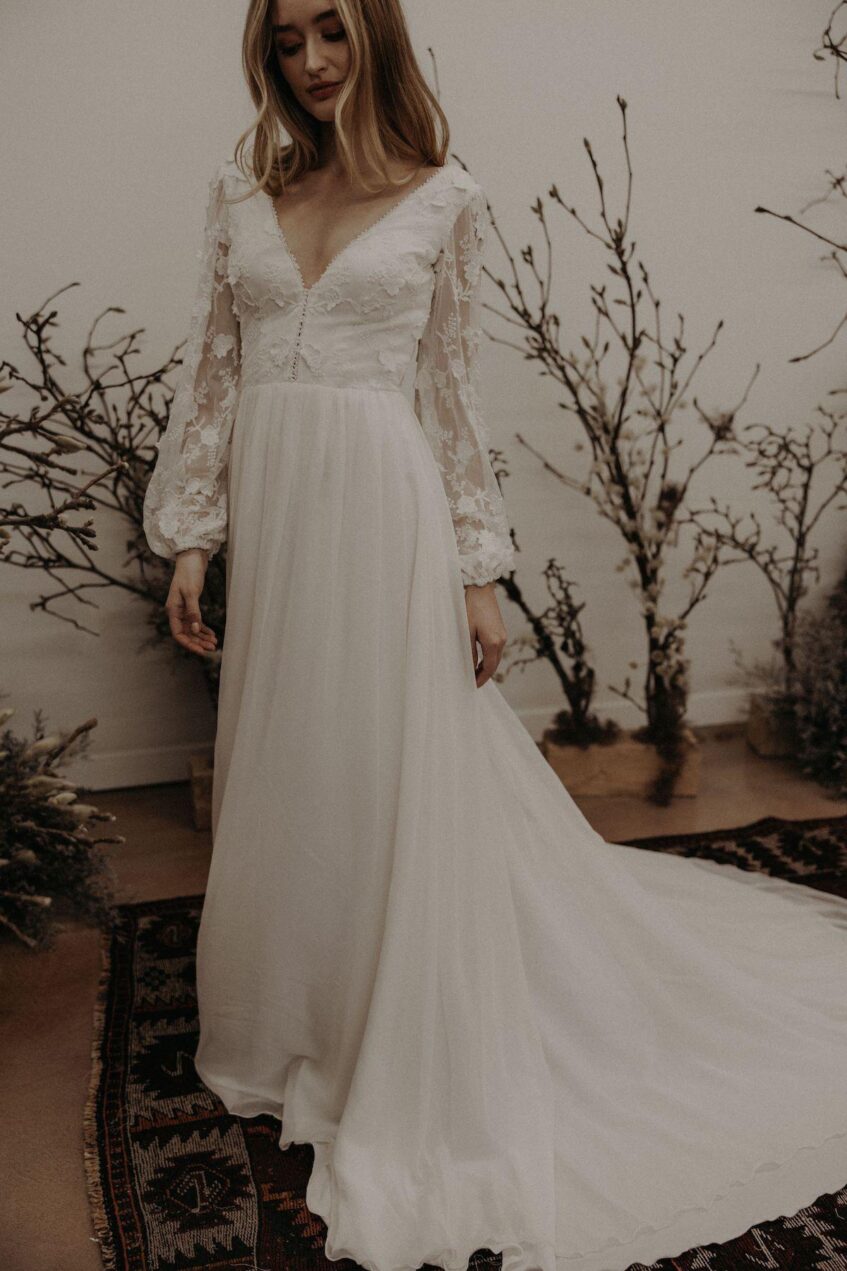 The Fitted Long Sleeves Backless Wedding Dress
Fitted sleeves offer a more tailored and sophisticated look. Many brides love a fitted long-sleeve dress for their elegance, timelessness, and look. Fitted sleeves are perfect for brides who want to showcase their silhouette while adding a touch of elegance. These sleeves hug the arms and can be made from various materials, including lace or satin. While the puff and bell sleeve styles make a statement, some brides prefer a fitted sleeve, as it keeps the focus on the dress.
Some brides may prefer a more modest wedding dress, and a fitted-sleeve dress can provide the desired coverage while still being stylish. If you are a more simple bride, you will opt for a fitted sleeve style. If going with a dress with fitted sleeves, choosing one made from breathable or stretch fabric is a great idea. These will work even if you're getting married in a summer month. Selecting a style that allows a range of motion in your arms is essential. When you try one on, ask yourself, "does it allow me to dance or raise my arms?" You'll be glad you went through the checklist on your wedding day.

The Statement Bell Long Sleeves Wedding Dress
Bell sleeves, with their unique flared shape, create an effortless and elegant boho-chic vibe. If you're considering a bell-sleeve wedding dress, you'll fall in love with its unique style, versatility, comfort, and timelessness: A bell-sleeve wedding dress is a stylish and distinctive option for a bride who wants to stand out on her wedding day. The bell sleeve adds a bohemian flair to the dress and gives a romantic and whimsical vibe to the overall look.
You will love their comfort. Bell sleeves are often made of lightweight and breathable materials, so you can stay comfortable throughout your wedding day without feeling too constricted or restricted in your movements. The Dawn long sleeve backless wedding dress, made from breathable 3D lace, is the bell sleeve lover's dream gown. The bell sleeves may seem trendy, but these styles have been in fashion for decades and will always stay in style. You will look back on your wedding dress photos years from now with pride. Besides, they are so flattering. Bell sleeves can help balance out your figure, accentuating your waistline and creating an hourglass shape. The flowing sleeves can also draw the eye upward, elongating your arms and creating a more streamlined look. What's not to love about that?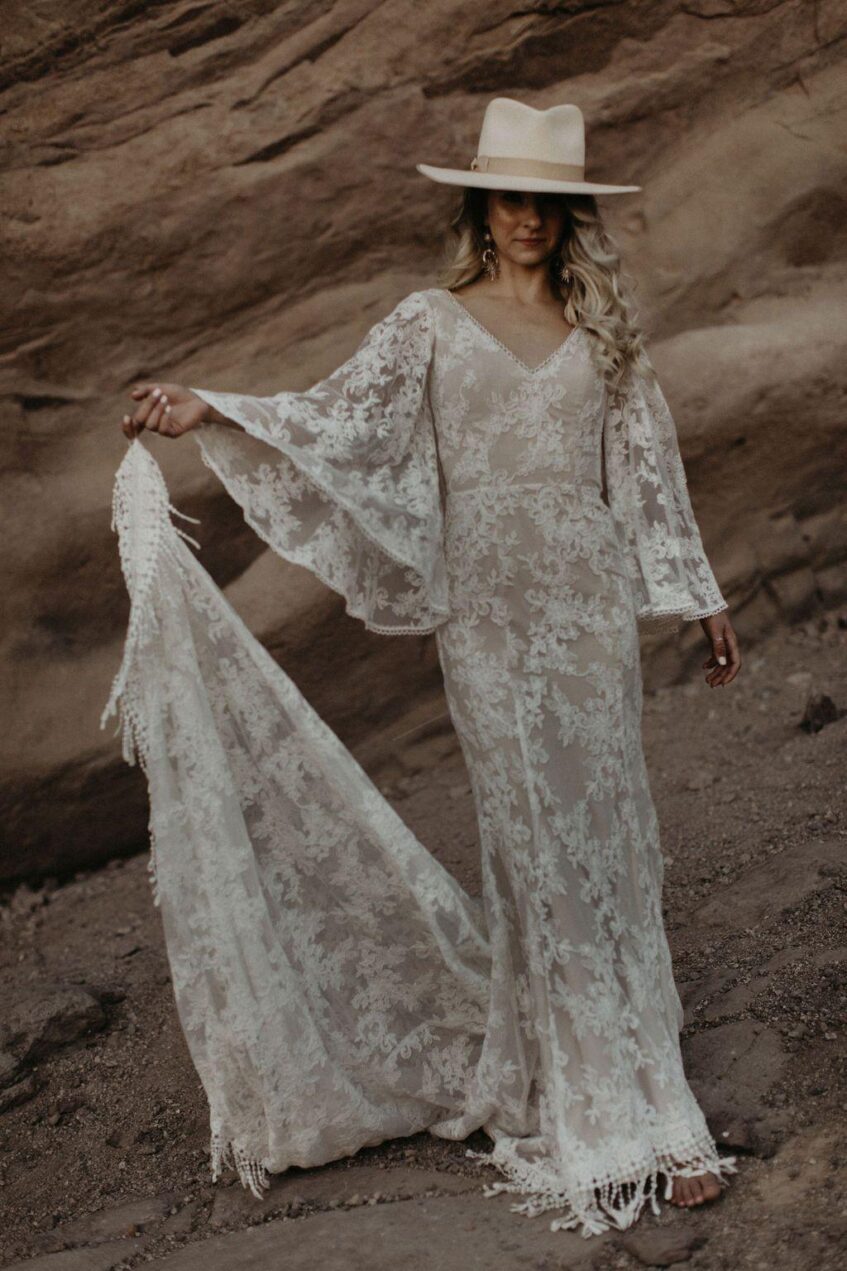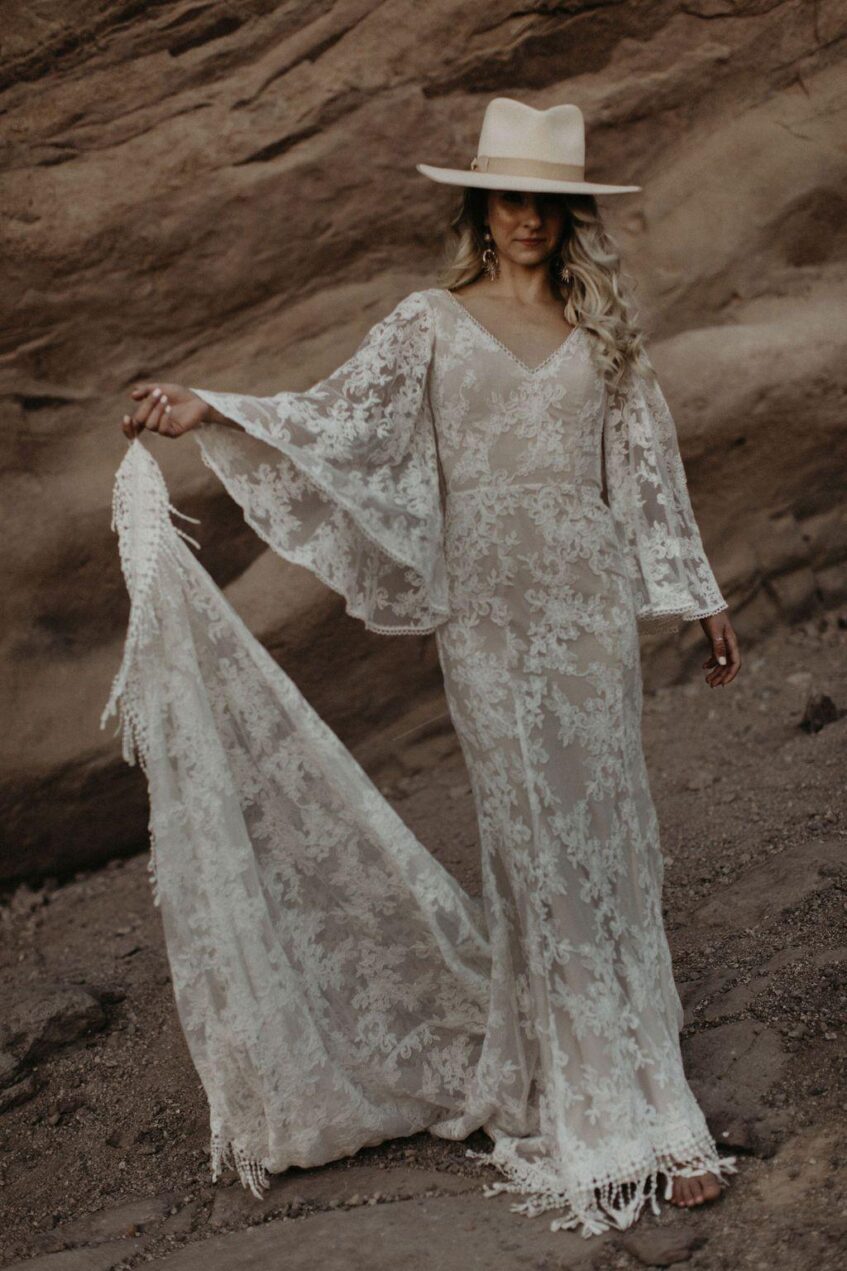 The Showstopping Angel Long Sleeves Backless Wedding Dress
Angel sleeves, which drape down from the shoulder in a flowing, ethereal style, are perfect for brides looking for a dreamy, bohemian look. These sleeves create a timeless elegance that can make the bride feel like a fairy tale princess on her wedding day. The long, flowing sleeves can add an ethereal quality to the dress, making it perfect for a classic, traditional wedding or a more romantic, bohemian ceremony. In an angel sleeve dress, you are sure to turn heads. The Carissa long sleeve lace wedding dress from Dreamers & Lovers is a showstopper with its angel sleeves, backless lace design, and stunning fitted silhouette.
To summarize, there are many options when picking the perfect long sleeve backless wedding dress. Whether you're looking for something romantic and playful, elegant and form-fitting, or bohemian and whimsical, there's a style that will suit your unique personality and taste. So, take your time to explore the different sleeve styles and find the one that makes you feel like the most beautiful and confident bride on your special day. You deserve it!