A wedding day is a memorable event that we talk about until the end of our life. However, that doesn't mean the organization of the most beautiful day in life is going too easy. There are a lot of things you need to take care of.
First of all, you need to find the best possible place for the wedding ceremony and how many people will attend that moment. On the other hand, the organization of a wedding reception requires even more time and effort. That is the reason why people often forget about some tiny yet important details that we would like to highlight here. One of the things we would like to talk about is the way you can brighten up your wedding reception.
In today's world, there are different types of lights that you can use to improve the decoration of the space where you will organize the party. However, one type of lightning that is properly designed and useful at the same time is neon signs.
The good news for the couples is that they can find appropriate neon signs on websites like sculptneonsigns.com.
However, more difficult tasks will be finding the best ways to brighten up the wedding reception. Well, that's exactly what we would want to analyze in this article. We will provide you with some ideas that will speed up and make the entire process a lot easier. Let's get started!
1. Welcome Your Guests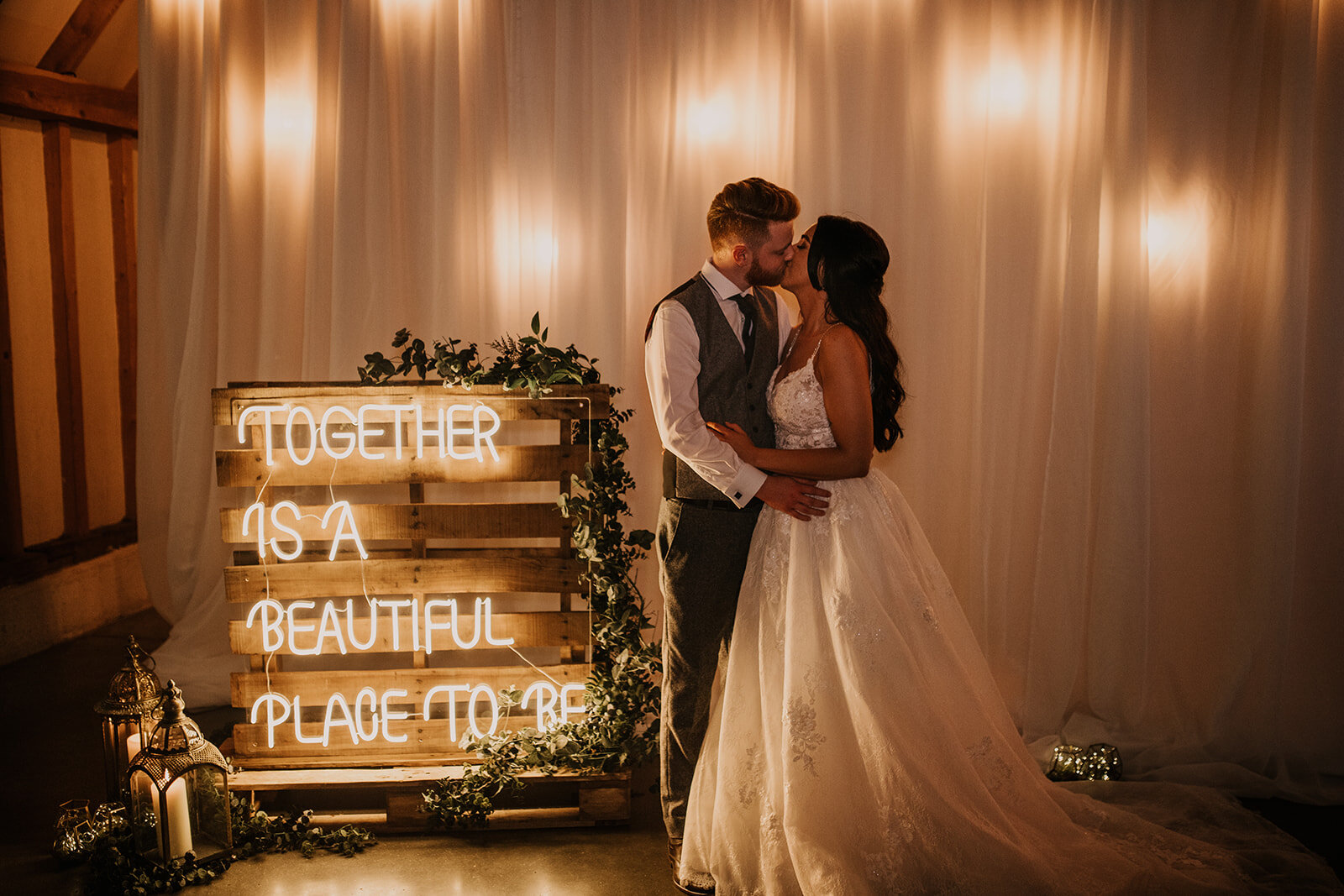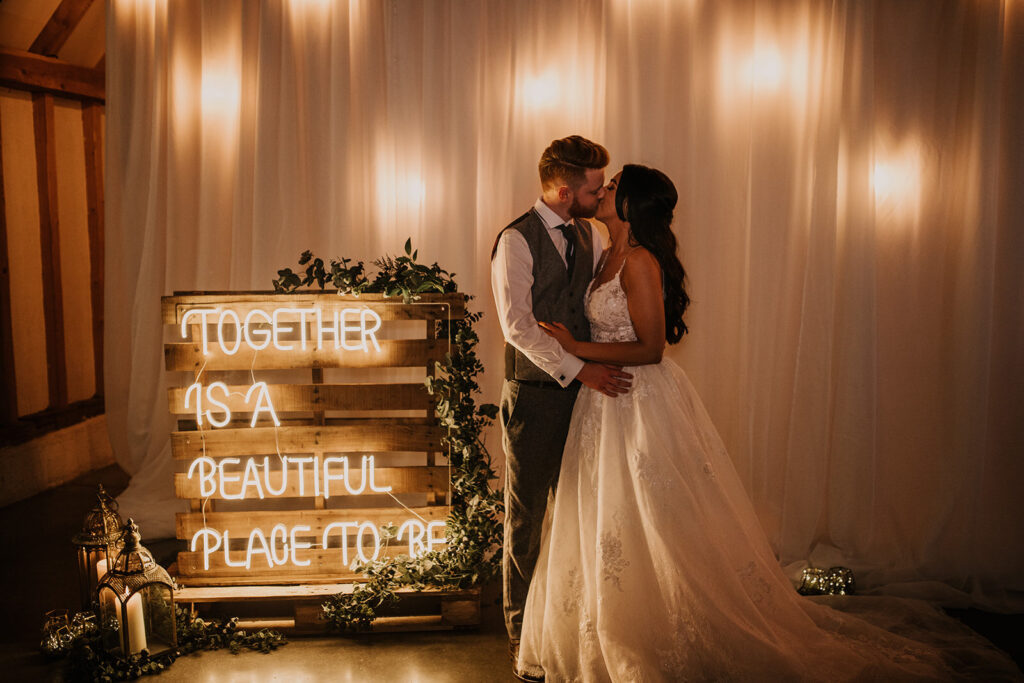 Imagine how tough it can be to stand in front of the place where you will organize your wedding reception for a couple of hours. There will be at least 100 guests that you need to welcome, and that can be quite annoying. It is much better to make a welcome sign out of the neon signs and ensure that all the guests know where they should enter. Despite good navigation, they will also feel pleasant and ready to share happiness with you to the fullest.
2. Navigate All Your Guests
Neon signs are an excellent way to navigate all your guests inside the place where you plan to organize the most beautiful day. You can use neon signs that will show them where are the bathroom, exit/entrance, and other places the guests would potentially want to go during the wedding reception. In that way, you want to have to explain the same thing many times during the night, and you can enjoy your day to the fullest.
Despite the "Welcome sign", you can use a directive such as "meet us at the bar". The guests will know exactly where they should go to attend the cocktail hour.
3. Make an Amazing Backdrop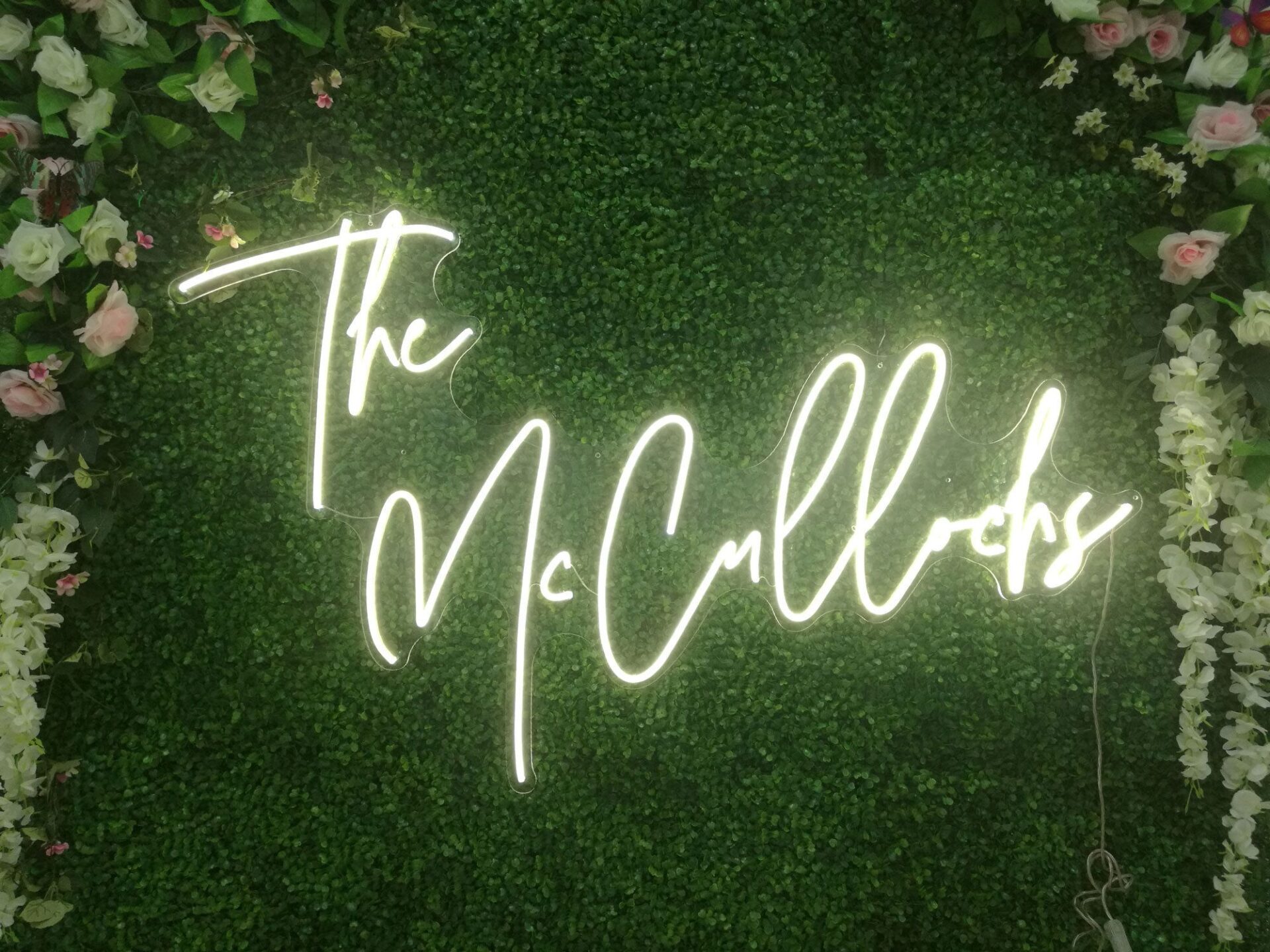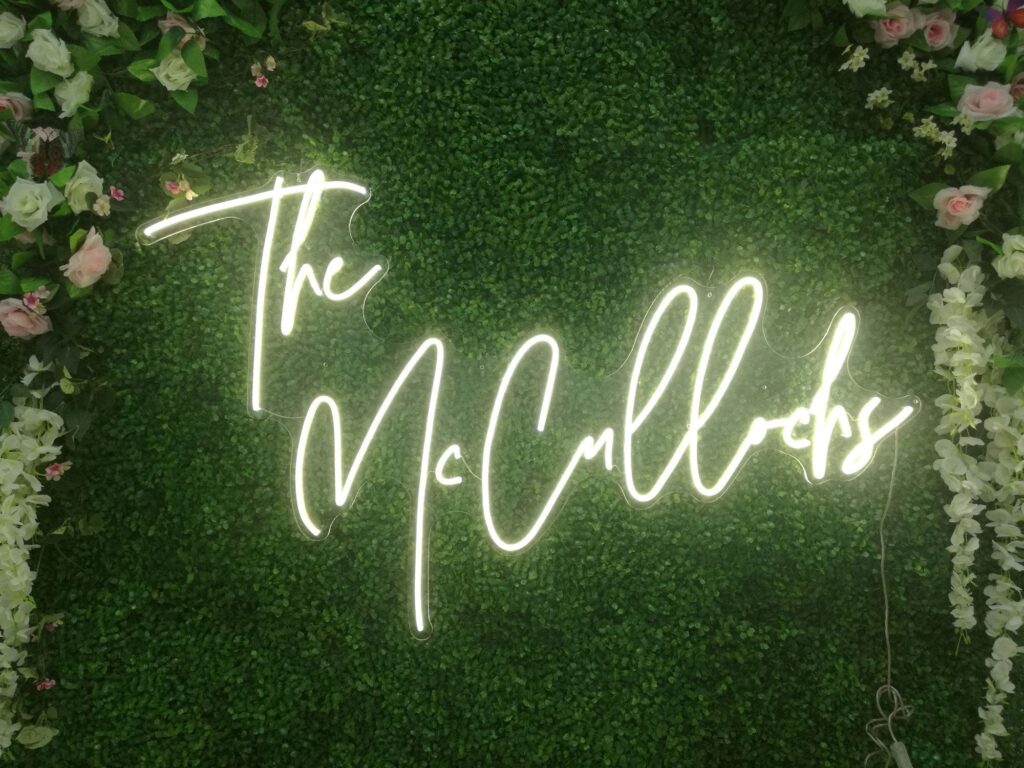 We do not want to underestimate the benefits that photo booths can bring. However, it is probably much better to create a vibrant backdrop with neon lights and make your wedding day like those you can see in Hollywood movies.
For instance, you can use the husband's last name and add a year when the wedding was organizing. That can be an excellent background for the place where you plan to take a picture with all the guests and relatives.
If you fancy a photo booth at your wedding, you can get amazing photo booth signs to beautify it. The signs will also add lighting to make your photos pop.
4. Mix Your Neon Signs with Candles
This is so romantic and productive way to improve the lighting of your wedding reception. Without any doubt, you will ensure a different atmosphere that will make all the guests enjoy. Despite that, you can also make some amazing pictures with that type of design.
5. Light Up the Dance Floor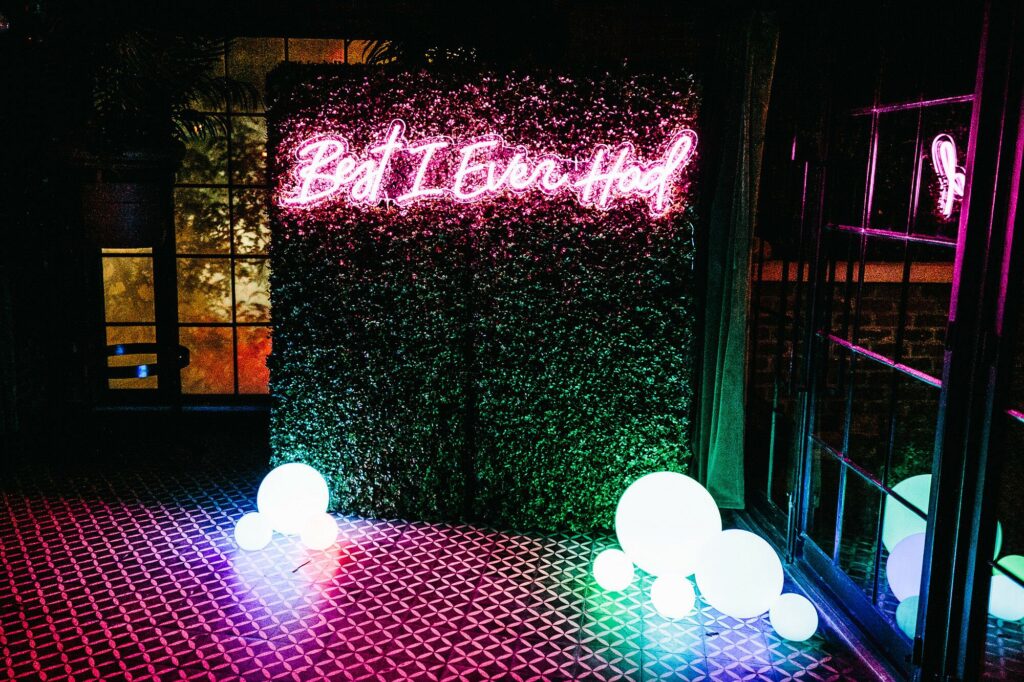 Not all couples have the desire to make their wedding like any other. They want to ensure that their reception has a nightclub sense. Because of that, they can use neon signs to illuminate the dance floor. Not all neon signs are the same. Given it's your big day (remember cutting corners might backfire!), its really important to get it right so we spoke with professional neon sign company Voodoo Neon about what it takes to setup a wedding perfectly – instagrammable perfect – wedding, with neon signs. Keep in mind that there is no need to overdo it. A small amount of light will be enough to invite all the guests to come to the same place and dance.
6. What about Bubbles?
It happens all the time that guests forget to grab the bubbly. Because of that, you should find the best possible way to remind them. However, imagine how time-consuming it can be to remind every guest individually. It is much better to illuminate the bubbles and remind the guests to take them on the way to the ceremony. We believe that's a more practical option.
7. DJ Also Needs Light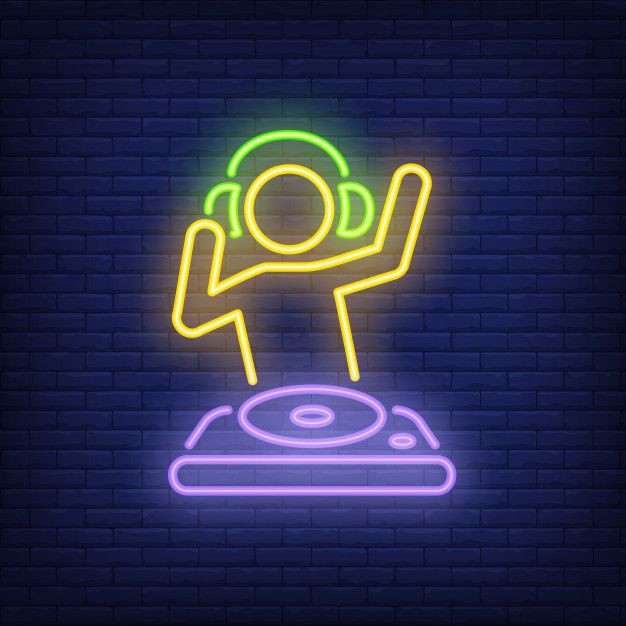 All the guests that come to your wedding reception will enjoy the music. However, most of them will not even notice the DJ that is responsible for the good atmosphere. If you want to fix this, all you have to do is to use a custom neon sign that will brighten up the place where the DJ is located. Maybe some of your guests would want to order a specific song, and they will know at every moment where they should go.
8. Add Initials
Okay, this may not be a unique thing to do, but it can definitely be symbolic for the couples. They can use neon lights in form of initials. These neon lights do not take a lot of space, and they can definitely be an excellent background for all the photos you two plan to make. On the other hand, it definitely is a more unique option compared to engraving initials on a wedding ring.
9. Send a Clear Message of Love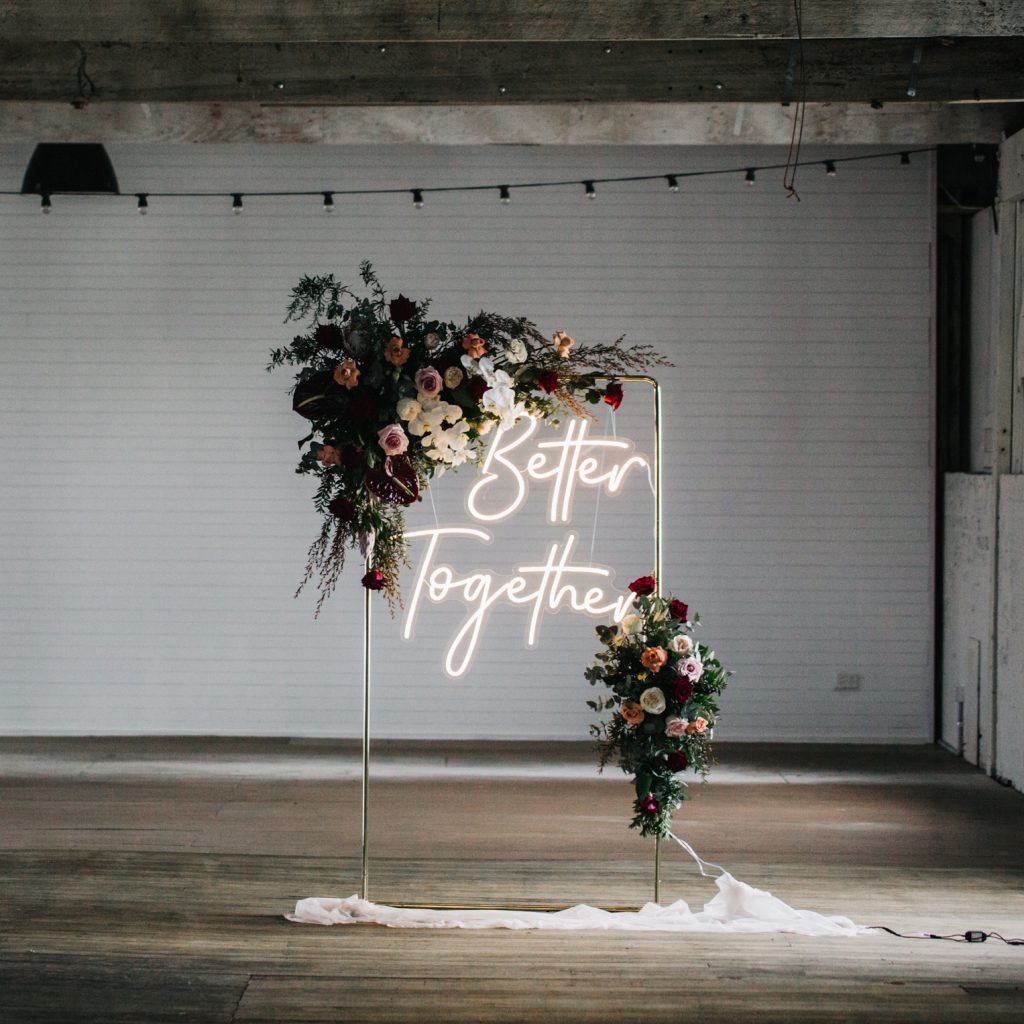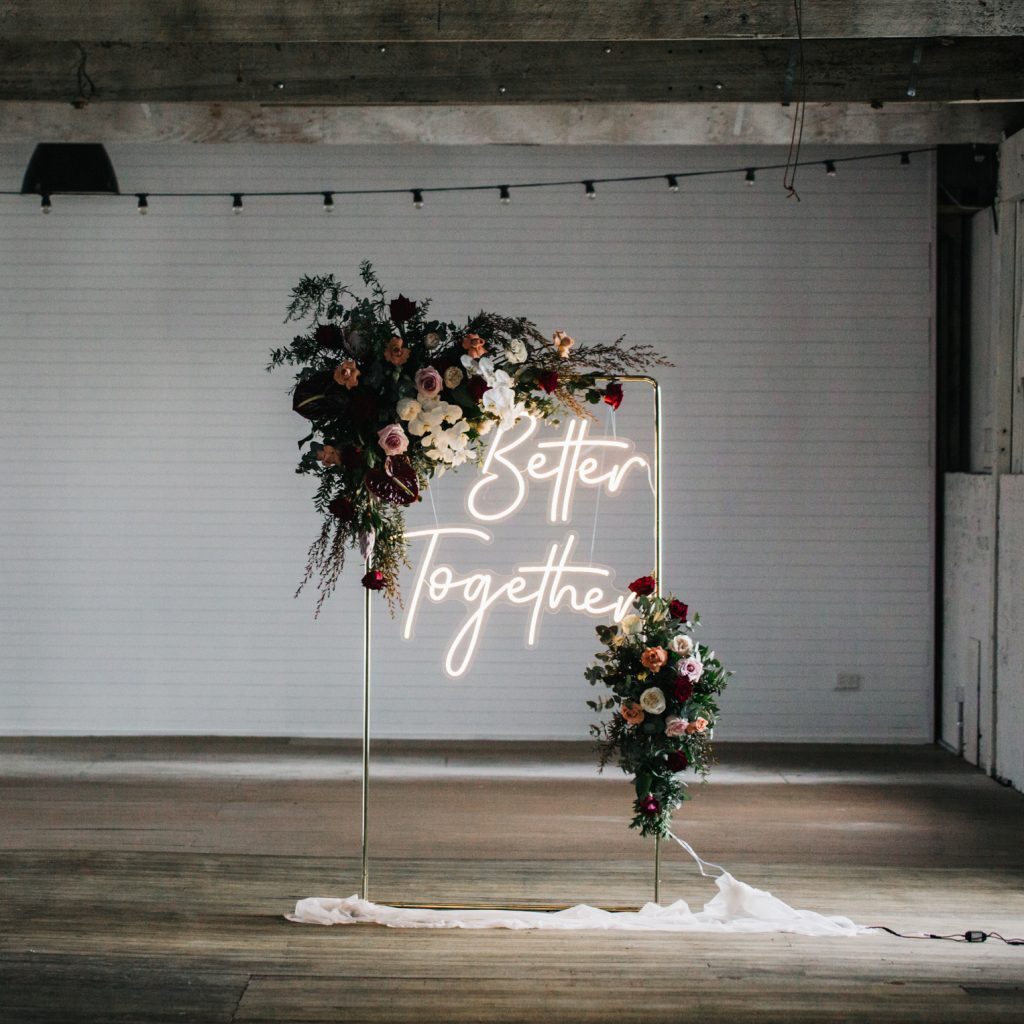 Neon signs can also come in a form of a quote. However, we recommend you don't use Google to find some romantic quotes adequate for a wedding reception. Instead of that, you should use a sentence that describes your entire love relationship before marriage. That one sentence will make all the photos you make more valuable and your wedding day will get a sentimental value. In the end, you will be unique because no one else is going to use the same quote.
Final Thought
As you can see, there are many ways to brighten up your wedding reception with neon signs. All you have to do is to get out of the box and try to find the most creative solutions. Some people believe that neon signs are necessary on every corner, but there is no reason to overdo it. Brighten up only those details that should be important for the guests. Everything despite that would be unnecessary.