Are you thinking about going with the traditional black-tie tuxedo or are you considering something that is unorthodox and quirky? Yes, most people think that women have a problem with choosing what they'll wear, but, it can also be a difficult and daunting task for the groomsmen as well.
If you are completely overwhelmed by the number of options you can pick from, fear not! This article can help you. The text below is going to feature a list of the most stylish groomsmen outfit ideas that you can consider when thinking about what to wear during your best friend's wedding day. Let's take a closer look at the ideas:
1. No Tie? No Problem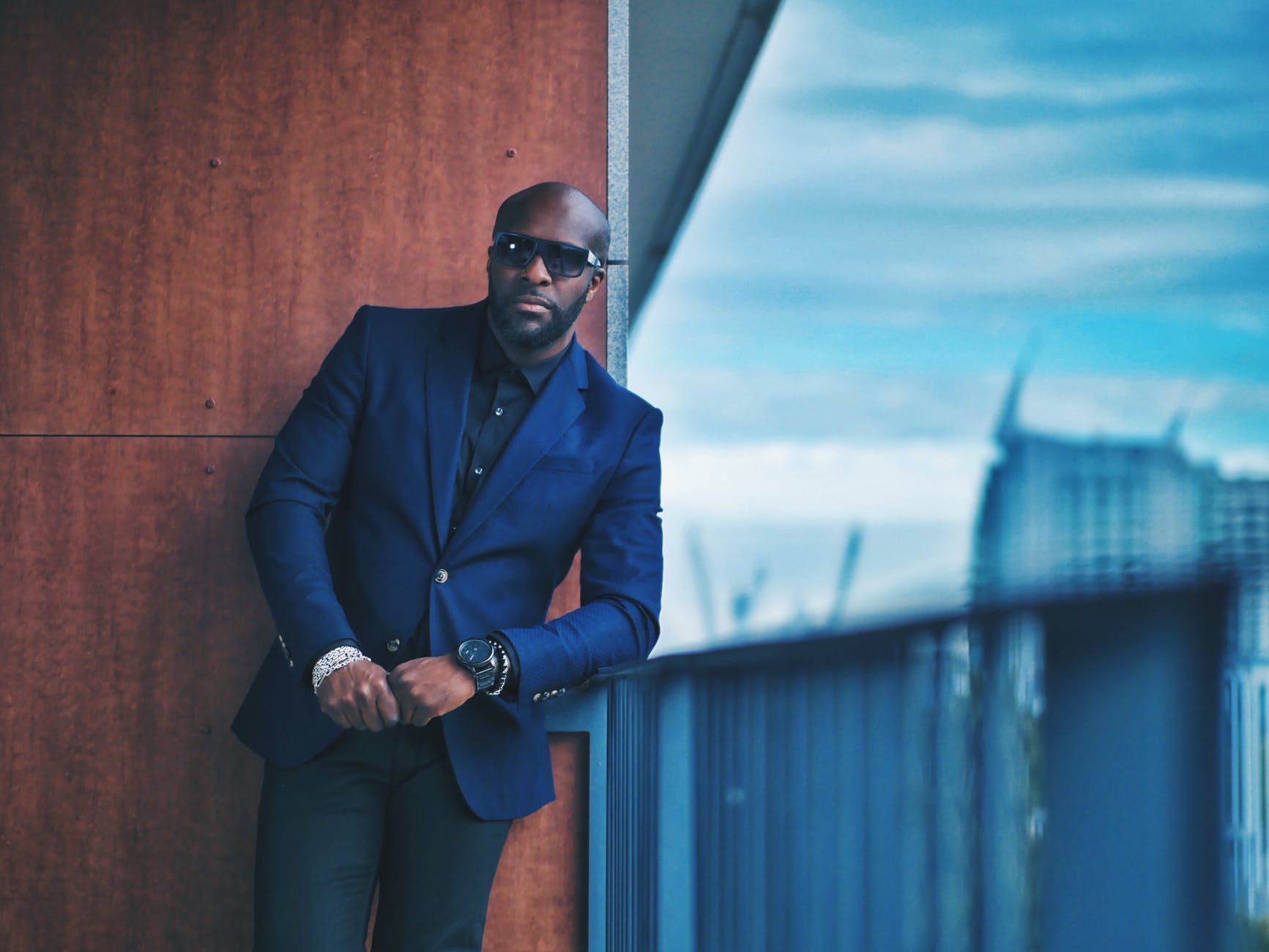 Who says that it is an absolute must to use a tie or bow tie to a wedding? Well, your grandfather might think this is a must, but to be honest, you can go tie-free. However, you'll need to focus on something that will make your clothes stand out. For instance, you can opt for khaki jackets, combined with dark blue or black trousers, and do not forget the boutonniere. If you want to attach it to your jacket, you'll definitely make your suit more interesting and fun.
2. The Burgundy Gentlemen
Are you thinking about talking to the other groomsmen and making a plan to have different colored jackets? That is completely fine, but, you should at least consider tying everyone's look together by, for example, opting for pants or ties that are the same hue. It will be something completely new, especially if you prefer darker tones – navy, burgundy, gray – for the jackets while opting for vibrant pants such as red, deep blue, or even purple.
3. Surprise Them All By Putting On Unusual Shoes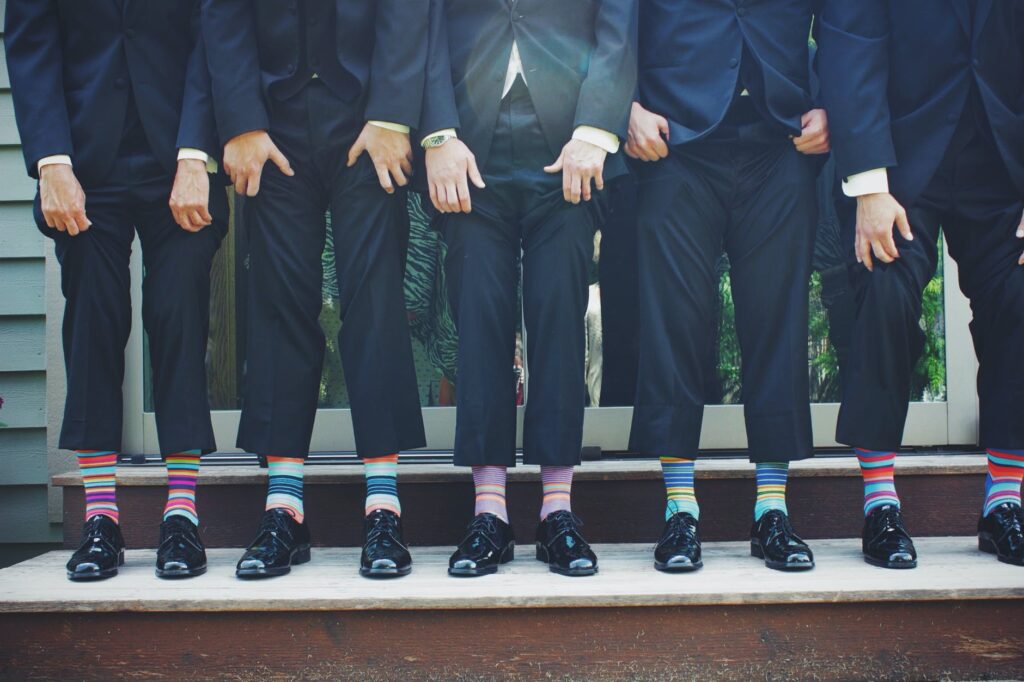 If your look already feels too formal or traditional, you can always opt for making it more interesting by purchasing shoes that will be in vibrant, bold shades. So, if you will, for instance, have a dark gray suit, pick red, blue, yellow, or even orange shoes that will make your look more fun and definitely head-turning.
4. The Classic, Elegant Tux
Although you might be a big fan of eccentric and vibrant suits, there is nothing wrong with choosing the classic, black-tie, elegant tuxedo. If you want to make it stand out from the crowd, you can opt for vivid shoes, or even better, socks. The socks you put on will definitely grab a lot of attention, hence, putting on quirky socks will definitely make your suit a statement piece. If you want to see what socks you can opt for, check out Cool Things Chicago for more info.
5. Casual is Also an Option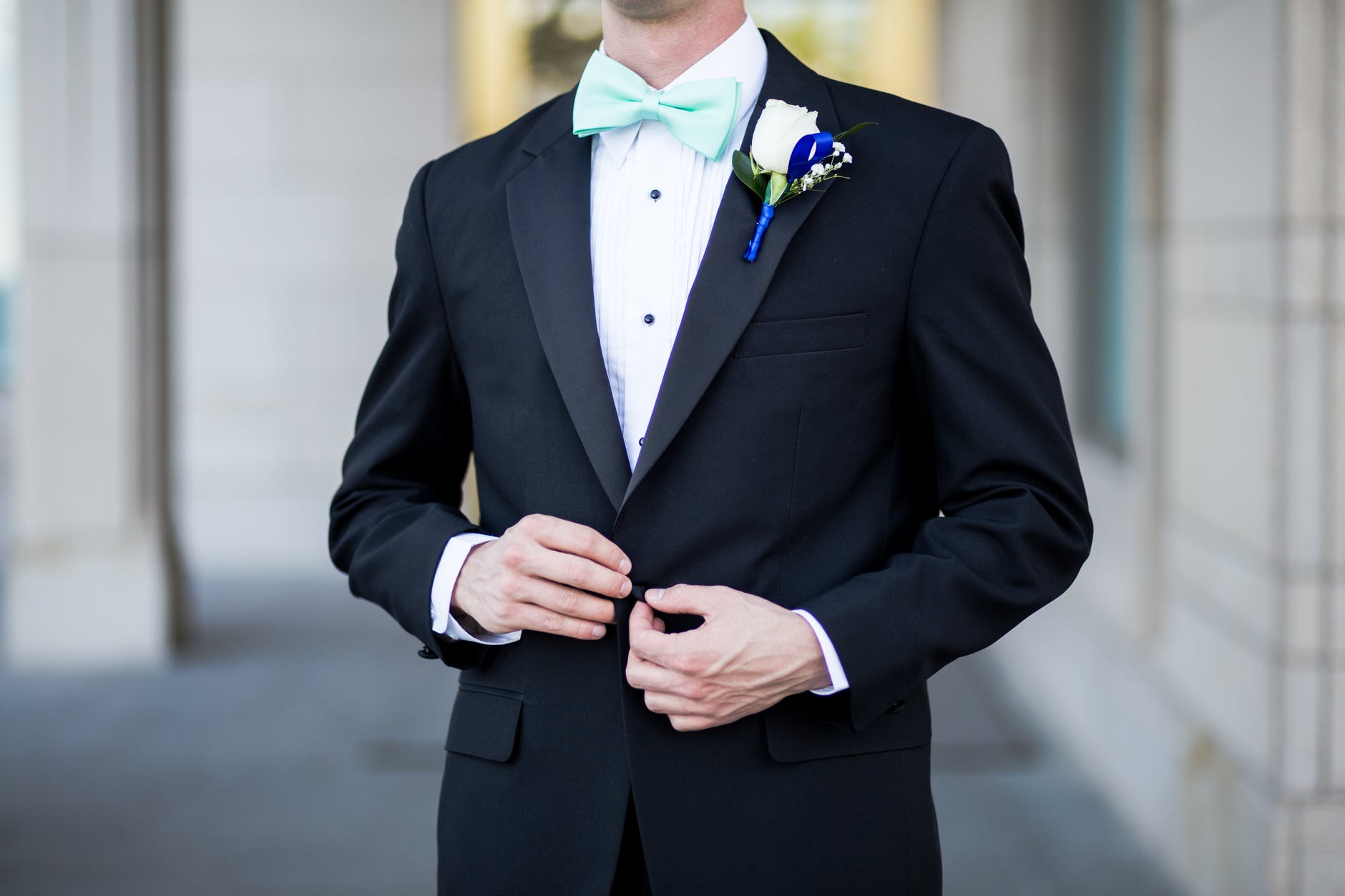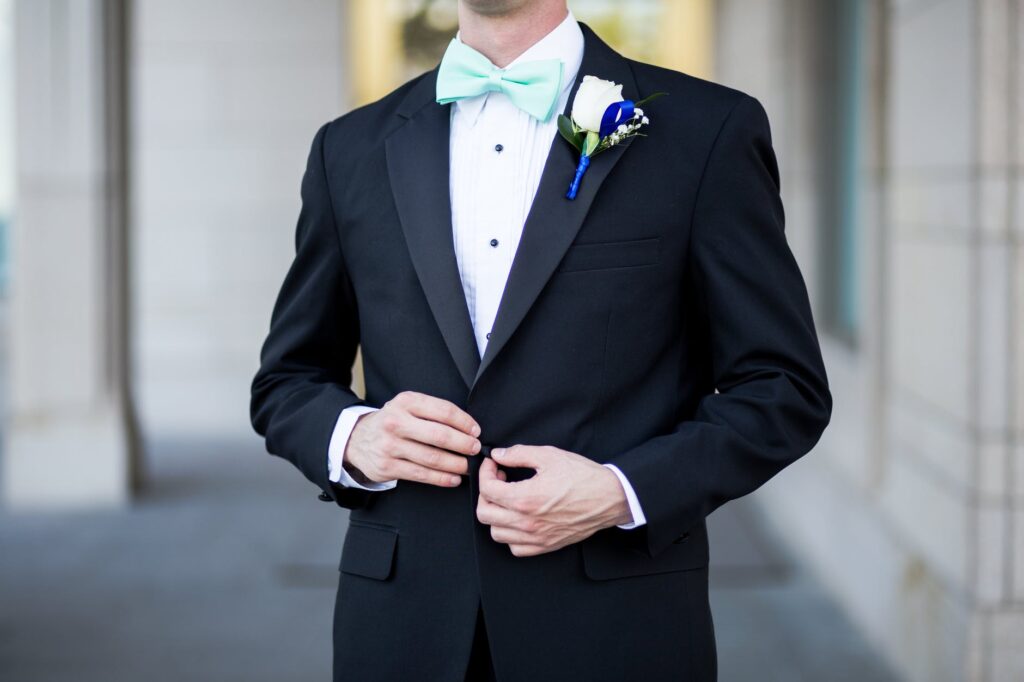 Now, just because we said casual, it does not mean that you should put on a t-shirt, jeans, and sneakers for the wedding of your best friend. Casual means something that can be formal, but, completely comfortable on the other hand. You can consider choosing collared white shirts, dark pants, and even shoes that are more casual.
6. Navy is The New Black
Nowadays, wherever you look, you'll see someone wearing navy clothes. Hence, you should think about wearing matching navy suits, combined with navy ties (and tie bars), as well as boutonnieres that will be crimson or in a shade that will complement your overall look. When it comes to the shoes you can pick, you can go with light or dark brown that will add a bit more contrast.
7. Patterns, Patterns, Patterns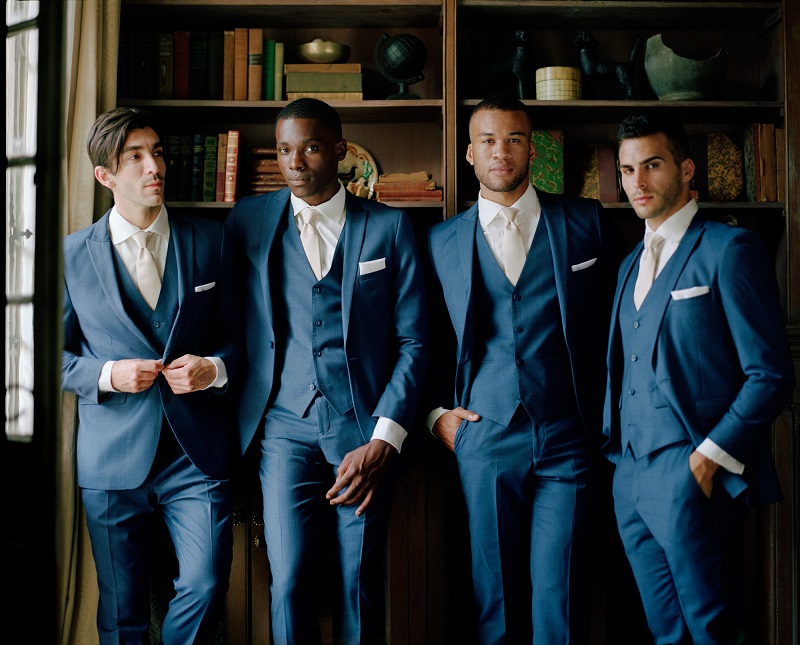 No, you do not need to be completely formal, instead, you can have a lot of fun and make everyone feel distinctive. You can do so by choosing different patterned ties for each of the groomsmen! They are incredibly fun, attention-grabbing, and you'll be able to showcase each of their personalities. Besides the ties, you can also play with patterned socks or shirts, but, ensure that you do not go overboard.
8. Going Rogue is Also an Option
When we say going rogue, we mean vibrant suspenders, bow or neckties, and different styles of jackets & pants. If you like this option, you should keep in mind that you should determine a tone palette in order to match the clothes in some way. Besides this, you can also match everyone by having them wear the same ties or shoes.
9. Dark Shirts, Light Jackets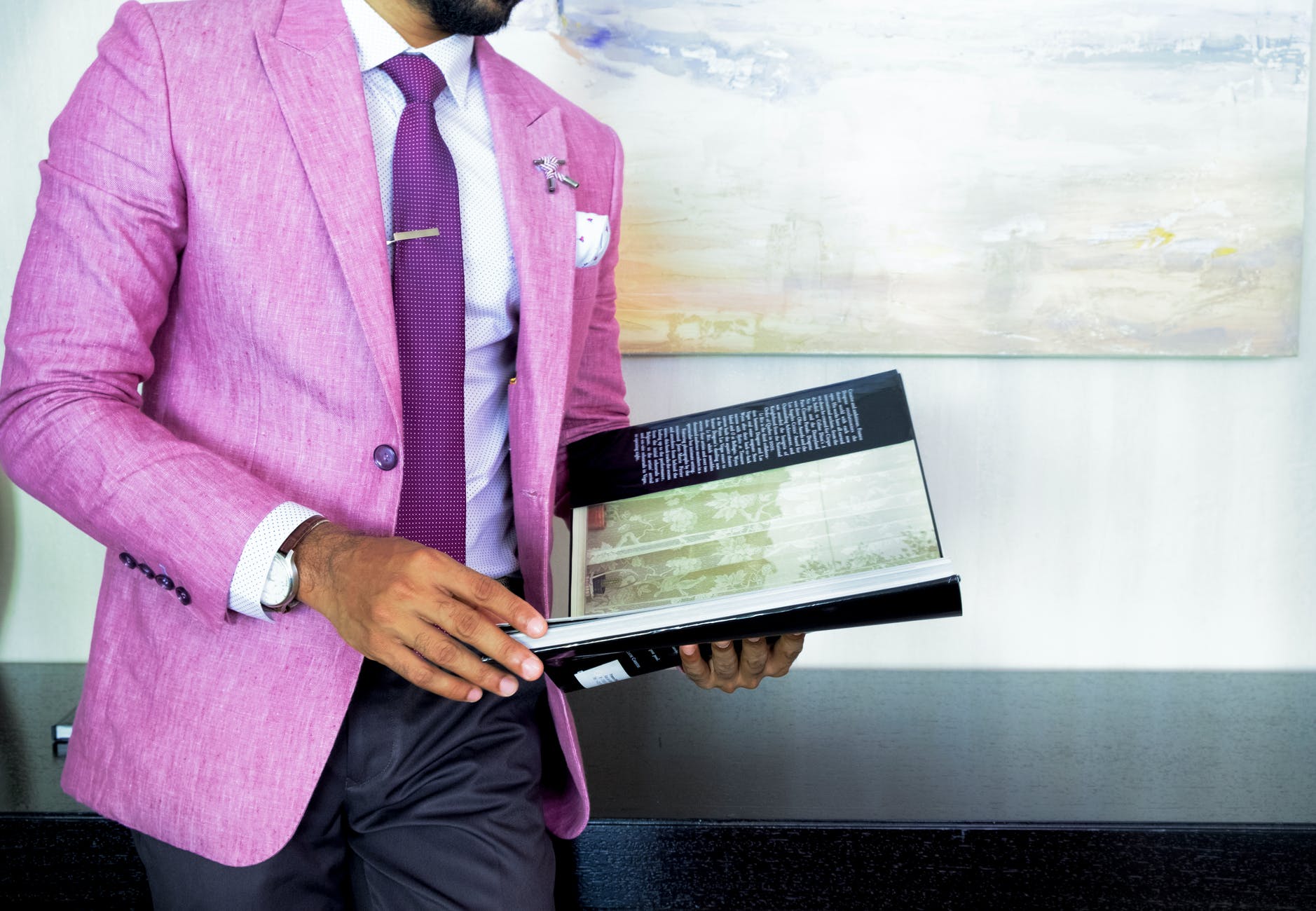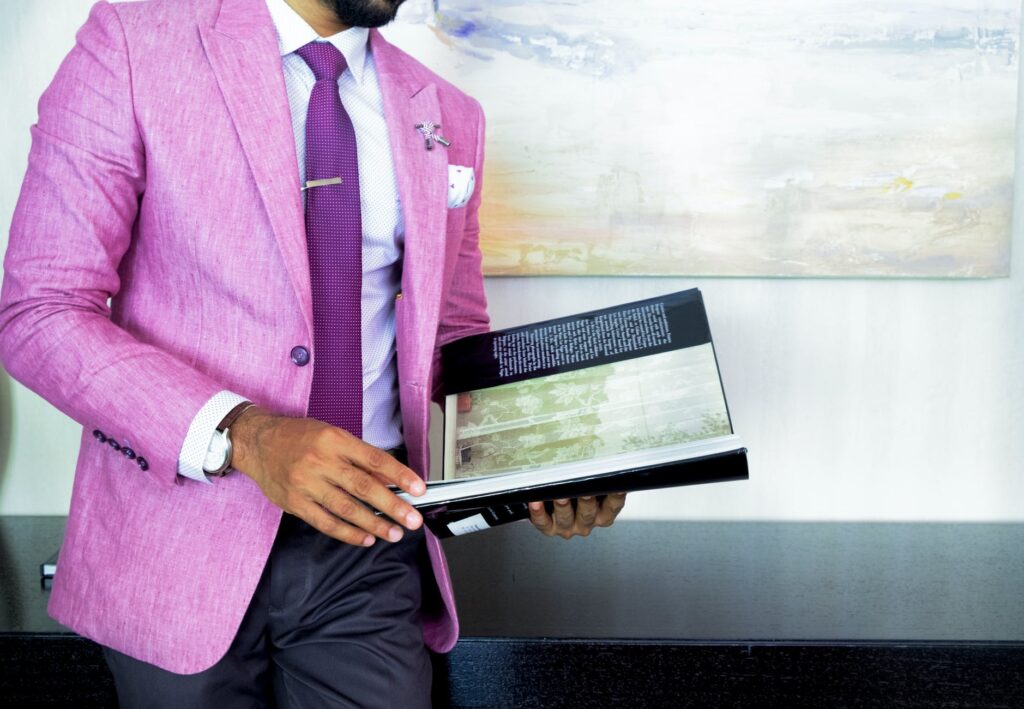 When you Google "groomsmen outfit", you'll see that almost all of them wear white shirts. This is, of course, not a rule for weddings, which is why you can always go with darker shirts and pants, combined with light jackets. The gentle tones are perfect for spring and summer weddings, especially since their vibe suits the weather outside.
10. Small, Intimate Wedding? Opt For Softer Tones
If the wedding you'll attend is smaller and more intimate, you should go with softer tones such a dirty pink, soft blue, or light purple. Besides this, you can also be a bit more casual, which means that you do not need to wear a tie or bow tie. Instead, you can choose to go with suspenders.
Bonus Tip – There Are More Things to Consider
When choosing the suits, you should consider a few things. For starters, think about the weather. Is it a summer or winter wedding? By thinking about this, you'll know what your outfit should incorporate. For instance, you might want to wear a jacket during a summer wedding, but, you'll also want to take it off because of the heat, hence, ensure that you look good even in a shirt. On the other hand, you might want to choose something warmer for a winter wedding.
The colors are also important. As mentioned, you can always coordinate the color palette, but, think about the groom's clothes as well. You'll definitely want to match it in some way. Accessories are also essential and you can choose things like quirky socks, suspenders, ties, watches, and even glasses.
Conclusion
As you can see, there is a wide range of outfit ideas that you can choose for that special day when you'll be supporting your best friend while he is getting married. So, now that you know what you can opt for, you should not lose any more time. Instead, start browsing online and brick-and-mortar businesses in order to find the outfit that will fit your needs and desires.