Grooms and groomsmen alike want to look sharp and stylish on the big day. To help navigate the world of men's wedding suits, we've compiled a list of the most popular and fashionable options available.
The Classic Black Tuxedo
No list of wedding suits would be complete without the venerable black tuxedo. Timelessly elegant and sophisticated, this suit is perfect for formal weddings and black-tie events. Pair it with a crisp white shirt, black bow tie, and patent leather shoes for a polished look.
The Navy Blue Suit
The navy blue suit is versatile and suited to both formal and semi-formal weddings. A well-tailored navy suit can be dressed up with a tie and pocket square, or given a more casual look with an open collar.
Complete the outfit with brown or black shoes, depending on the level of formality.
The Grey Suit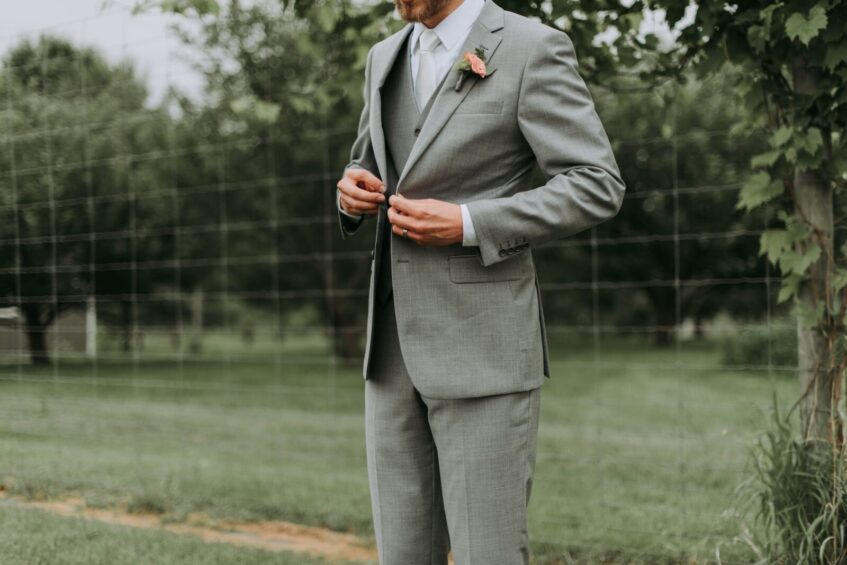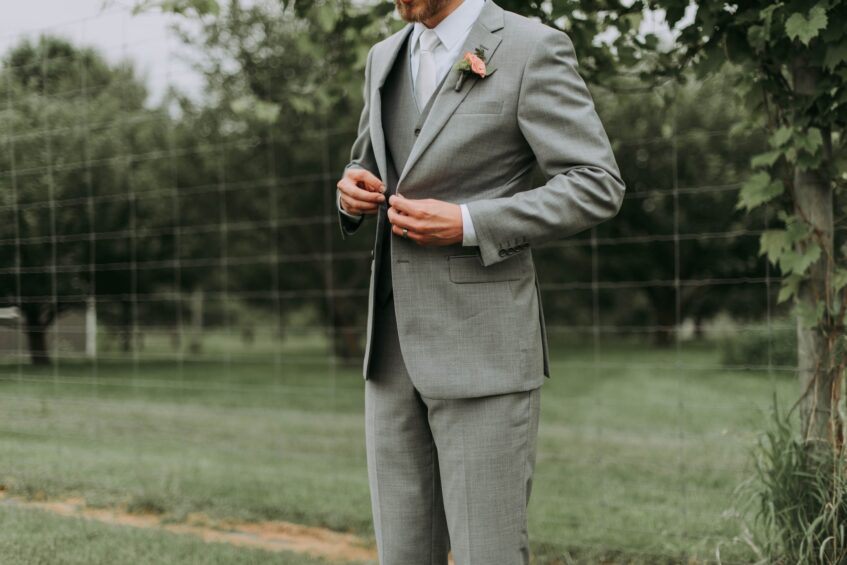 The grey suit is a staple of any man's wardrobe, and it's a must-have for your wedding day. It's suitable for almost any season, and it will always be appropriate for the occasion.
It can be worn with just about any color shirt, so you can make sure that your outfit looks like it belongs to the time and place of your wedding.
The grey wedding suit for men is also an excellent choice because it's versatile enough to work with almost any color tie or pocket square.
This means that you can choose your accessories based on your own personal style, and not worry about whether they'll clash with the rest of your look.
The Three-Piece Suit
For those who want a touch of vintage flair, the three-piece suit is a fantastic option. Characterized by a matching vest worn under the jacket, this suit adds an extra layer of sophistication.
Available in various colors and fabrics, a three-piece suit can be customized to fit any wedding theme or style. The vest adds a classic touch and offers versatility in both formal and semi-formal settings. Grooms can choose to wear it throughout the event or remove the jacket for a different look during the reception.
The Linen Suit
Linen suits are a great choice for the wedding season. They're lightweight and breathable, so you won't overheat in the summer sun. Linen is also known for its durability, which means your suit will last you through many summers (and weddings) to come.
The relaxed texture of linen brings a laid-back elegance to the wedding ensemble, making it an ideal choice for beach or garden weddings. Just keep in mind that linen's natural creases are part of its charm and lend a relaxed yet sophisticated vibe.
The Classic Grey and White
If you're looking for a classic look, try a grey or white wedding suit for men. These colors can work with any color palette and still look polished and put-together.
If you want something more casual, try a khaki linen suit—it's a great option if you're going on an outdoor wedding in the spring or summertime!
Grey and white suits offer a neutral backdrop that allows you to experiment with bold accessories, such as colorful ties, pocket squares, or even vibrant socks, to inject personality and vibrancy into your look.
A khaki linen suit, on the other hand, is the epitome of relaxed sophistication, perfect for a rustic or outdoor setting.
The Velvet Suit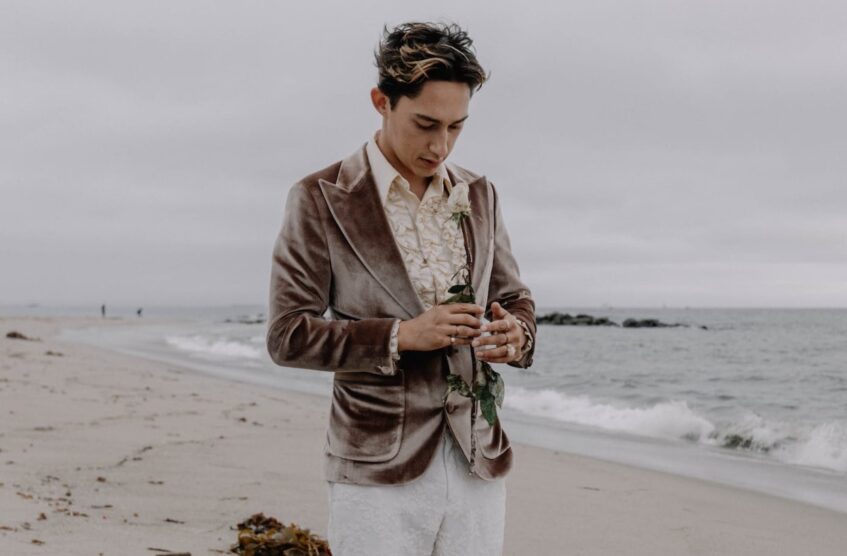 For grooms looking to make a statement, the velvet suit is both luxurious and stylish. Suited to cooler weather, this suit adds a touch of opulence and signifies a sense of grand romanticism.
Make sure to keep the accessories simple to avoid competing with the suit's beautiful fabric. The lush texture of velvet brings an undeniable sense of richness to the outfit, making it a fantastic choice for evening or winter weddings.
The reflective surface of the fabric also catches light beautifully, making the groom stand out in photographs and creating a truly unforgettable presence.
The Double-Breasted Jacket
This traditional, timeless piece is making a significant comeback. Not only does it exude power and sophistication, but the double-breasted jacket also adds a touch of distinctiveness to a wedding attire.
When buttoned up, it enhances the shape of the wearer, giving a broader shoulder appeal and a cinched waist look. It works perfectly for those seeking a regal touch to their wedding outfit.
While commonly associated with business settings, in the right fabric and color, a double-breasted jacket can set a groom apart from the crowd.
The Vintage Tweed Suit
For those looking for a rustic, charming appeal, the tweed suit can be a perfect choice. A popular choice for countryside or winter weddings, tweed brings texture and depth to the groom's attire.
The thick fabric not only provides warmth but also adds a touch of classic British elegance. Paired with brogues and perhaps a pocket watch, the tweed suit offers a nostalgic trip back in time while retaining modern sophistication.
The Patterned Suit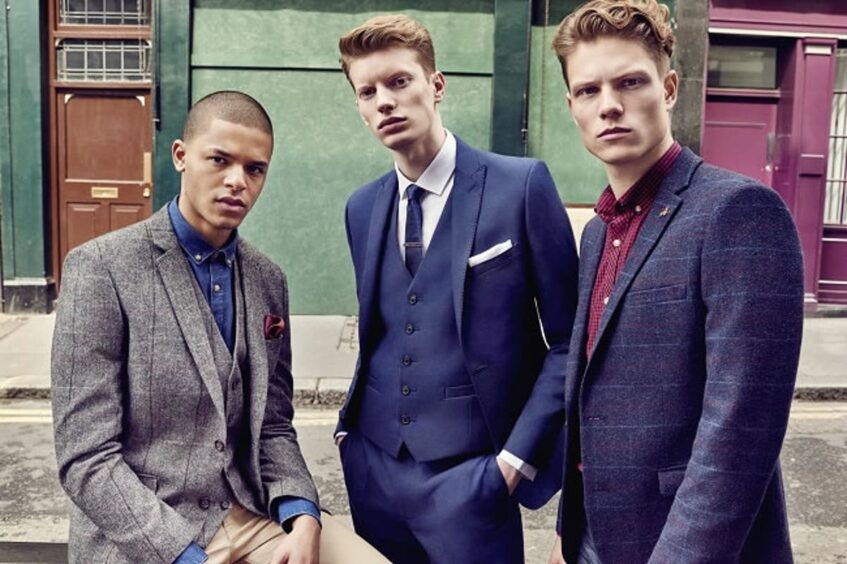 Why stick to plain when you can play with patterns? Whether it's a subtle check, a daring stripe, or a unique herringbone, patterned suits are a contemporary choice for the modern groom.
These suits allow personality to shine through, offering a fresh break from conventional wedding attire. For those willing to take a risk, mixing and matching different patterns can provide a chic and fashion-forward look.
The White Dinner Jacket
Taking a page from vintage Hollywood glam, the white dinner jacket is a sophisticated alternative to the classic tuxedo. Especially fitting for summer or destination weddings, it's traditionally paired with black trousers, a black bow tie, and a crisp white shirt.
This look captures attention and offers an impeccable blend of old-world charm with modern class.
The Casual-Chic Blazer and Chinos Combo
Perfect for beach weddings or more relaxed settings, the combination of a sharp blazer with chinos is both elegant and laid-back. While it's a step away from the formal suit, it doesn't compromise on style.
Depending on personal preference, grooms can choose a pastel-colored blazer paired with beige chinos or stick to neutral tones. Paired with loafers or even smart sneakers, this look screams of understated style and comfort.
Final Thoughts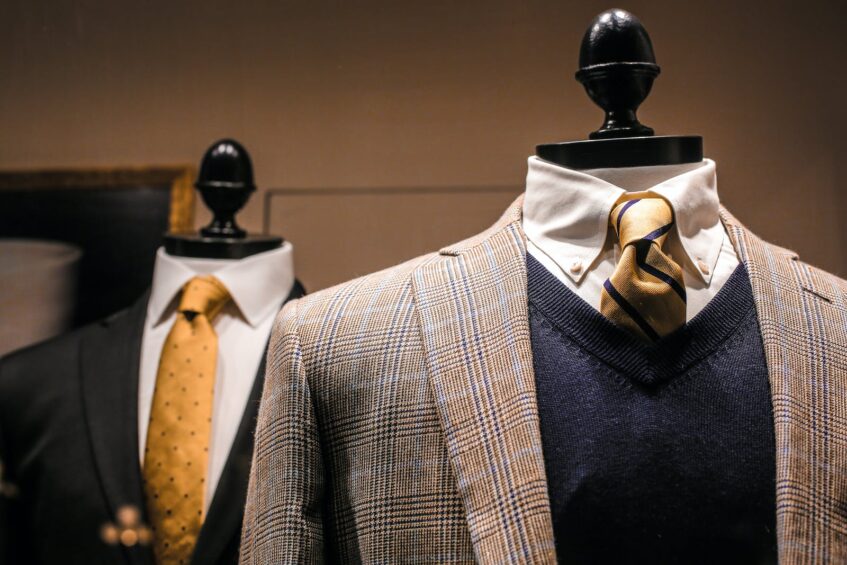 Remember, when choosing a wedding suit, consider the theme, formality, and location of your wedding, as well as your personal style. Your wedding attire should be a reflection of your taste, making you look and feel your best on this memorable day.