Planning for a wedding can sometimes be very tricky, especially during the last stages. This is because the requirement list continues to grow every subsequent day. More so, your initial budget of the wedding begins to get smaller and smaller. Things become even more stressful at this juncture. Although most of the listed items could be for decoration – style & flare addition; however, some are critically vital for logistical grounds.
Setting aside a budget for card boxes can be a wise idea. Although they may only be for storing cards, gifts, and cash, they also offer a great opportunity for decorating your venue by matching your overarching mode. What is more encouraging about cash boxes is that they come in various sizes and models to suit your budget. The most expensive ones are crafted using top-quality and long-lasting materials; hence, they can still be used long after the wedding. Cash boxes come in handy as you can still use them to store holiday cards, mail, keys (small boxes) and blankets, books or magazines (big boxes).
Best wedding boxes
The newlywed wooden card box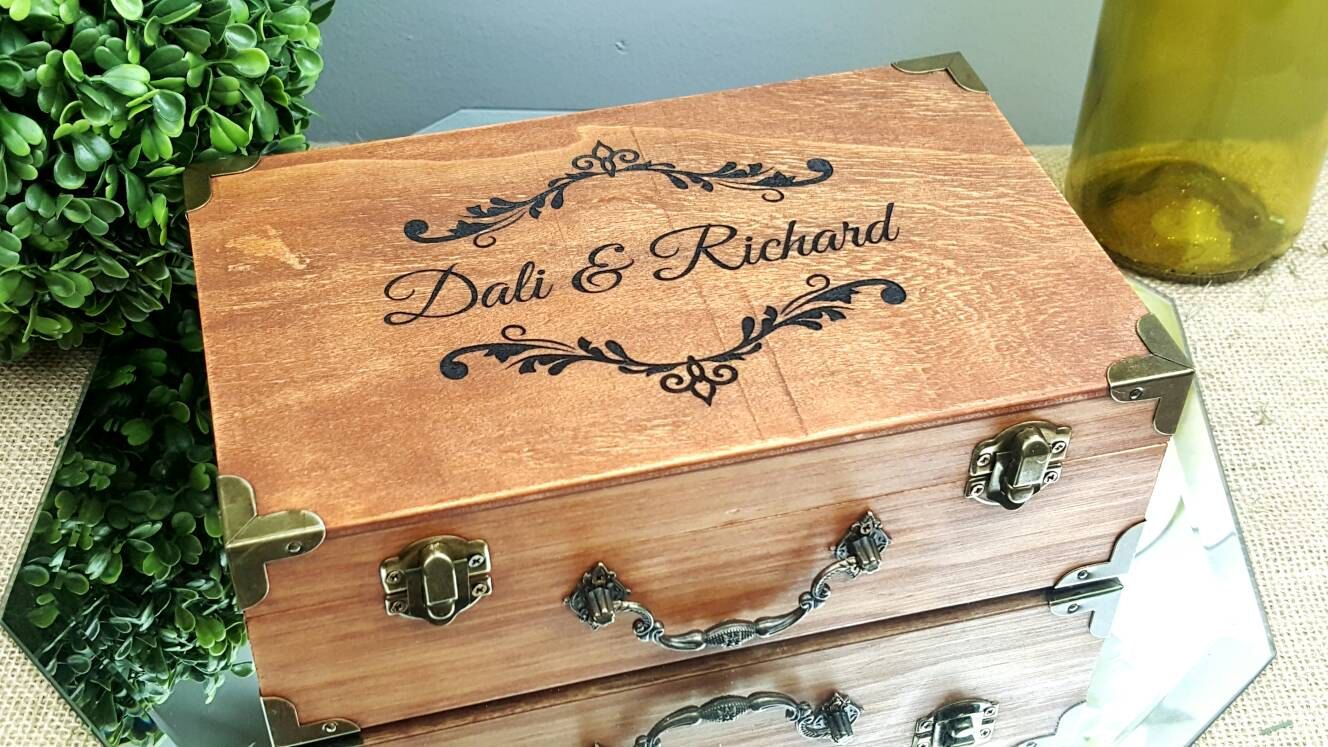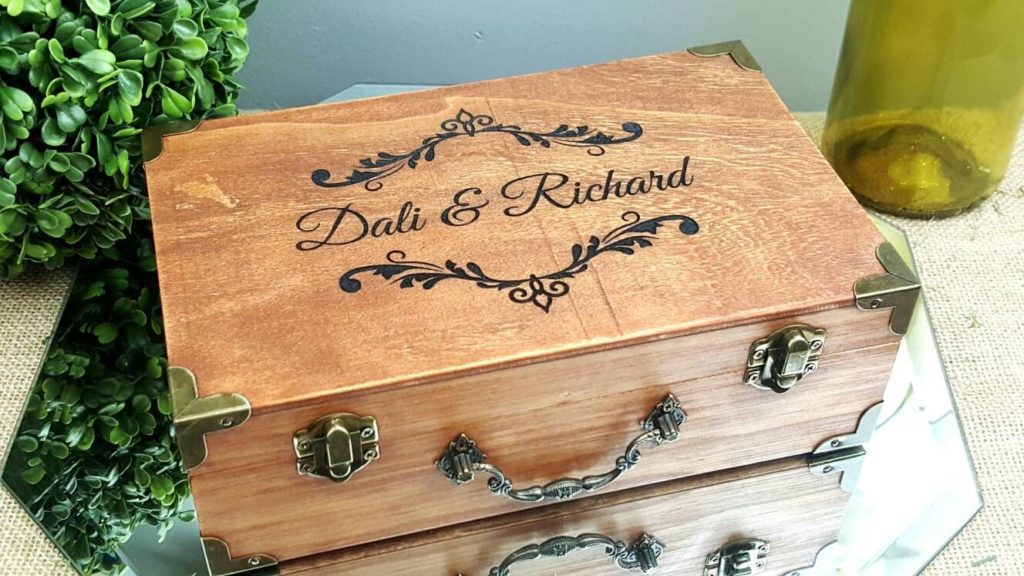 This shiny chalkboard cash box is ideal for storing your wedding cards. Considering the size, it can easily be placed on a tiny table when guests are ushered into the reception hall or room. Though simply crafted, this box is well-designed and matches with your current décor. It is made from high-quality wood materials, giving it a durable and stunning appearance. In most cases, these types of card boxes come in standard measurements of 8-inches square; thus, the perfect choice for storing standard cards. In case, your cards can't be slotted in via the opening, you can still use the top as it is easy to open and close.
Rustic wedding passionate card boxes
Are you planning for a boho or rustic wedding party? You are covered here. This stunning card box perfectly matches your style. This kind of box is available in sizes of 10-inches sq. It is enclosed in an ordinary burlap; lace for wrapping is festooned with silver heart ring. The good thing with this kind of box is that you can still use it for storing your bridal headgear and jewelry after the wedding.
Protected and Lockable Wedding Card Boxes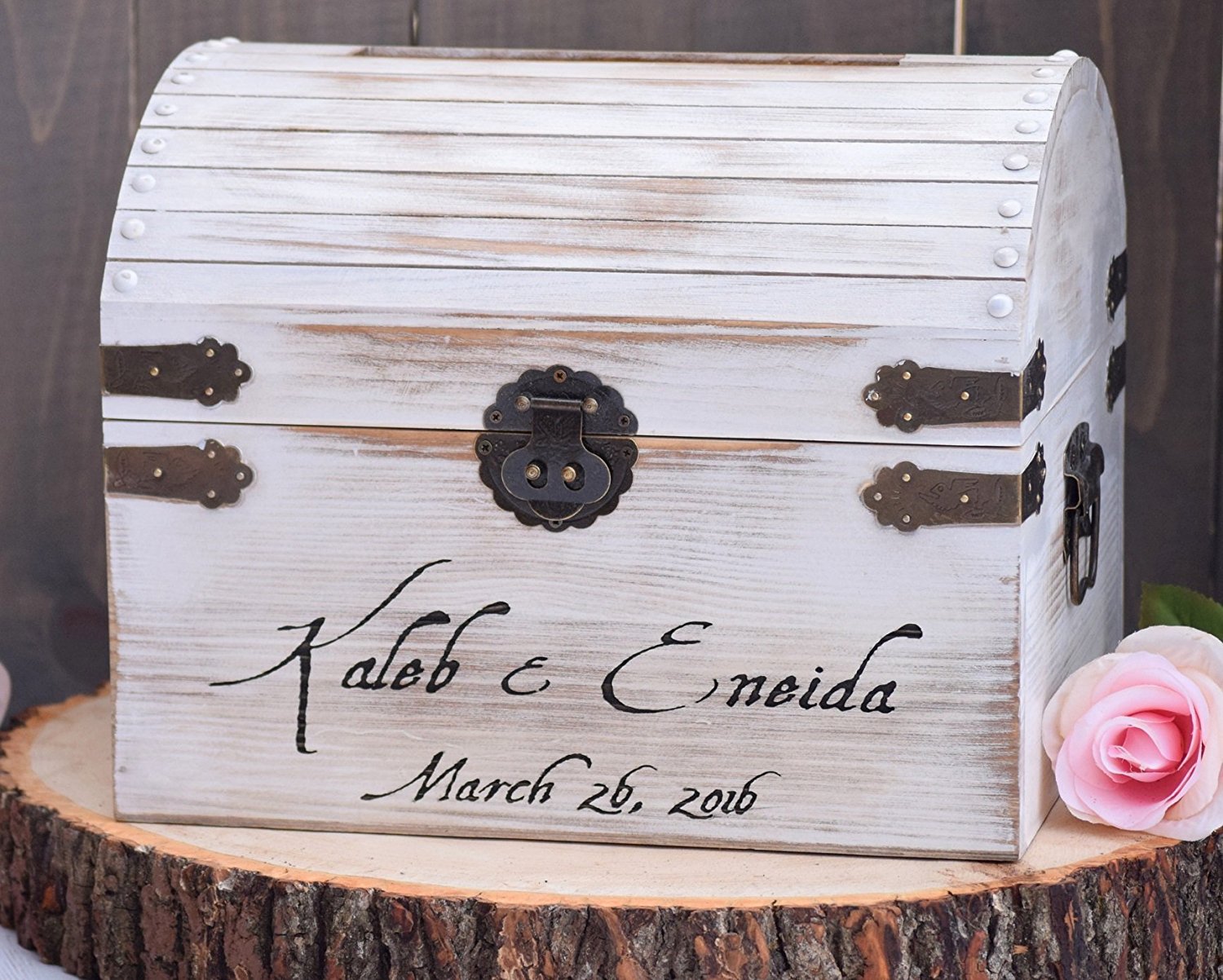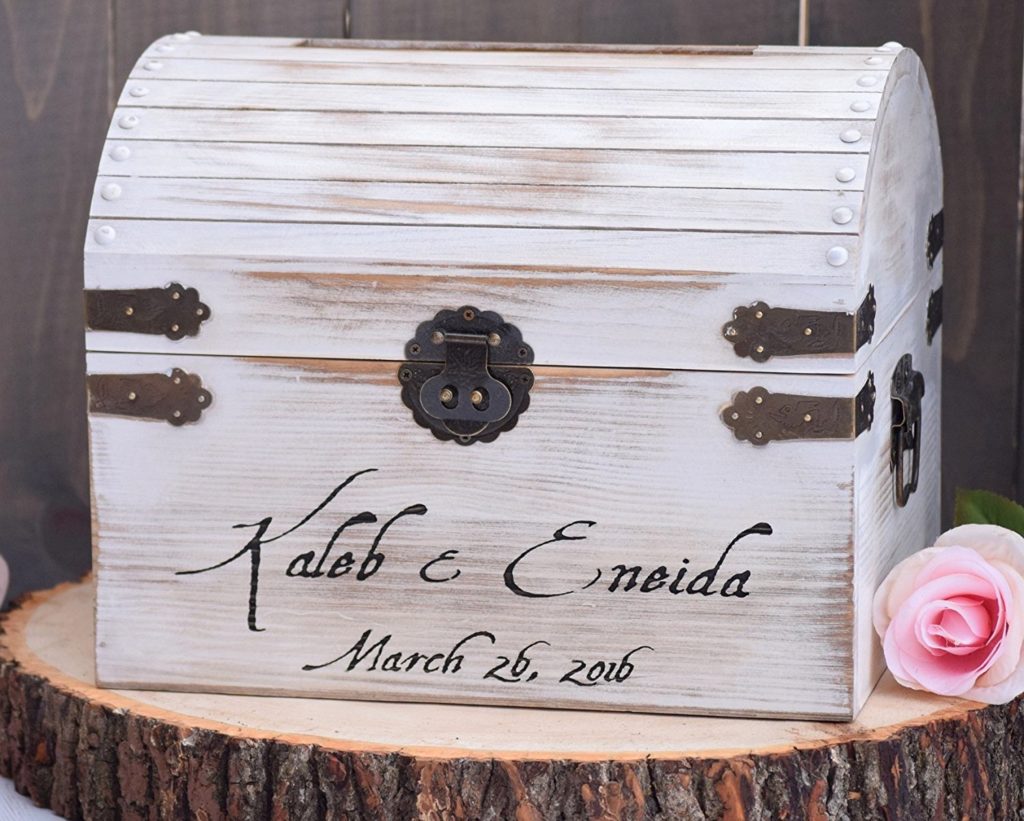 This type of card boxes comes with plain customization which makes it a great piece for displaying around your reception. The good thing with this kind of box is that it is secure as you can easily unlock it and lock using the provided key. This means that you have nothing to be wary of once you place it out. They come in an array of carefully crafted wood finishes. You have the option of deciding where to place the engraving to suit your convenience. They are also available in different sizes and prices so you can choose what befits your budget.
Wooden Planter Wedding Party Reception Card Holders
In case a real card box doesn't fit into your style, you can try other methods of collecting cards like vases, simple trays and holders. The ordinary model is more fascinating for brides with a more archetypal rustic approach. You can use this for collecting holiday cards or emails every subsequent year. More importantly, these types of items are more cost-effective than other handcrafted options on the market. It is the best choice in case you are operating on a limited budget. Considering each particular model is customizable, you can easily change the text denoting "cards" on the container to the date of your wedding, your last name or anything you wish for.
White-colored Gift Card Boxes with Rhinestone Sliders and Ribbons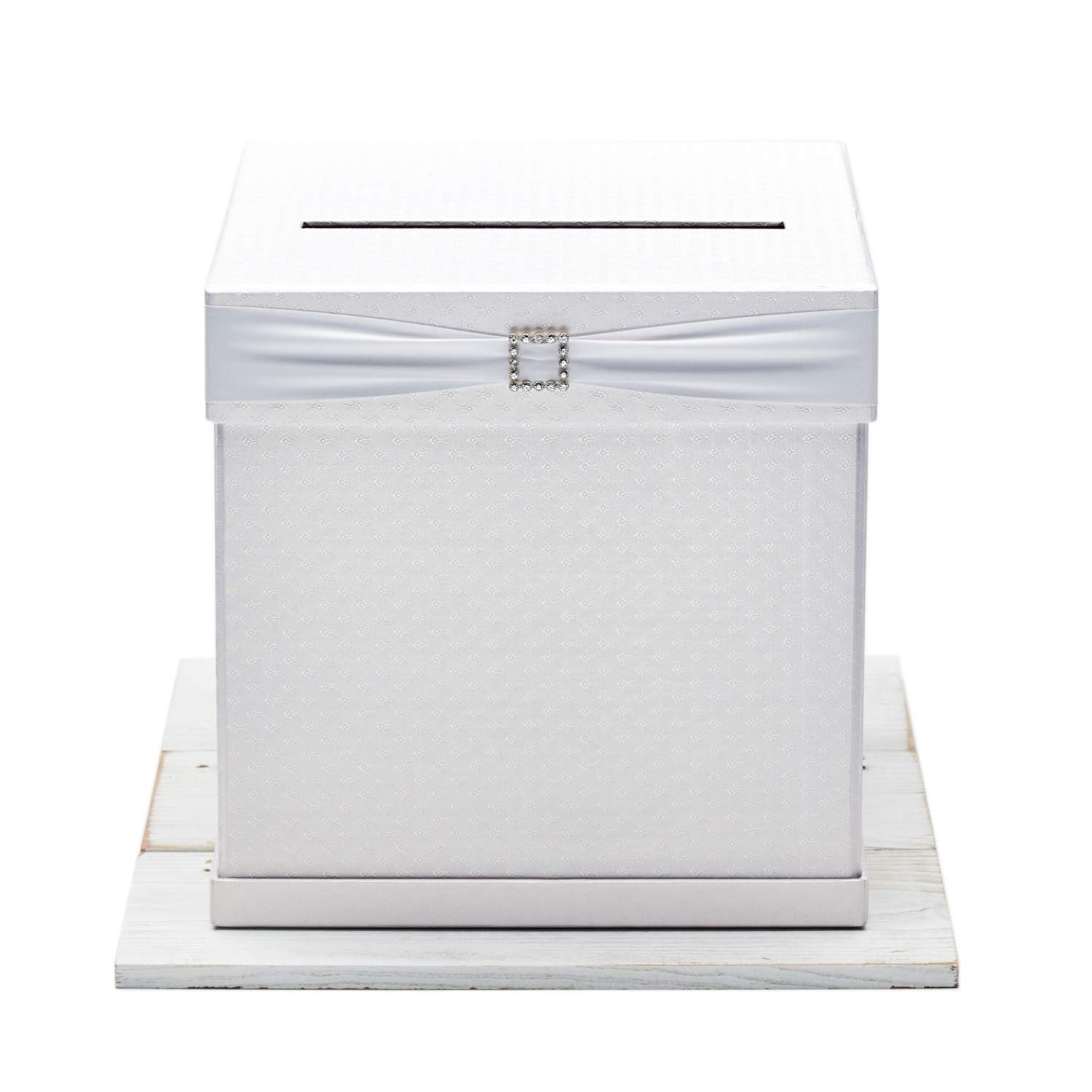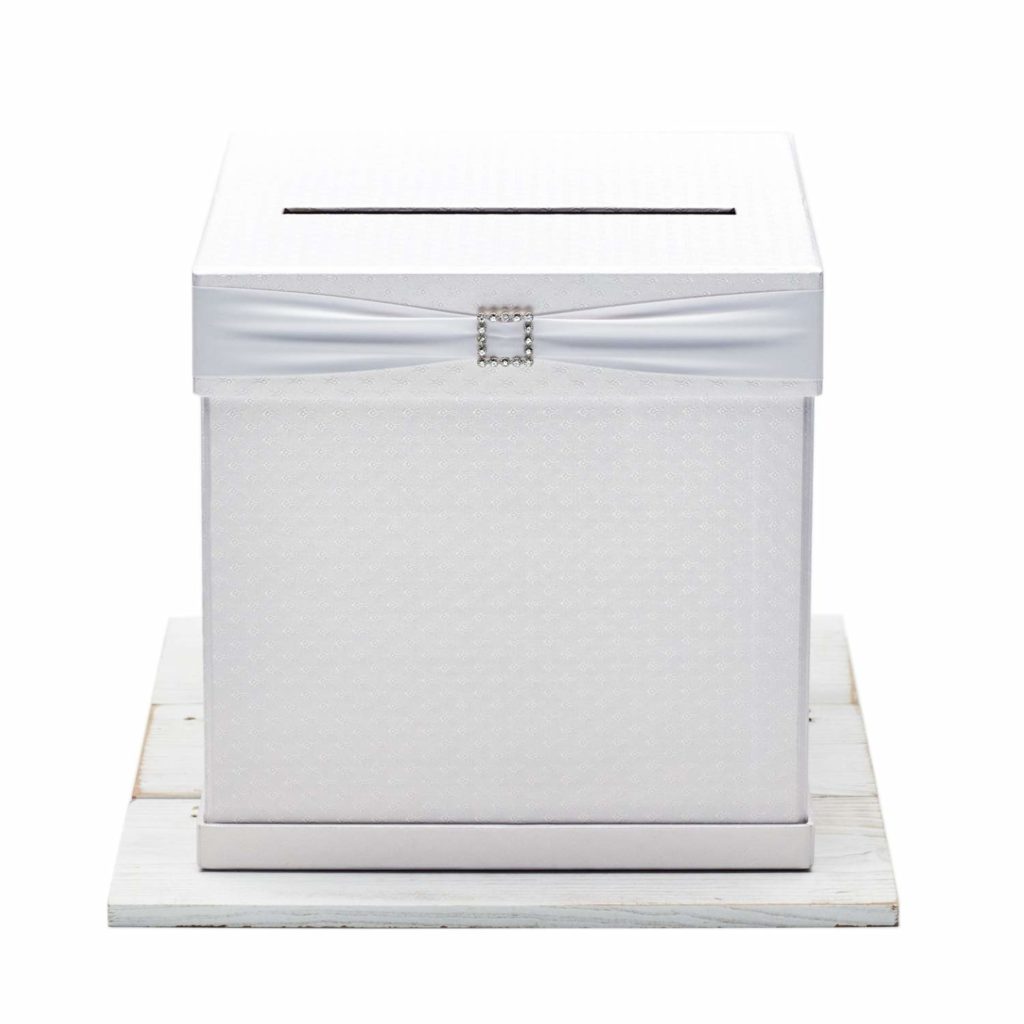 This conventional and designed card box is a perfect pick for your special occasion. You can grab this rare opportunity and acquire yours while the prices are still low. Besides being stunningly gorgeous, it fits into your budget as well. This type of card box comes with a fine-textured model in a mild white color. The rhinestone slider and ribbon is an additional accessory, so that if you don't fancy it, then you can do away with it. Considering this classy box can hold more than 100 cards, it is your ultimate choice for a big party. It measures 10.2-inches sq. in size.
White-colored Wire Bird box Card Holders
This type is the commonly used technique for gathering cards at weddings. You may choose to go for the typical bird box or opt for one that befits your style. The spotless and glossy white model is perfect for any wedding and picking the bigger size (16×9 inches) will make sure that your entire set of cards fits devoid of any issues. The white-colored bird boxes can accommodate an ordinary pillar candle in a colorful wedding party.
Wilton Receptions Gift Card Holders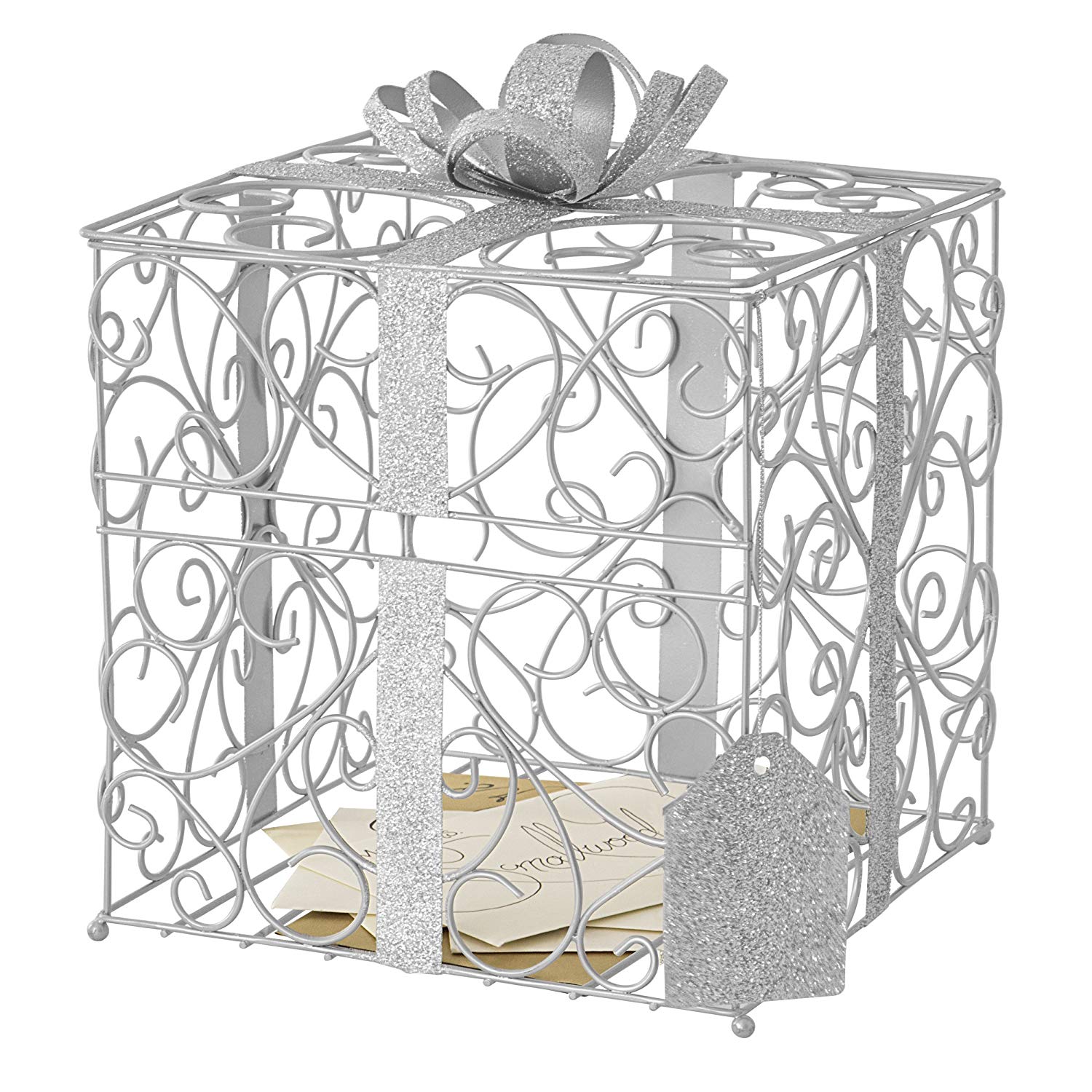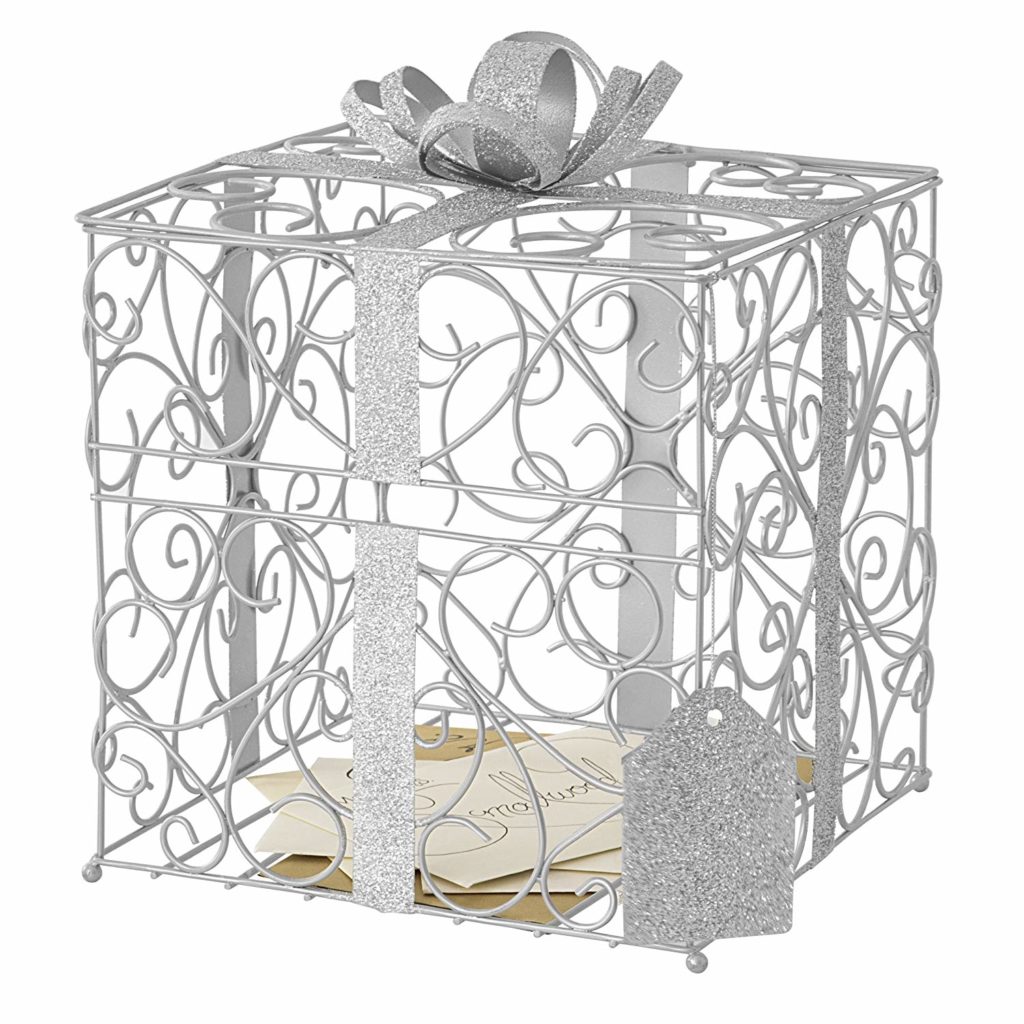 When it comes to choosing the most attractive and inexpensive card holder, then this could just be the right pick for you. Measuring slightly below 11 inches in height, 8 inches in depth and length, this type offers you a great opportunity of creating stunning scenery for your guests. It is available with a card slot taking the entire breadth of the cage; hence, allowing you to slot in any size of envelopes. This box comes with a top-lid for hassle-free card retrieval and you can also lock it for security purposes using the provided key.
Bottom line
Giving your guests something to talk about back at home is a dream for everyone contemplating a wedding party. In this case, you must ensure to create an environment that matches the existing theme throughout the ceremony and days after. Keeping your cards more securely and adorably is just one of the many tricks for a successful wedding party.