The British have always enjoyed being outside and they make the most of this at any opportunity. It isn't unusual to see Brits on the beach while the wind is howling, swimming in the English Channel in winter months, or braving pub gardens while their lips turn blue.
Of course, it isn't just the British who try to make the most of the outdoors. Everyone prefers fresh air to be stuck inside, and last year's lockdowns certainly proved that for most people.
When the summer is here, the smell of barbecue becomes commonplace as people head outside with friends and families.
People are organizing more events outside in general and certainly more folk are saying I do to outdoor weddings than ever before.
If you are looking to plan an event outdoors then you want to avoid some pitfalls and do it in style. Here is some information about one way that people are organizing outdoor events.
What is a tipi?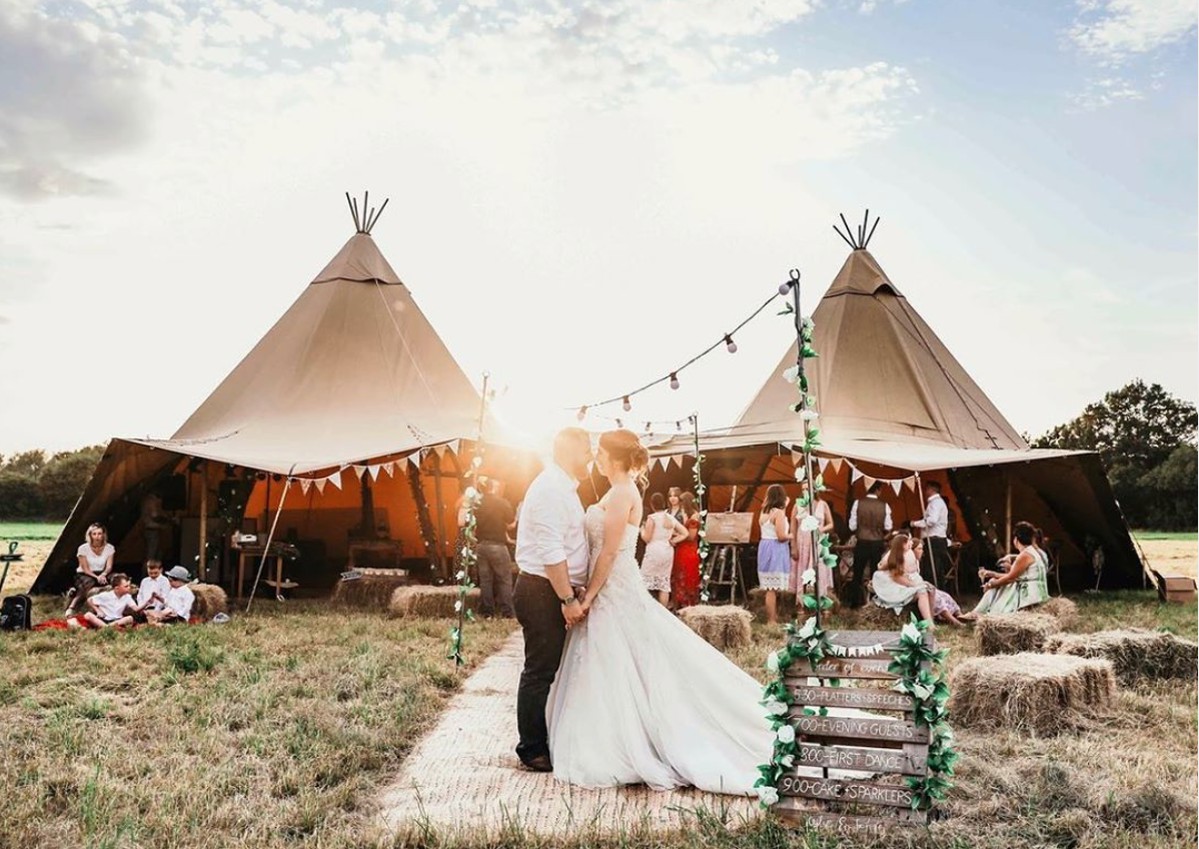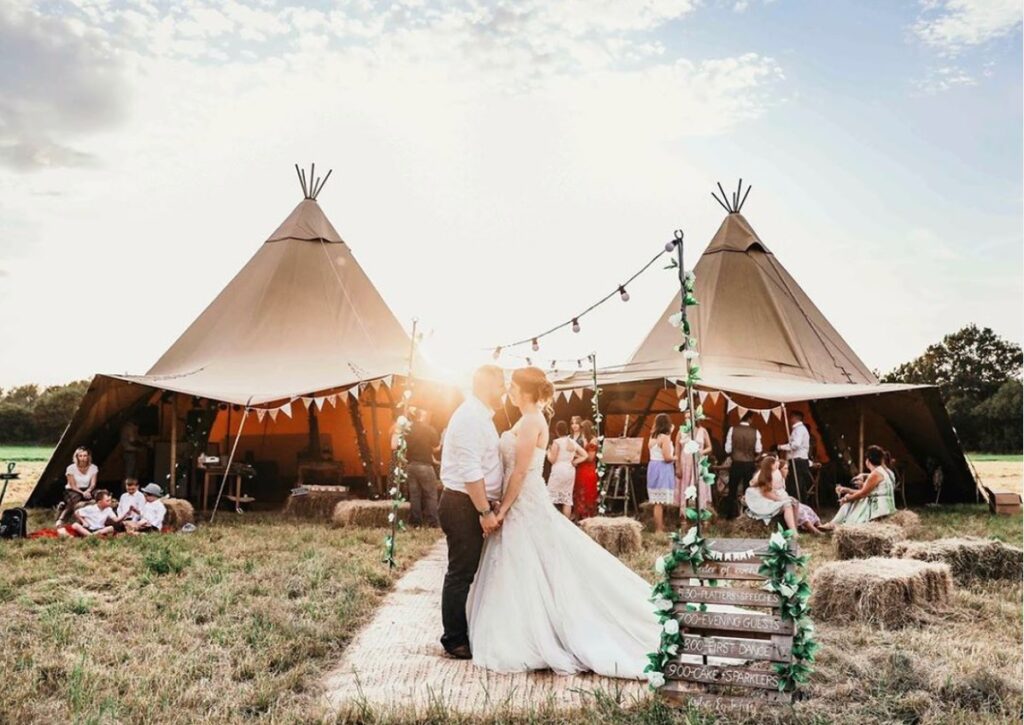 When you are looking to arrange a wedding reception or another event outdoors, you will need some cover in case the weather turns out to be as unpredictable as ever. You could do this with a tipi.
In case you haven't heard of a tipi then you may know them as teepees or even as a lodge. These are based on the same teepees that you probably know from Native American history.
Today, a modern version of these tipis is used for holding outdoor events, and weddings in particular.
What could you use a tipi for?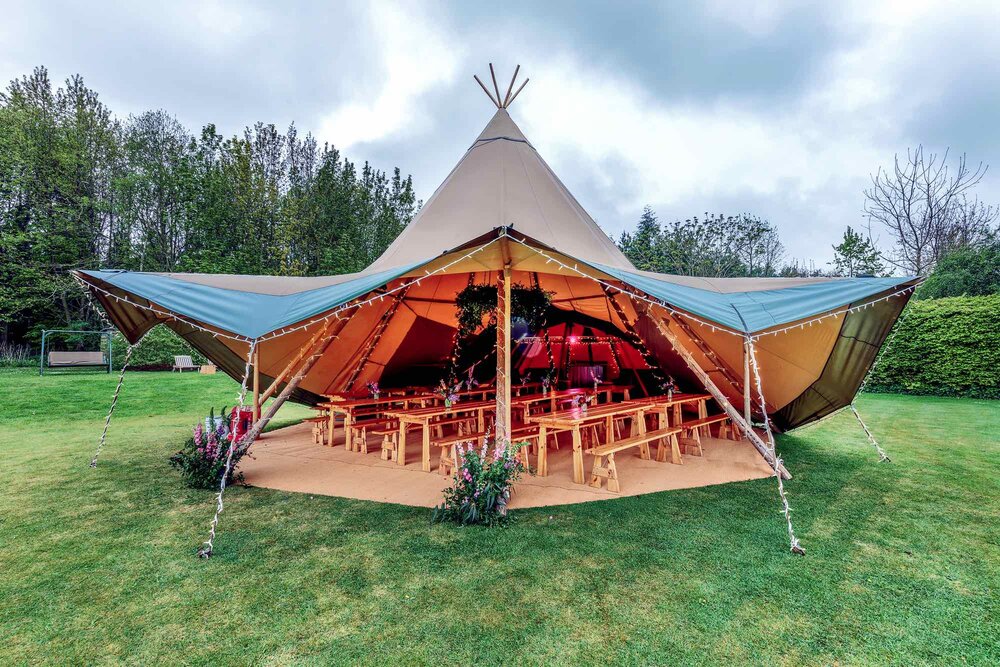 If you are planning an outdoor event and you are interested in having a covered area then tipis might work for you. The tipis come as what is called giant 'hats' and one of them has the capacity for over 70 people standing and around 60 seating.
Combining more than one hat and utilizing a chill-out tent means they can be used for multiple purposes. Perhaps you are looking to hold an engagement or anniversary party for yourself or even your parents.
These tipis can be used for private raves or street parties. Although if you do decide to throw a bash in your neighborhood you will need to understand the rules for organizing a street party.
The most common use for them would be for weddings though.
Why would you want to have an outdoor event?
Holding any party or event outdoors is always special. Music festivals, fairs and fetes, barbecues, food festivals, and carnivals, are all held outside and let people enjoy the fresh air and sunshine.
Also, holding an event outside means having a natural setting. If you hold your wedding in a hotel then the function room will need decorations to make it fit your occasion, nature provides its own. Holding a function in an outdoor setting can be wonderful if it is on the grounds of a stately home, or near a lake, or in beautiful gardens.
You will be able to enjoy the space that nature or gardens provide, and this will prove a lot less restrictive than if you were indoors. As the event progresses and people relax you will see them sitting on the ground or walking around the lake. This provides a much more relaxing end to procedures than everyone restricted to tables for the duration.
You and your guests will also get to enjoy a day partially outdoors, which means enjoying the sun on what is hopefully a warm day.
What about the perils of having an outdoor event?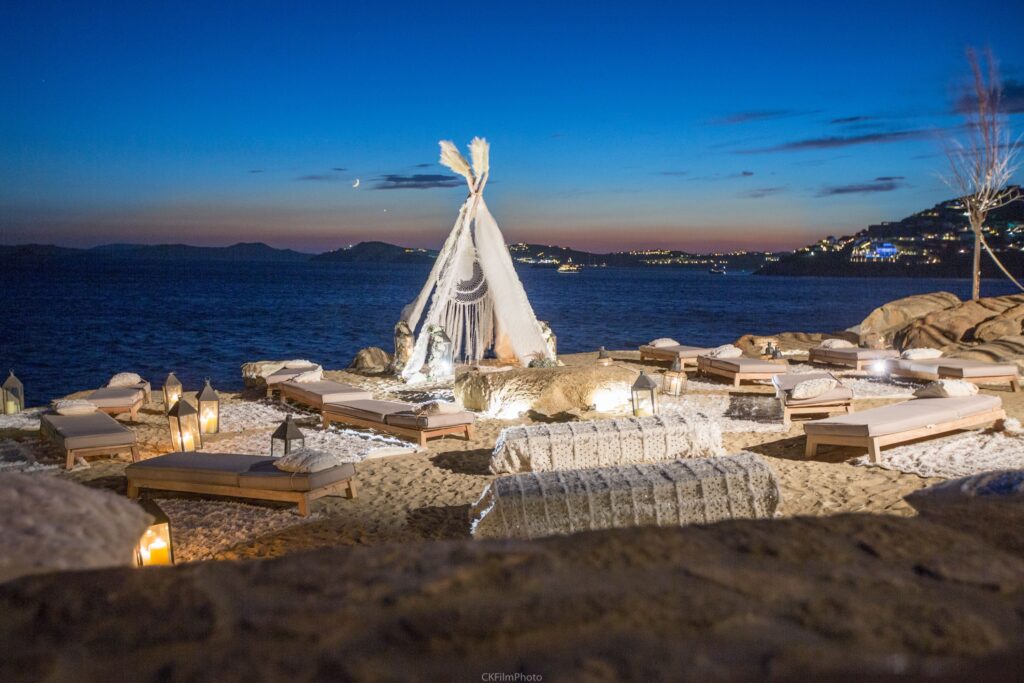 Of course, the outdoors can be a bit unpredictable at the best of times and things can get tricky.
If you are planning your event near the coast then you will need the top must-haves for a beach wedding to keep it ticking along with no issues. The main problems for outdoor events are the weather, equipment failure, and nature in general.
When it comes to electrical equipment all you can really do is double and triple-check everything on the day and have a contingency plan in place if anything goes wrong.
The weather and nature are no respecters of weddings or parties, unfortunately. However, using a quality tipi can mean all your guests can shelter from the hot sun and avoid burns, and stay dry in the event of a shower or downpour. As far as nature is concerned, bugs and little insects love to fly around but you and your guests will be enjoying the party without worrying about that.
Holding an outdoor winter event or wedding with a tipi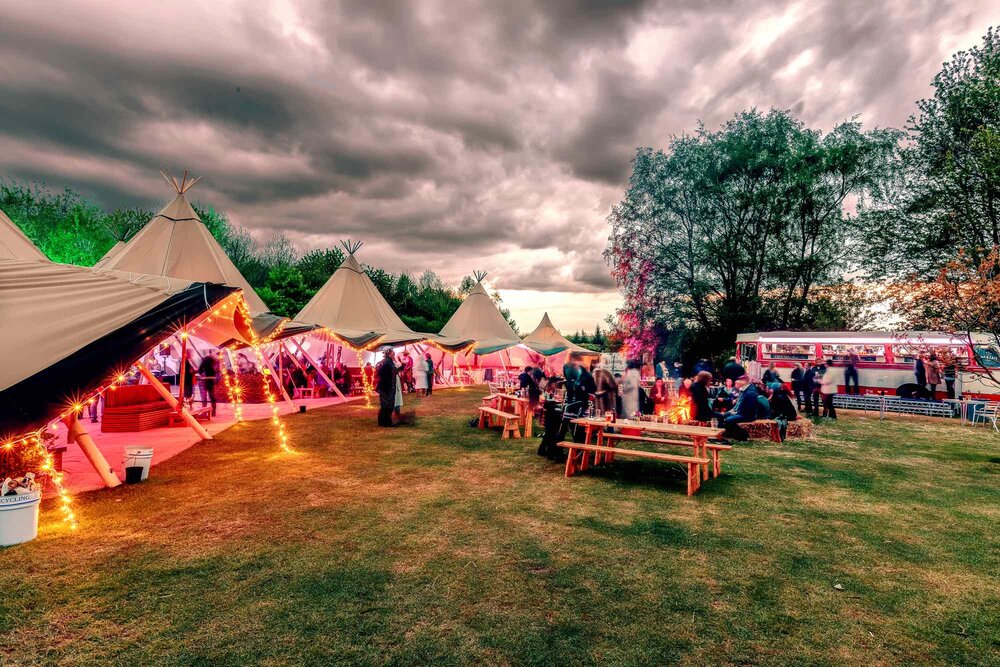 A growing number of couples are choosing to have their weddings outdoors and of course, that involves making sure everyone stays warm and dry.
While a summer wedding should hold fewer risks, trying to hold any outdoor event in autumn or winter is taking a gamble on the weather. It is a brave couple that would choose an outdoor event during an English winter, however, it is possible.
There were 280,000 marriages in 2017 in the UK and it is a fair assumption to say that most of these took place in churches and registry offices. If you were looking for a winter wedding but wanted to have the ceremony and/or the reception outside still then a tipi could work.
Surprisingly, tipis work in the autumn and winter too as they are designed to deal with the Scandinavian winter months. They can be fitted with warm air heaters and even roaring fires to keep everyone in good spirits.
How do you find a tipi provider?
When it comes to finding any organizer for your wedding or event you should do some research. Ask friends for recommendations if they have organized anything similar and look online at reviews.
You will want to see that you get more than just a tipi. Finding a reputable wedding tipi hire company such as My Tipi Event means that you will be helped with more than just a tent. When you find the right supplier, ask them about recommendations for other services.
A good wedding tipi company will have a list of recommendations when it comes to caterers, suppliers, places you can pitch your tipis, florists, photographers, entertainment, and bar hire companies.
Using these recommended companies can mean you have an almost one-stop-shop for organizing your outdoor wedding or party.
Is there anything smaller than these big hats?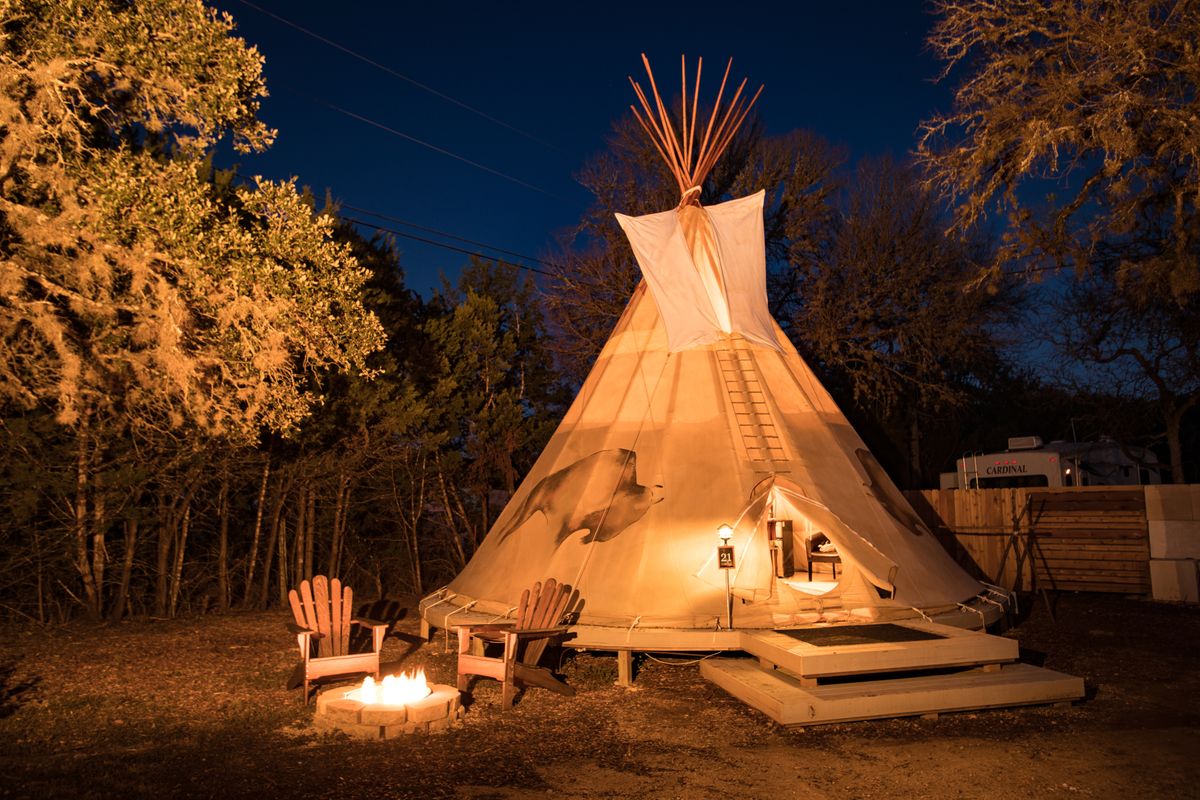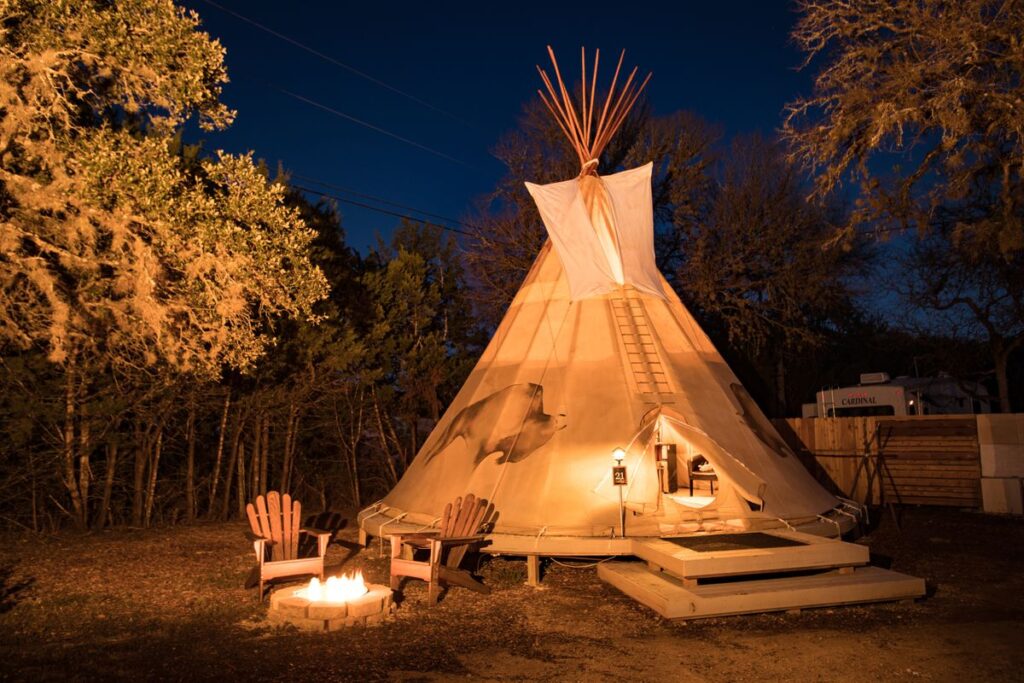 If you have enjoyed being at an event where tipis were held and wondered about camping in something similar then you'll be happy to know many people are now using the idea for glamping.
Glamping, if you are unaware, is short for glamorous camping. Mini tipis provide a very stylish way to camp out at music festivals or on camping grounds with friends.
Summary
Having your wedding outdoors could bring a few risks with it such as rain or cold weather, but using a tipi can help take some of the worries away. Also, by having your wedding outside you will be creating a day for you, your partner, and your loved ones to remember forever.
Why stay indoors in a function room when you could be partying outside or enjoying your own chill-out tent at the end of the evening with your new spouse and a glass of champagne.