Are you struggling with tablecloths that don't quite fit your wedding reception tables, slipping off, or creating an untidy appearance? Say farewell to these inconveniences and embrace the latest trend in wedding table decor – elasticated table toppers!
These innovative tablecloths, also known as elastic table toppers, are designed to fit your reception tables perfectly. The elastic edges easily slip under the table's lip, creating a bespoke look and a stress-free experience.
This article will guide you in finding the perfect elasticized table topper for your wedding by introducing you to the 15 fabric options, along with their unique features and advantages.
Benefits of Elasticated Table Toppers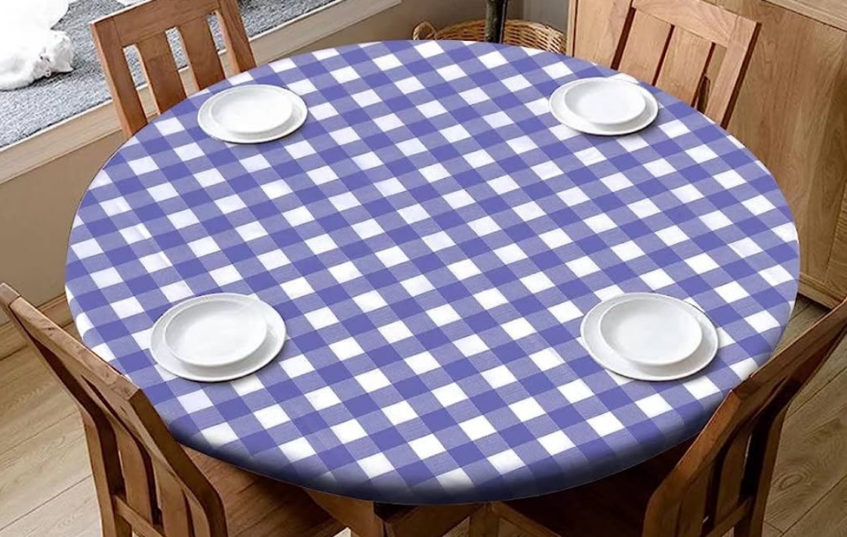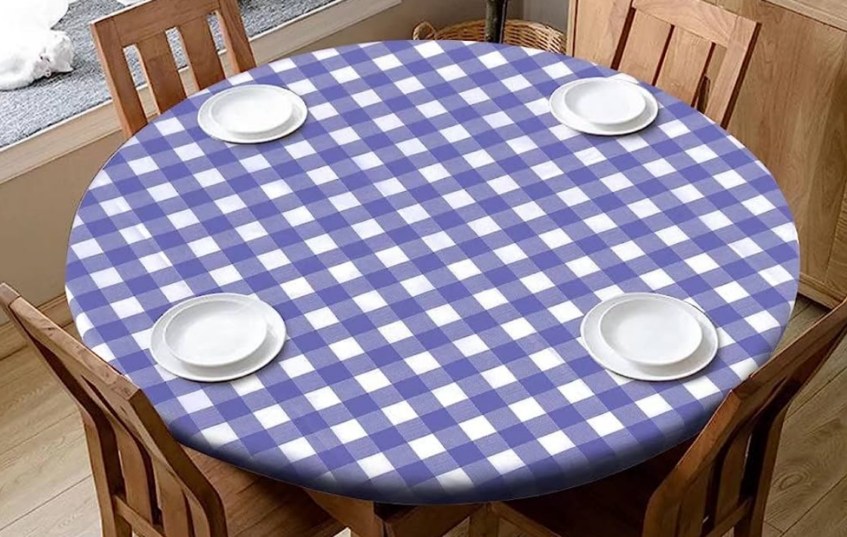 Perfect Fit: Elasticated table toppers effortlessly conform to the shape and size of your wedding-style table, providing a sleek and seamless appearance. No more worrying about uneven edges or unsightly wrinkles! Your table will always look beautifully dressed, adding elegance to any setting. The snug fit enhances the overall aesthetics and creates a polished look.
Easy to Install: These tablecloths' elastic design makes installation a breeze. Simply place the table topper on your table, and the elastic pulls the fabric down, securing it neatly under the lip. It's a quick and efficient way to cover your table, saving time and effort. You can quickly achieve a professional and tailored appearance without complex folding or tucking.
Enhanced Durability: Elasticated table toppers are made from high-quality, durable fabrics that withstand frequent use and washing. They are expertly made to keep their form and flexibility after several uses. This durability ensures that your tablecloth remains in excellent condition, providing long-lasting value for your investment.
Versatility: Whether you're hosting a formal dinner, a casual brunch, or a festive celebration, these elastic table toppers come in various fabric options to suit any occasion. From classic cotton to elegant linen, shimmering satin to cozy flannel, there's a fabric that will complement your event theme and enhance your table decor. You can quickly transform the ambiance of your space by selecting the fabric that aligns with your desired atmosphere.
Convenience: With elasticated table toppers, you can say goodbye to constantly readjusting your tablecloth throughout the ceremony, reception, and the ensuing party. The secure fit ensures the fabric stays in place, even with movement or accidental bumps. You can enjoy your meal or event without worrying about the tablecloth shifting or slipping. This convenience lets you focus on your guests and the occasion rather than constantly fussing with your table setting.
Choosing the Perfect Fabric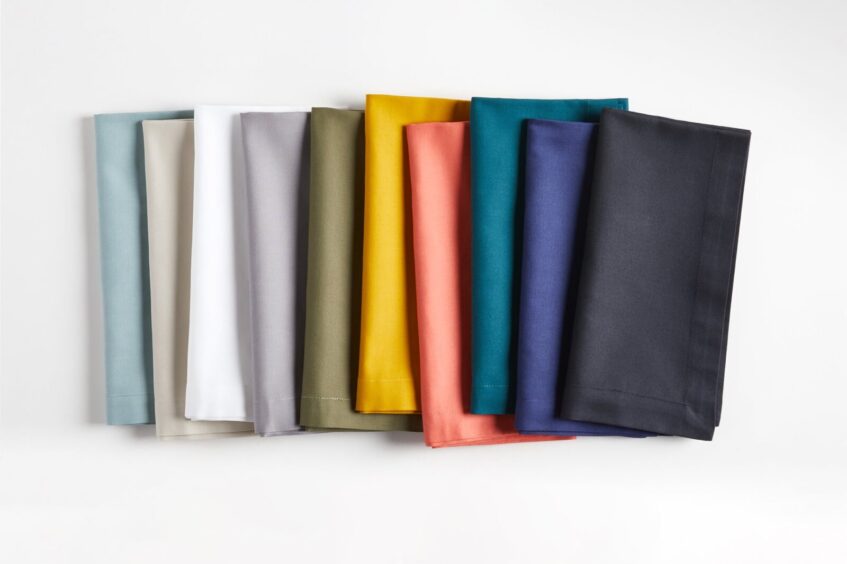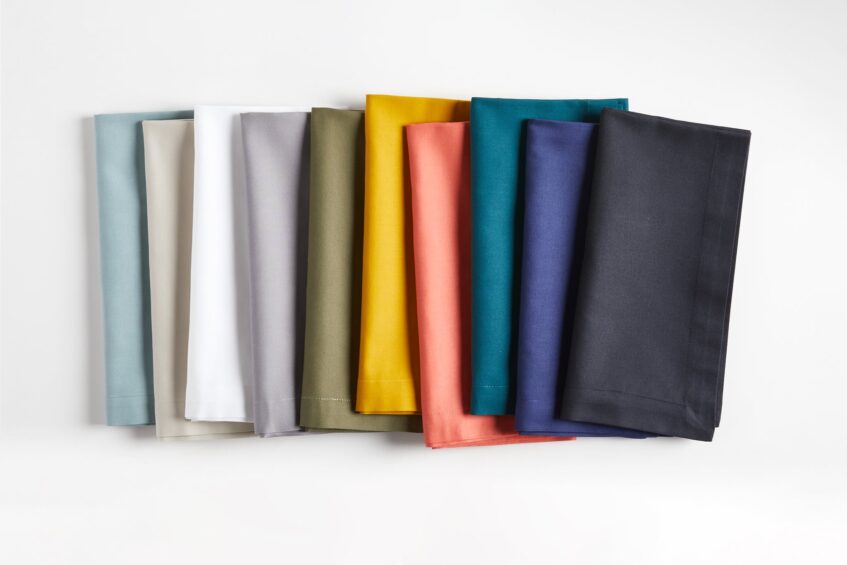 When choosing your elasticated tablecloth for your special day, take a moment to explore our 15 fabric options. Each fabric possesses its own unique qualities, enabling you to find the perfect complement to your wedding theme and style:
Classic Cotton: Timeless and versatile, cotton offer a soft and natural feel, perfect for everyday use or casual gatherings. It is breathable and easy to care for, making it a practical choice for regular use. Cotton tablecloths are available in various colors and patterns, allowing you to find the perfect one to complement your decor.
Elegant Linen: Linen exudes sophistication and adds a touch of luxury to any table setting. It's smooth texture and natural sheen create an upscale ambiance, making it ideal for formal occasions or upscale events. Linen tablecloths have a refined elegance that instantly elevates the overall aesthetic of your table.
Shimmering Satin: For a glamorous and eye-catching look, satin fabric provides a subtle sheen that catches the light, adding elegance and luxury to your table setting. Satin tablecloths are often chosen for special events and celebrations, creating a lavish atmosphere.
Cozy Flannel: If you're hosting a cozy winter gathering or want to create a warm and inviting atmosphere, flannel fabric is an excellent choice. Its soft and plush texture adds comfort and a snug ambiance to your table decor. Flannel tablecloths are perfect for informal gatherings, providing a cozy and welcoming touch.
Contemporary Polyester: Polyester is known for its durability and easy maintenance. Stain and wrinkle resistance make it a versatile option for both indoor and outdoor use. Polyester tablecloths come in various colors and patterns, offering versatility and style options. They are often chosen for their durability and suitability for various occasions.
Vibrant Polyester Blend: Polyester blends, combining polyester with other fabrics such as cotton or rayon, offer a balance of durability and softness. These blends provide the benefits of polyester, such as easy care and resilience, while incorporating the natural texture and aesthetic appeal of other fibers. They offer a vibrant and stylish option for your table.
Luxurious Velvet: Velvet tablecloths for a wedding bring a touch of luxury and sophistication to your table. The rich texture and sumptuous feel of velvet create a lavish atmosphere for special occasions or formal events. Velvet tablecloths are a statement piece that adds elegance and glamour to any table setting.
Water-Resistant Outdoor Fabric: If you're hosting an outdoor event or planning a picnic, consider a water-resistant outdoor fabric. These tablecloths are designed to repel water, making them ideal for use in outdoor settings where daily spills or rain occur. They offer practicality and style, allowing you to enjoy outdoor gatherings without worrying about stains or damage.

Source: etsy.com

Natural Jute: Jute tablecloths bring a rustic and eco-friendly charm to your table setting. Made from natural fibers, jute fabric has a textured and earthy appearance that adds a touch of natural beauty. Jute tablecloths are often chosen for bohemian or nature-inspired themes, creating a unique and eco-conscious table decor.
Sophisticated Jacquard: Jacquard tablecloths feature intricate woven patterns that add a touch of sophistication to your table setting. These fabrics are created using special looms that weave intricate designs into the fabric. Jacquard tablecloths are elegant and refined, perfect for formal occasions or upscale dinner parties.
Sparkling Sequins: For a glamorous and dazzling effect, sequin tablecloths are the perfect choice. The sequins sparkle and shine, making for a beautiful sight. Sequin tablecloths are often chosen for weddings, galas, or festive celebrations where a touch of sparkle is desired.
Chic Faux Leather: Faux leather tablecloths offer a contemporary and modern look to your table decor. Their sleek and smooth texture adds a touch of sophistication and style. Faux leather tablecloths are easy to clean and maintain, making them a practical choice for regular use.
Exotic Animal Prints: Consider tablecloths with exotic animal prints to make a bold and unique statement. These prints, such as zebra or leopard, add a touch of adventure and intrigue to your table setting. Animal print tablecloths are often chosen for themed parties or events where a touch of wildness is desired.
Delicate Lace: Lace tablecloths bring a sense of elegance and delicacy to your big day, which is what every groom and especially bride want. The intricate lace patterns create a romantic and vintage-inspired ambiance. Lace tablecloths are often chosen for weddings, tea parties, or elegant afternoon gatherings.
Whimsical Polka Dots: For a fun and playful touch, polka-dot tablecloths are a great choice. These cheerful patterns add a sense of whimsy and joy to your table setting. Polka dot tablecloths are perfect for children's parties, outdoor picnics, or casual gatherings where a lighthearted atmosphere is desired.
Final Thoughts: Your Big Day Made Better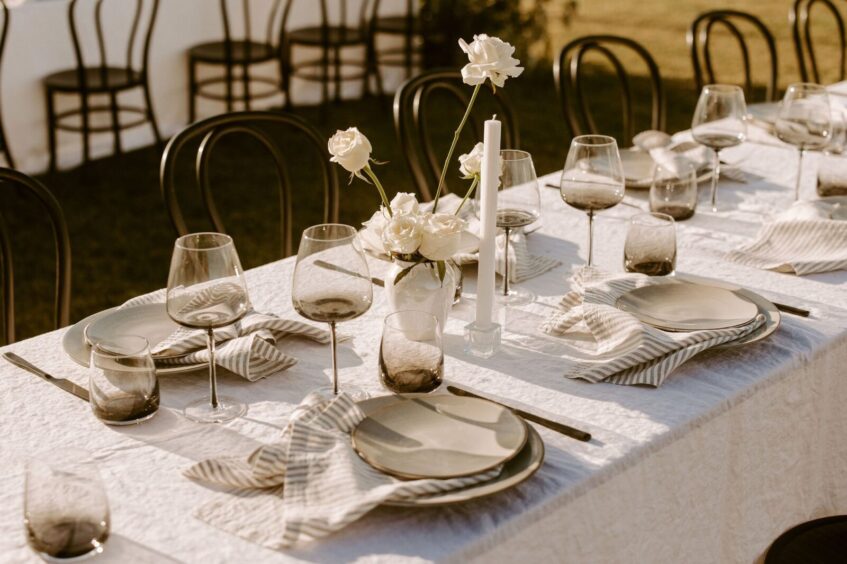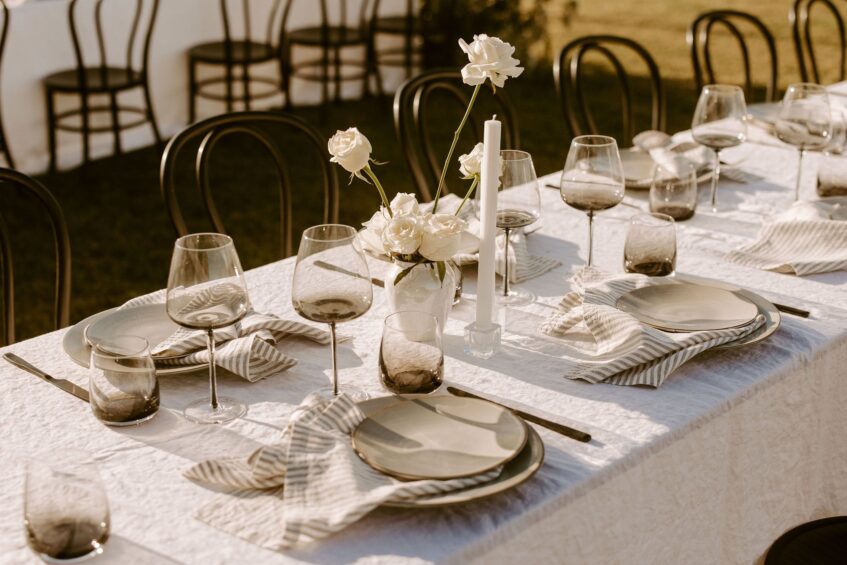 Elasticated table toppers offer a convenient and stylish solution for your table-covering needs. With their perfect fit, easy installation, durability, versatility, and convenience, these tablecloths are designed to enhance your table settings and elevate your decor.
Say goodbye to traditional tablecloth woes and embrace the versatility and functionality of elasticated table toppers worthy of your big day. Browse the selection today and transform your table into a stunning centerpiece for any occasion, let alone a wedding!