Are you about to get married? Wondering if your wedding ring should be simple and stylish or extravagant? The exchange of rings remains a well-celebrated and anticipated part of a wedding ceremony. Since ancient times, ring exchanges have been a soldering of love stories. Wedding rings may seem like mere traditions, but they hold you and your lover together!
They remain a symbol of love and commitment, and perhaps even forever. Today wedding rings come in various styles. This variety creates a big question; Should a wedding ring be simple or elaborate?
While this depends on what feels right, here is a sneak peek into the perks of both ring styles.
Factors to Consider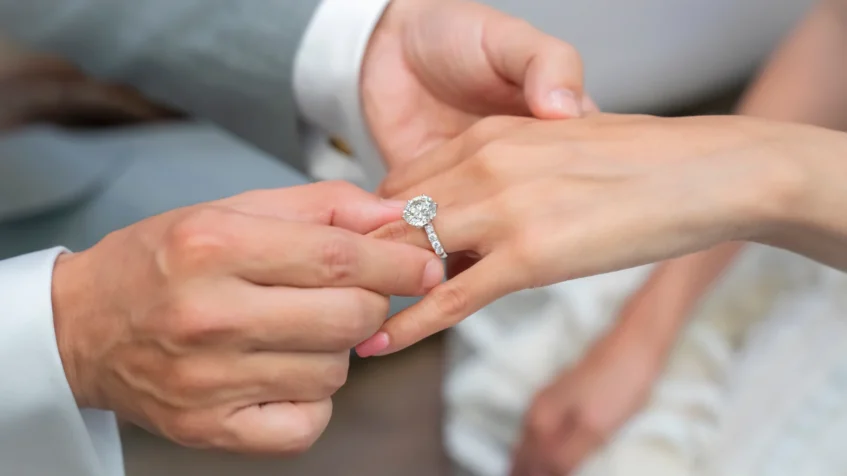 The decision of which type of wedding ring to choose – simple or extravagant – for your special day can be a difficult one. The factors you should consider when deciding include cost, the type of metal used, and aesthetic appeal.
Cost: The cost may vary based on the type of metal used such as platinum, white gold, yellow gold or silver, as well as its size and/or stone setting. Consider your budget before making a final decision.
Metal: Different metals are seen to signify different things and distinct tastes. Platinum is one of the most durable metals that can be used for wedding rings due to its strength and resistance to damage. Gold is also often used but it is advisable to keep an eye on price fluctuations in gold markets. Silver is more affordable than other metals but can tarnish over time if not properly maintained.
Aesthetic Appeal: When it comes to aesthetics, extravagance depends on personal preference; some people prefer plain bands while others want flashy diamond-encrusted bands or something with colored gemstones like rubies or emeralds. Take into account your partner's taste and what best suits their personality before deciding for sure!
Traditional vs. Modern
When it comes to wedding rings, couples are increasingly choosing engagement and wedding rings that reflect their personal style rather than going with traditional designs. Nowadays, there are more options to choose from in terms of design, metal choice, and setting style than ever before.
Traditional pieces focus on classic designs typically featuring yellow gold or platinum bands with diamonds or other gems set in the band. These elegant styles are still popular but they are now usually combined with modern elements such as alternative metals, vintage-inspired designs, or alternative stones to create unique looks.
Modern wedding jewelry combines contemporary materials such as titanium or tungsten; unique cuts for the center stone such as Asscher, emerald, or pear; fancy halo settings; embellishments like milgrain and pave work. Intricate design details such as twisted ropes and braided textures. If you're looking for something a bit more extravagant, then consider options like gold inlays and two-tone diamonds artfully arranged in a swirling pattern on the band.
Should a Wedding Ring Be Simple or Elaborate?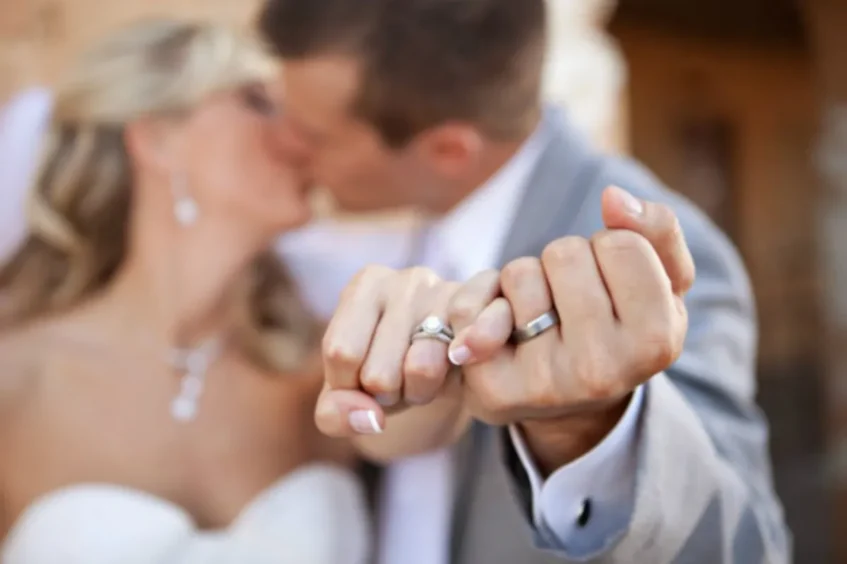 This is a debatable question. Rings are simply alluring signs of commitment and love. While some believe wedding jewelry should be simple, others think they should be more glamorous. Let's explore both opinions – so you can decide how much to spend on your wedding rings.
Why Should They Be Simple?
There are a couple of reasons why people stick to lucid wedding rings. Some of them are;
Less is more
It is often believed in fashion that simplicity is the revered beauty. Thus, simple rings are classic, stylish, and appealing. They always stay in style and can be worn lifelong, without ever looking outdated. Whereas, extravagant rings might only be fashionable for a short while.
Pricey
Simple models often come at a lower price. Wedding expenses could go off the roof quickly. Keeping the cost down could come in handy for keeping your bills in check. Simple golden or silver rings are as meaningful as more expensive, elaborate rings.
Practical
Wearing an elaborate piece with plenty of details may be rather discomforting. Remember, you have to wear this every time. On the other hand, simple pieces are comfy to wear and won't get in the way of anything.
More about the bond than the ring itself
It is a popular opinion that wedding rings should focus on the relationship, not designs or worth. All pieces are sacred not because of their design or price but the connection they represent. Therefore, the need for extravagant rings might be slim.
Why do people go for extravagant rings?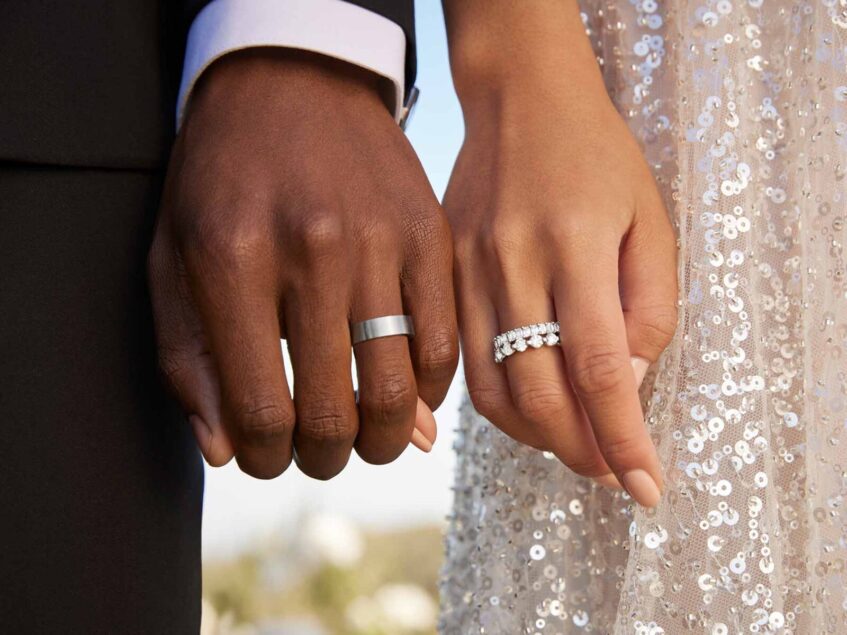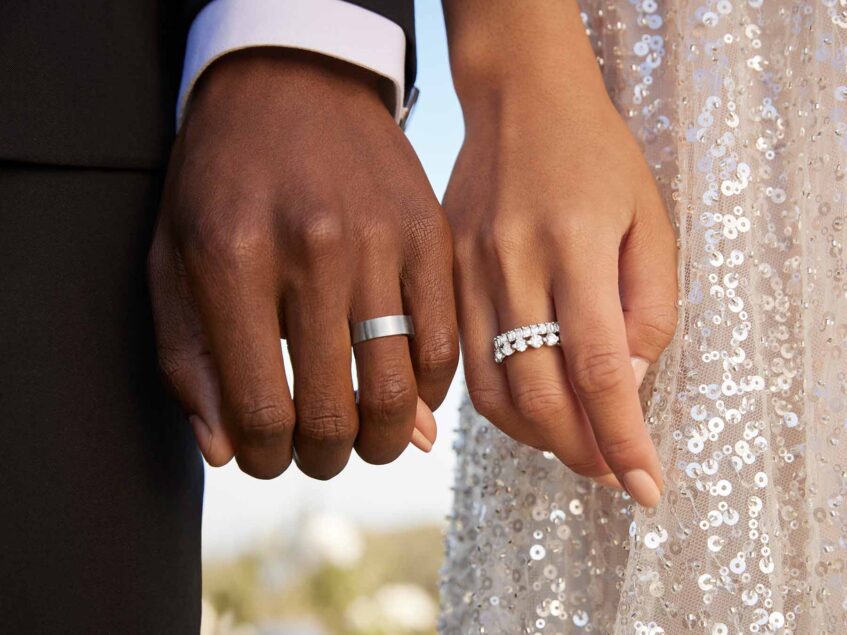 Rings with incredible designs and the addition of diamonds, amidst other precious stones are also a go-to for some couples. Here is why;
Reflection of style and personality
While some consider elaborate rings a waste of money and all. It is just a representation of some couples' styles and personalities. The ring may be a work of art with intricate designs and a unique style. Showing their rich taste in fashion and design. You can check out companies like Weddings and Brides for lovely wedding arrangements that perfectly suit your taste.
Symbol of love and commitment
Most lovers fancy the idea of making everything about their being together mind-blowing. It represents the beauty and depth of their relationship. Hence, the time and effort taken while choosing and creating the perfect one are worth it.
Family heirloom
Sometimes rings are passed down from generation to generation. They may hold strong-sentimental values and maybe a way to honor family traditions and history. Thus regardless of how extravagant it appears, it ought to be used!
Conclusion
Whether wedding rings should be simple or elaborate is a matter of personal preference. While simple pieces have their benefits, elaborate ones also have their advantages.
Thus, whichever you pick is fine. After all, the most important thing about a wedding ring is what it represents. When selecting, creating, and wearing wedding rings, there is no right or wrong choice – that's a feat left only for wedding dresses.