Flowers play an integral role in transforming a space and complementing the style of a wedding. They reflect the color palette and theme, express your taste and personality, and combine all the visual elements into a cohesive event.
With the variety of floral options and arrangements involved, it's wise to map out a thorough floral planning checklist.  Define your overall floral vision and priorities early in the planning process.
Confirm your ceremony and reception dates and venues to ensure your desired blooms are readily available in that season. Meet with potential florists well in advance to collaborate on arrangements that flawlessly bring your wedding ideas to life. Careful attention to floral details enhances ambiance from start to finish.
Understanding Your Wedding Theme and Color Scheme
Start the floral planning process by defining your wedding theme, style, and color palette. Are you envisioning a classic, modern, rustic, romantic or boho-chic wedding? Decide on your color scheme – are bright, saturated hues the goal or soft pastels? Your theme and color choices will inform what floral varieties naturally complement the vision.
Do targeted research on which flower types and shades fit your desired style. If using seasonal flowers, identify what will be readily available and peak during your wedding timeframe so alternatives can be planned as needed.
Go with versatile neutral tones like cream or blush to match a specific color. Share your floral theme, vision photos, and color palette with florists during consultations so arrangements enhance your wedding design.
Bridal Bouquet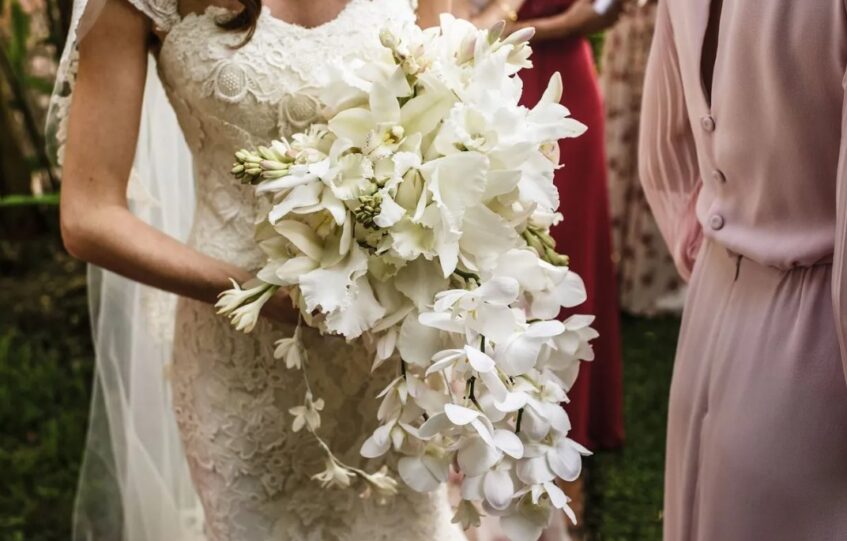 Your bridal bouquet takes center stage, so ensure it reflects your wedding style through the flowers selected and the arrangement shape. Classic round, cascading, teardrop, and hand-tied bouquets are popular. Traditional options include roses, lilies, peonies, ranunculus, anemones, sweet peas, and hyacinths.
Take into account how the bouquet will complement your gown – a vibrant, contrasting bouquet for simple gowns; or an understated bouquet for heavily embellished dresses. Mix in statement flowers with beautiful greenery and filler textures.
Incorporate beads, ribbons, or wraps if desired. Coordinate with reception centerpieces so your bouquet doesn't clash. As a focal point, the bridal bouquet sets the floral tone.
Working with a Florist
Choosing the right florist is crucial for bringing your wedding flower arrangements to life. Start by researching florists with styles that resonate with your vision. Look at their portfolios to understand their expertise and creativity once you've shortlisted a few, schedule consultations to discuss your ideas, and gauge their understanding of your wedding theme and color scheme.
Communication is key. Clearly express your desires, preferred flowers, and the overall feel you want to achieve. Bring inspirational photos, fabric samples, and details about your wedding dress and venue.
This helps the florist craft designs that blend seamlessly with your wedding aesthetic. Be open to their suggestions, as they can offer valuable insights based on their experience and knowledge of what works best.
Budgeting for flowers is an important aspect. Be upfront about your budget constraints. A skilled florist can suggest alternatives that achieve a similar look without compromising the overall effect. They can guide you on where to splurge and where to save, ensuring that you get the most value for your money.
Finally, discuss the timeline. Confirm when you need to finalize details and when the flowers will be arranged and delivered. This ensures everything flows smoothly, letting you focus on enjoying your special day, knowing the floral decor is in expert hands.
Bridesmaids' Bouquets
Design your bridesmaids' bouquets to complement your bridal bouquet and reinforce your wedding's floral theme. Often the shape is simplified to a nosegay or posy style. Use similar featured flowers to your bouquet but in different complementary colors for the bridesmaids.
Consider sizing bridesmaid bouquets slightly smaller than the bride's. Or differentiate further by the variety and texture of flowers. This provides each bridesmaid with a distinct, though still cohesive look.
Offer them input on selecting their bouquet flowers and shapes to carry. Well-crafted bridesmaids' bouquets pull together your whole bridal party.
Boutonnieres and Corsages
The groom and groomsmen's boutonnieres should follow the wedding's floral motif you established. Common boutonniere flowers include roses, ranunculus, anemones, carnations, waxflower, and succulents. You can feature one focal flower or mix complementary pieces.
Consider smaller corsages for the mothers and grandmothers to complement their attire. Corsages allow flexibility to accent specific color dresses. Vintage brooches or ribbon details add interest. Match the style, size, and color palette of all boutonnieres and corsages. Present them during wedding day prep to complete the look.
Ceremony Decorations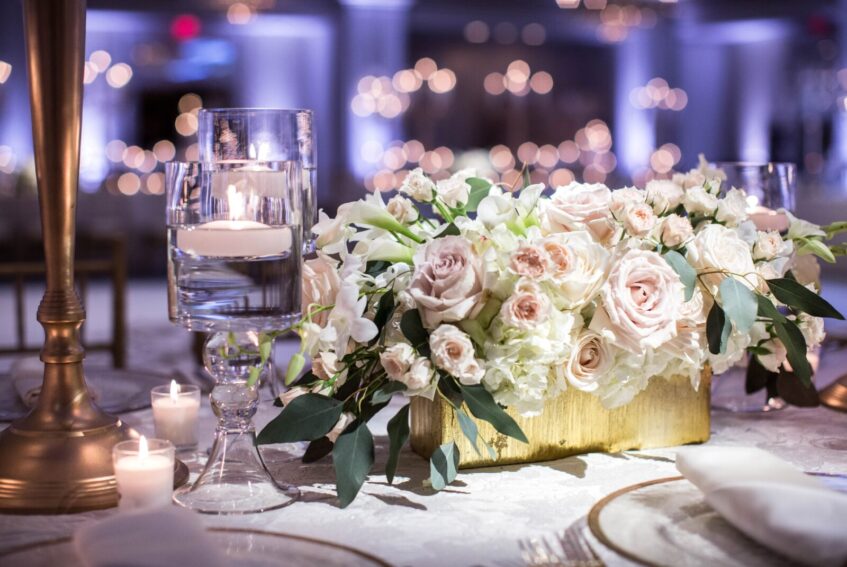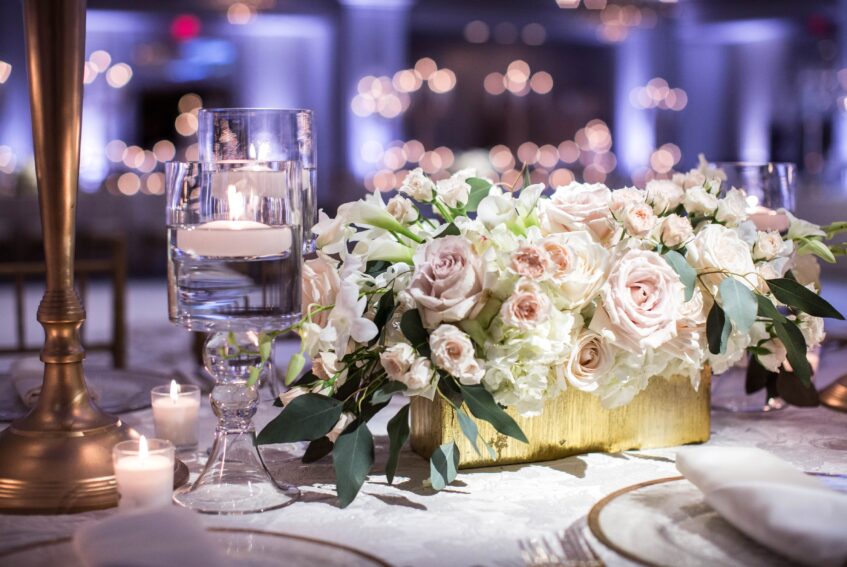 The ceremony flowers set the scene for the couple exchanging vows. Focal areas to decorate include the altar backdrop, ceremony entrance, and aisle. Drape lush floral garlands across altar columns and fronts. Cluster centerpiece vases or potted plants atop altars and ceremony tables.
Mark guest seating rows with floral sprays tied to pews. Adorn the processional aisle with scattered blossoms or marking rows—welcome guests with urns, potted plants, or wreaths flanking the ceremony entrance. Ceremony florals immediately immerse attendees in your wedding style.
Reception Decorations
Reception flowers sustain your theme while adding ambiance to the celebration. Lavish centerpieces steal the show on guest tables. Popular options include wreaths, cascading candelabras, bud vases, and creative floral sculptures. Don't forget reception entrance arrangements and designated photo areas.
Strategically place eye-catching floral designs on or around the cake table. Incorporate garlands, container arrangements, or candelabras with blooms for head tables. Consider accenting food, beverage, and lounge stations for an upscale finish. Discuss floral dance floor installation or blossom drops to wow guests.
Additional Floral Elements
Infuse flowers into wedding details beyond bouquets and centerpieces. Adorn ceremony aisles with flower cones to guide guests. Embellish simple archways and chuppahs with added garlands. Fill flower girl baskets with petals. Add floral hair pieces for an ethereal bridesmaid look.
Use blooms to embellish invitations, signs, photo booth backdrops, and guest books. Rent unique containers and vases for arrangements. Floral touches throughout the event enhance the atmosphere and express creativity.
Conclusion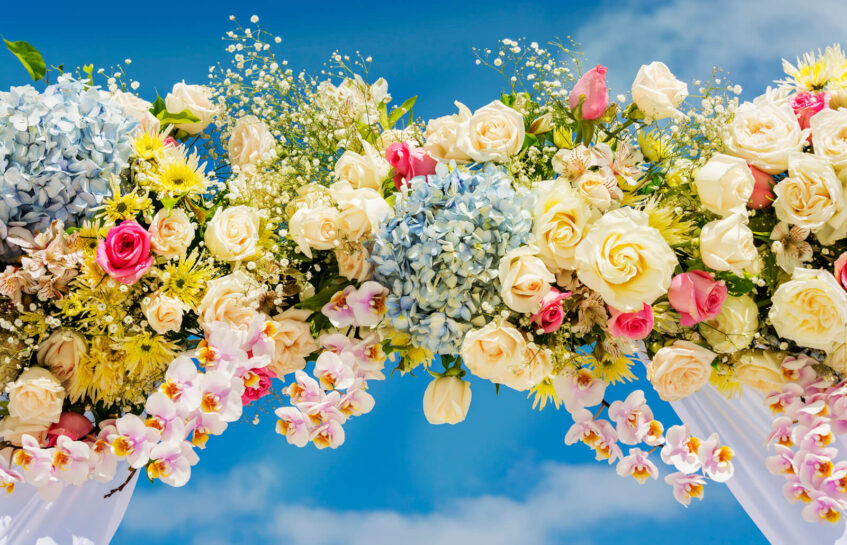 As your wedding day approaches, ensure you've covered every floral element. Your checklist should include the bridal bouquet, capturing the essence of your style; bridesmaids' bouquets, complementing the central arrangement; and boutonnieres and corsages for the groom, groomsmen, and special guests.
Remember ceremony decorations like altar arrangements, aisle flowers, and reception decorations such as table centerpieces and cake flowers.
Consider additional floral touches that add uniqueness to your celebration. Think hair accessories adorned with flowers for a whimsical touch or charming flower baskets for the flower girls. These details create a cohesive and memorable theme.
Finally, remember that your wedding flowers reflect your style. Work with your florist to bring your vision to life, ensuring each bloom resonates with your person and the overall aesthetic of your wedding. Let your creativity shine through your flower choices, making your special day as unique and beautiful as your love story.