A wedding in the Maldives is not official, but is only symbolic. Nevertheless, thousands of couples fly to the paradise islands every year to say "Yes" to each other. What is the secret of the popularity of a wedding in the Maldives and how everything happens, will tell the top site for booking villas on the paradise islands.
The main office of the company is located in Geneva, and there are also representative offices in other cities, including the Maldives themselves.
Formal or Symbolic Wedding
Weddings in the Maldives are a beautiful ritual. However, the marriage certificate issued by resort islands has no legal force. As a rule, the couple signs at home, and then holds a ceremony in the Maldives and the actual honeymoon itself.
Often, couples who have been married for a long time come to the islands to perform this beautiful ritual on their wedding anniversary.
How to Book a Wedding in The Maldives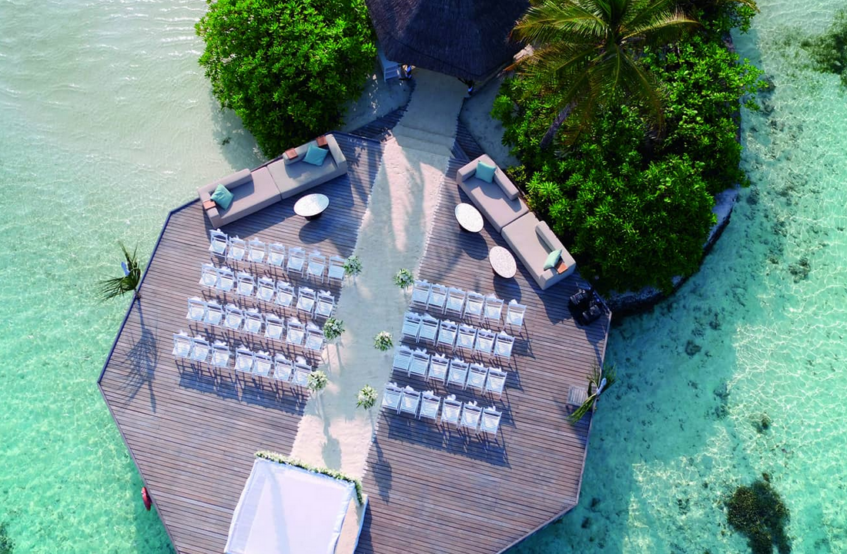 As a rule, a wedding needs to be booked in advance – at least a few weeks, or even months. This is due to the limited number of places and staff for the ceremony. Some small and remote islands accept reservations for a month or more. Especially if you need to order a photographer, videographer, manicure, etc.
Many resorts can hold only one ceremony per day, so it is worth booking a wedding in advance if you are limited in time or a certain date is important to you. It is worth saying that the ceremony is not necessarily a wedding. It can be a birthday celebration, corporate party and much more.
To book a wedding in the Maldives, it is enough to tell your manager the desired date of the ceremony when booking a villa. This can be done in the wiotto.com online chat. The manager will check if the day is free for the wedding and confirm the reservation. In general, the booking goes according to the scheme:
Before booking a villa, check with the manager for free days for the ceremony.
Coordinate the choice of villa, meals and transfer, as well as choose a wedding package and add-ons, if any.
Receive a reservation and an invoice for payment, which will indicate the period in which you need to pay for the reservation of the villa and ceremony. Depending on the hotel, the reservation must be paid 5-30 days before check-in at the hotel.
After payment you will receive a booking confirmation and related documents.
Wedding Packages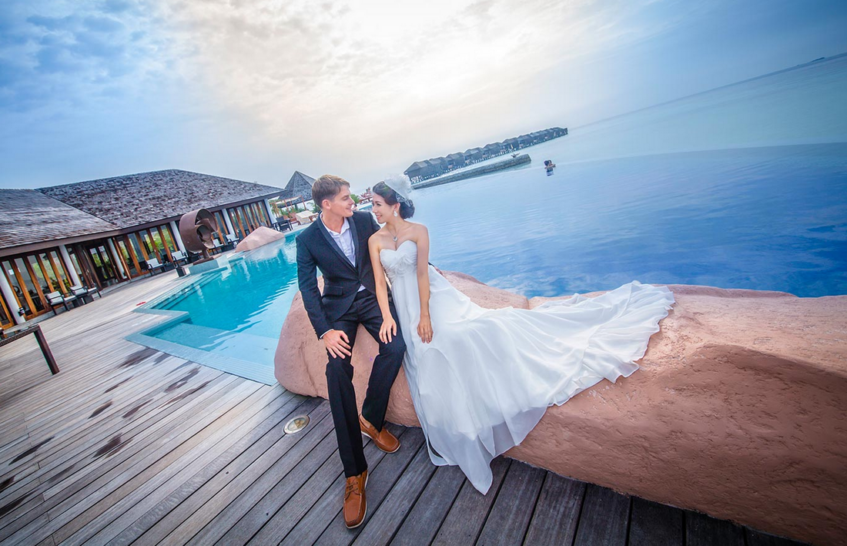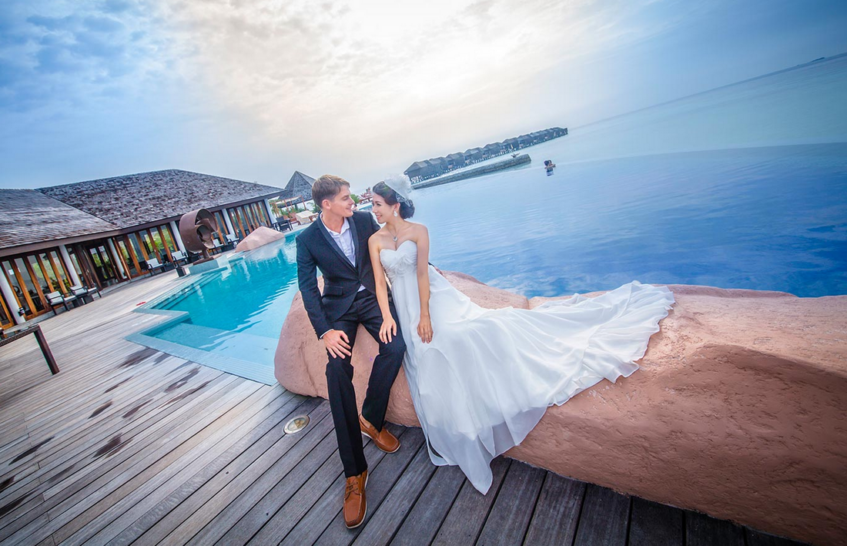 There are hotels in the Maldives that offer one wedding package. This is the classic set:
decorated area on the beach,
wedding host services,
bridal bouquet,
wedding cake and champagne,
traditional Maldivian boduberu dances,
photoshoot,
festively decorated villa and breakfast,
walk around the island on a decorated buggy,
symbolic marriage certificate in the Maldives.
Large resorts, as well as premium hotels, offer a choice of several wedding packages, including the opportunity to purchase a number of services for them. For example, manicure and make-up, additional photo shoot, spa for two, dinner at a restaurant, wedding dress in the Maldivian style, etc. Everything is very individual and often depends on the resort itself and the package chosen, as extended packages often include many of the above.
Different wedding packages at the same resort differ in the fullness of the ceremony with festive elements and, accordingly, in price. For example, a classic ceremony is held during the day, in a pavilion, with minimal decorations and a single-tiered cake.
The more expensive package includes a sunset ceremony, a more luxurious tiered cake, more lavish decorations, a candlelit dinner, and more. The most expensive are outdoor ceremonies, for example, on a desert island, on a yacht or even under water.
Whichever wedding package you choose in the Maldives, you can be sure of one thing – this day will be one of the brightest in your life. What could be more romantic than a turquoise lagoon and luxurious palm trees on a coral sand beach!
Wedding ceremonies in the Maldives are incredibly popular, attracting thousands of couples each year who are captivated by the allure of these paradise islands. While the weddings held in the Maldives are symbolic rather than legally binding, they offer an enchanting and unforgettable experience.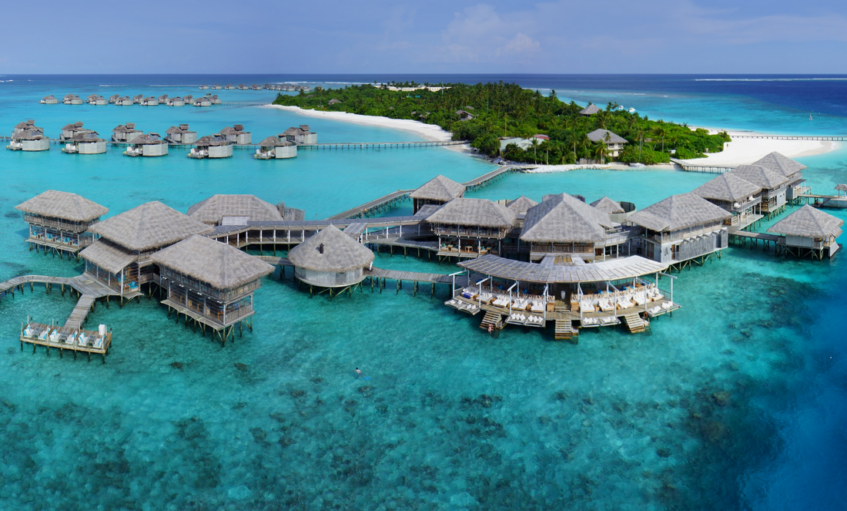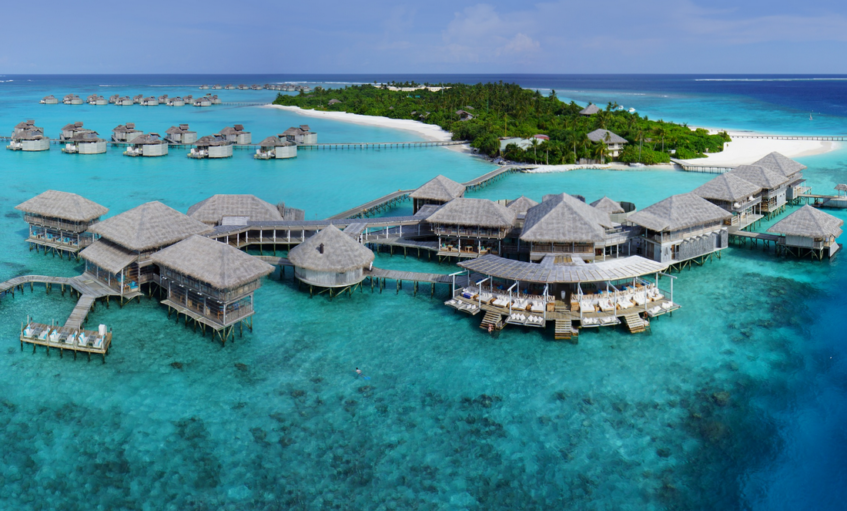 If you're curious about the secret behind the popularity of Maldivian weddings and how everything unfolds, read on as we explore the details.
First and foremost, it's important to understand that a wedding in the Maldives is a ceremonial celebration. The legal marriage registration typically takes place in the couple's home country, and the Maldives serves as a breathtaking backdrop for a symbolic exchange of vows and a memorable honeymoon.
In fact, many couples choose to commemorate their wedding anniversaries by returning to these idyllic islands to relive the magic of their special day.
If you're considering booking a wedding in the Maldives, it's advisable to make arrangements well in advance. Due to the limited availability of venues and the necessary staff for the ceremony, reservations should ideally be made several weeks or even months ahead of time.
Some smaller and more remote islands may require reservations to be made several months in advance, especially if additional services such as photographers, videographers, or manicurists are desired.
Since many resorts can accommodate only one wedding ceremony per day, it's crucial to secure your desired date and time by booking in advance. This is particularly important if you have specific time constraints or if a particular date holds significance for you. Furthermore, it's worth noting that these ceremonies are not limited to weddings alone; they can also be arranged for birthday celebrations, corporate events, and other special occasions.
To book a wedding in the Maldives, you simply need to communicate your desired ceremony date to your villa booking manager. This can be easily done through the online chat service provided by websites such as wiotto.com. The manager will then verify the availability of the chosen date and confirm the reservation. Generally, the booking process follows these steps:
Inquire about available dates for the ceremony before booking your villa.
Coordinate the selection of your villa, meal preferences, transportation arrangements, and any desired wedding packages or add-ons.
Receive a reservation confirmation and an invoice indicating the deadline for payment, which is typically required between 5 and 30 days before your check-in date.
Upon payment, you will receive a booking confirmation and relevant documents.
When it comes to wedding packages in the Maldives, different hotels offer varying options to suit different preferences and budgets. The classic wedding package typically includes: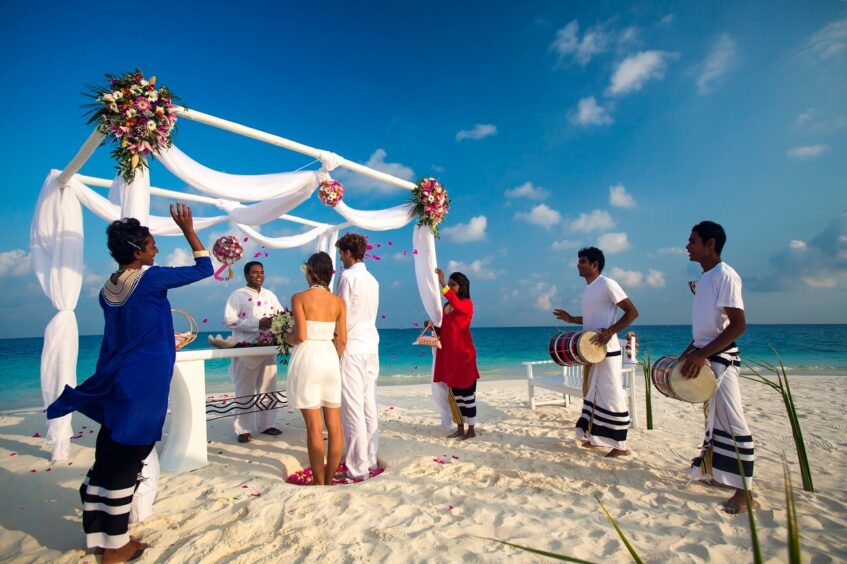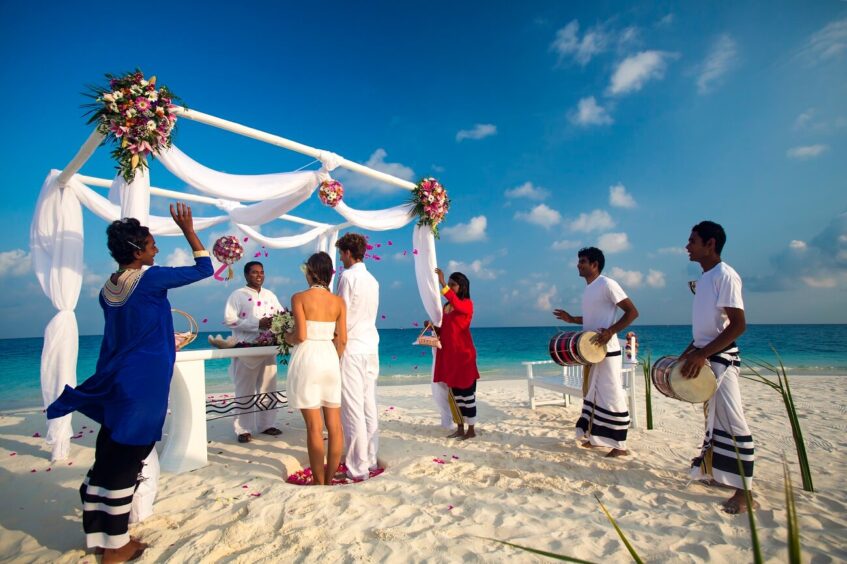 A beautifully decorated area on the beach.
The services of a wedding host.
A bridal bouquet.
A wedding cake and champagne.
Traditional Maldivian boduberu dances.
A photoshoot.
A festively decorated villa with breakfast.
A leisurely island tour on a decorated buggy.
A symbolic marriage certificate from the Maldives.
Larger and premium resorts often provide multiple wedding packages, allowing couples to customize their experience further by choosing from a range of additional services. These extras may include manicures, makeup sessions, extended photoshoots, couples' spa treatments, romantic dinners at fine restaurants, traditional Maldivian-style wedding attire, and more.
The availability and specifics of these packages can vary depending on the resort and the selected package, with more extensive offerings typically associated with higher prices.
While the cost and level of ceremony details may differ across packages, one thing is certain: Regardless of the wedding package you choose in the Maldives, your special day will be filled with unforgettable moments.
There is little that can rival the sheer romance of exchanging vows against the backdrop of a turquoise lagoon, framed by lush palm trees on a pristine coral sand beach.
In conclusion, a wedding in the Maldives is an enchanting and symbolic celebration that continues to capture the hearts of couples worldwide. By planning ahead and selecting the ideal wedding package, you can create an extraordinary and magical experience that will be etched in your memories forever.