Almost every aspect of a wedding day has become associated with flowers. Flowers are often used as critical components of a wedding ceremony and reception.
Therefore, one of the essential elements that you'll have to consider is the right wedding flowers. Blooms add color and vibrancy to your big day. If you need help in choosing blossoms that suit your wedding theme or venue, you can consult a professional, such as a bridal florist, who can arrange seasonal flowers. Seasonal flowers provide a more cohesive appearance for the event. Visit this site to know how professionals can also help make your wedding look more natural and special.
Check out TheWildRose for a wide selection of the most sophisticated and lovely blossoms for your special day. They make the most stunning bridal bouquets and offer unique flower wedding packages, allowing you to cross one crucial component of your wedding off your list.
Keep reading to find some ideas on how you can carefully choose your wedding flowers by season:
Spring Wedding Flowers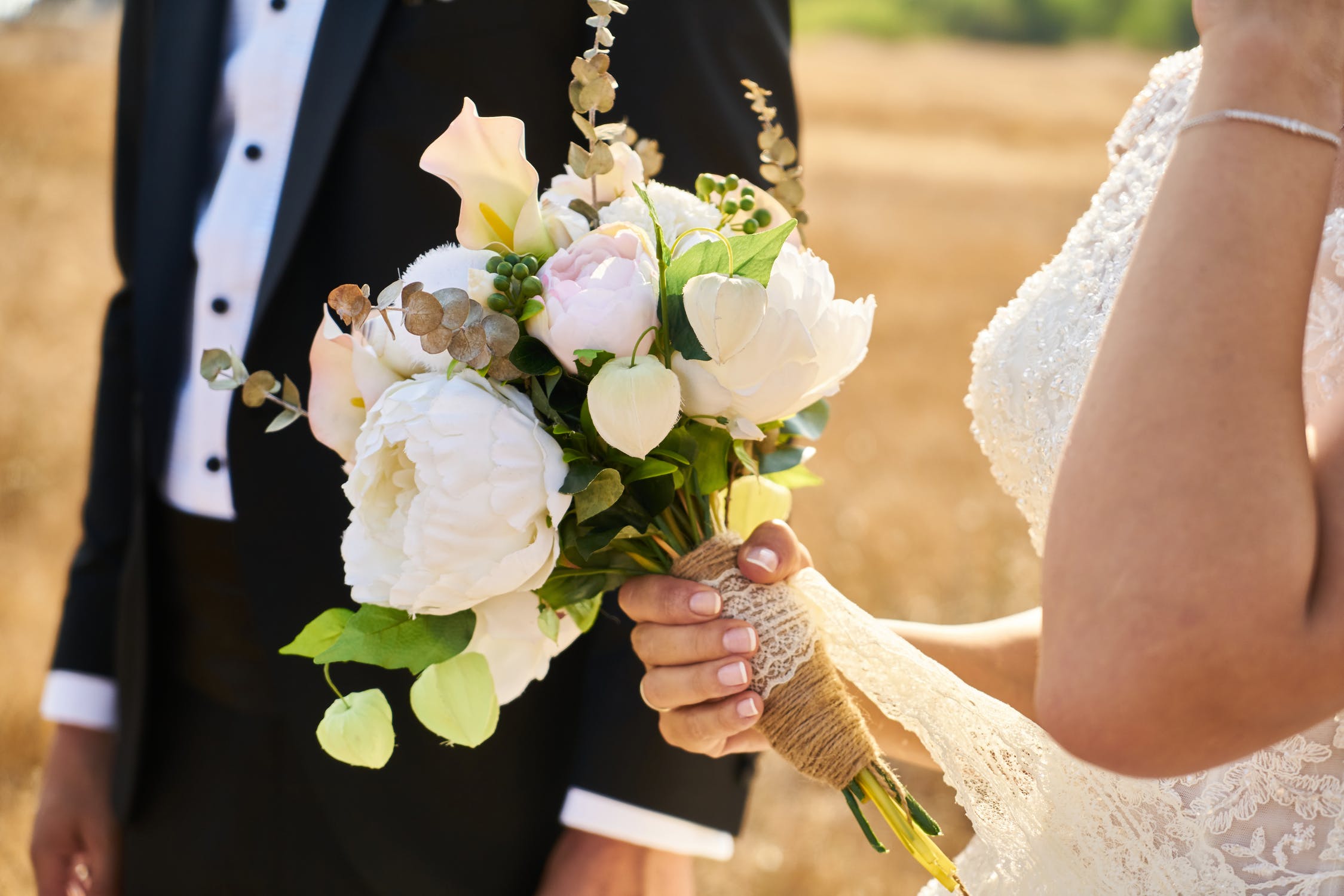 For a spring wedding, it's essential to pick flowers that are in full bloom during the season. Spring blossoms are some of the most beautiful and cost-effective ones since they add more style. However, they should only be used only as long as they last.
Spring flowers are typically pastels in color, making your wedding classy and elegant. In addition, to add character and sass to your bouquet and the overall look of your entire venue, don't hesitate to pop a dash of color. You may incorporate contrasting colors like fuchsia or orange to give your guest's eyes something interesting to marvel at.
Here's a list of some spring flowers and plants to consider for your special day:
Lilies of the valley: These beautiful little flowers can be included in various settings or applied for various purposes, such as small and low centerpieces. Note that only white is available for this kind.
Sweet peas: These romantic plants are a favorite among couples because they're incredibly versatile and can be arranged in various colors. You can incorporate sweet peas into a bouquet with an all-white arrangement. An arrangement of white flowers with a splash of greenery creates a stunning bouquet that will surely catch the attention of your guests.
Anemones: They're often used for weddings, and they come in a wide variety of shades. They look great in various types of arrangements, especially when it comes to bridal and bridesmaids' bouquets, since they add a lot of character.
Peonies: These blossoms are an all-time favorite too because of their delicate scent. They're also known to be suitable for those with allergies. You can choose a variety of colors to complete your wedding bouquet, such as orange, pink, red, and yellow hues.
Tulips: Tulips can be the sole flowers in a bouquet or arranged with other blooms to create a more complex composition. Make a statement by carrying a bouquet of white tulips and blush peonies that cascade down your arm.
Lilacs: Known for their distinctive purple hue, lilacs are the perfect symbol of spring. They're also an excellent match for any seasonal color palette. Their shape is loose and organic, and their scent is one of the best among wedding blooms.
Winter Wedding Flowers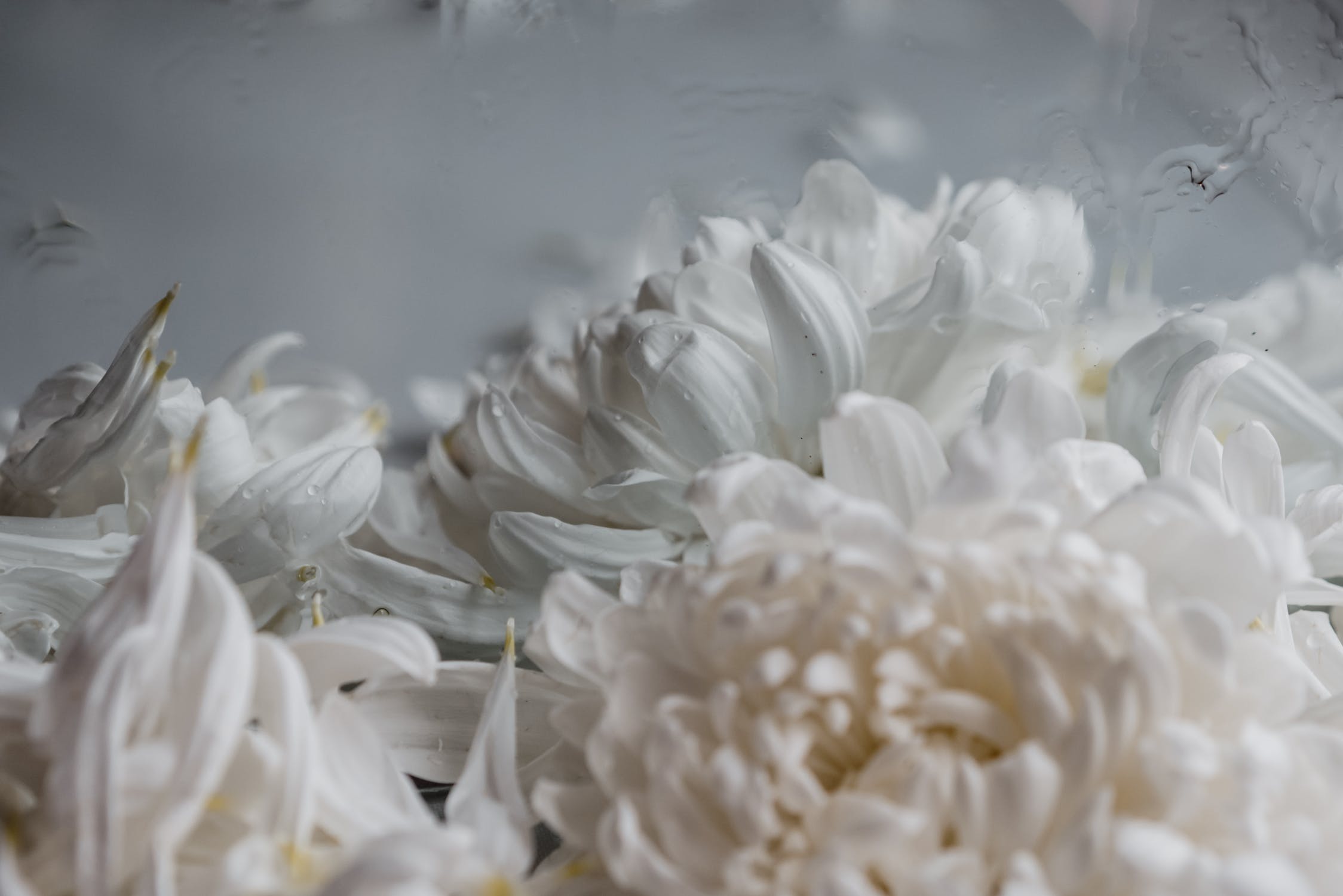 A winter wedding may not provide you and your partner with enough floral options. Roses, for example, can be used all year round in bouquets and boutonnieres, as well as in ceremony and reception arrangements.
When you think of a winter wedding, you'll often find yourself immersed in subdued colors, and often, you may gravitate towards white which could make your wedding a bit washed out. Instead of the typical toned-down and understated colors, you can use vibrant reds and pinks to liven the atmosphere and break the monotony.
Winter wedding flowers are lovely from December through March. They include:
Snow lilies: Lilies are great for a stunning bouquet. Their graceful long stems and exquisite appearance make for a unique bridal bouquet. All day long, a snow lily arrangement in the correct bouquet holder will ensure that the bride steals the show.
Jasmines: In a wedding bouquet or centerpiece, jasmine flowers are stunning. Their fragrant buds and blossoms will lend a romantic perfume to your wedding, a scent you'll always associate with your big day.
Chocolate cosmos: These flowers go well with both light and dark bouquets. They're wholesale wedding flowers that are easy to find and are able to stay fresh for hours.
Summer Wedding Flowers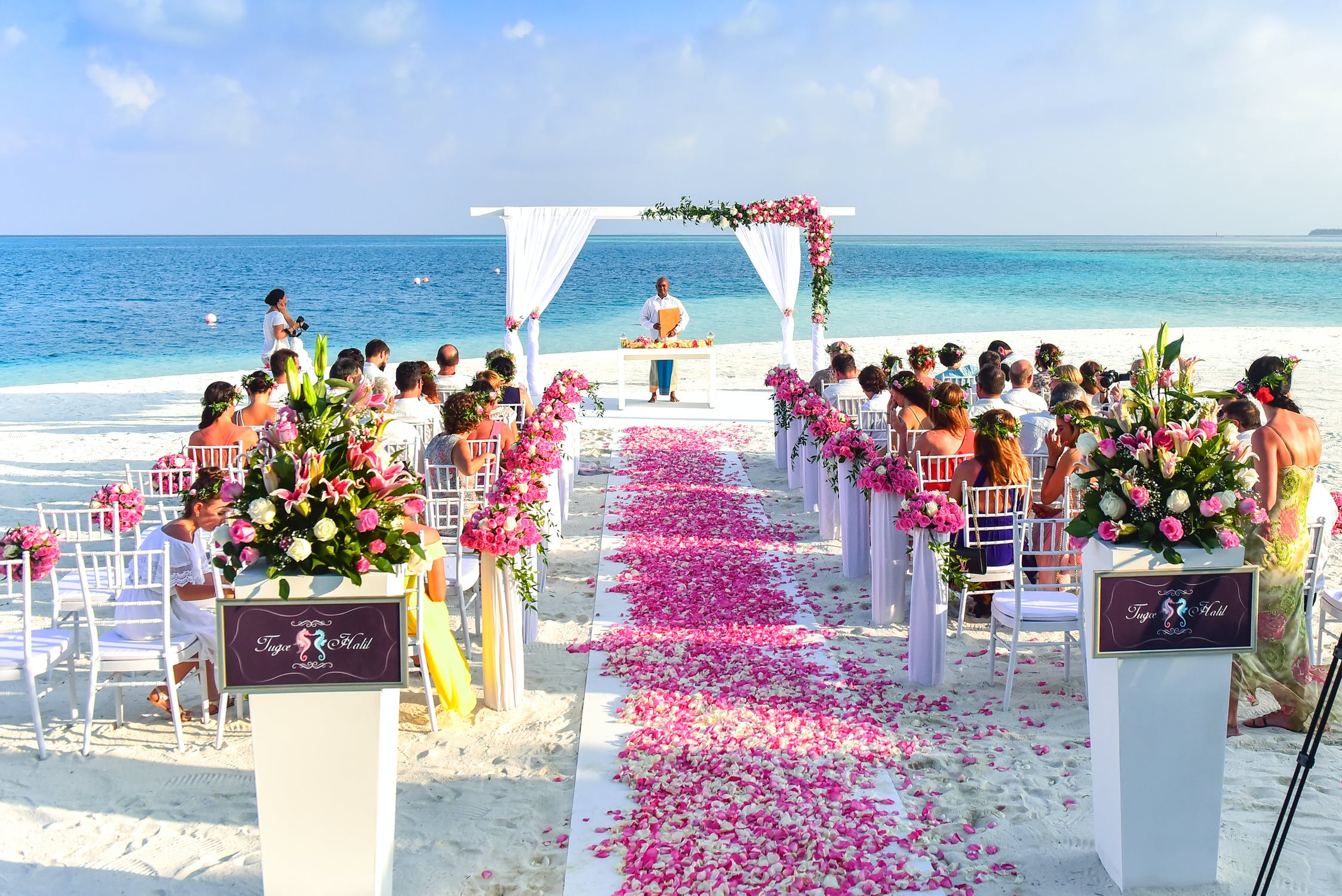 Holding a summer wedding means that you'll be able to get a lot of options to choose from. Flowers in summer can be used to provide a sophisticated or more rustic look, depending on the style you want to achieve. You'll find colorful blooms like dahlias and sunflowers, in addition to the more traditional roses and carnations.
When you choose a summer wedding, your options are endless, so you can achieve any style you have imagined for your fairy-tale wedding. Even better, the colorful summer blooms are readily available, which makes them considerably affordable. Also, there's something about the season that makes the shade of the flowers brighter and more vivid, which can look stunning in photographs.
Here are some of the typical summer blossoms you can decide on:
Orchids: Brides-to-be are usually excited about incorporating orchids in wedding floral arrangements. Other orchids suitable for weddings are dendrobium, cymbidium, and cattleya. They're a fascinating idea for any purpose, including bouquets, ceremonies, and centerpieces.
Irises: Although they mainly feature a bright purple color, they can also be used in other gorgeous varieties, such as yellow, pink, and white. A well-arranged and sweet wedding bouquet can be the ideal way to complement a white bridal look.
Dahlias: They're incredibly versatile, and they can be used as table arrangements for weddings. They're also great for adding a rustic touch to any occasion. For smaller weddings, divide these beautiful flowers into smaller groups and similarly arrange them.
Hydrangeas: They're commonly seen in white-and-blue arrangements, but they also come in lovely pink, purple, and green shades. They're the perfect flowers for a romantic garden wedding since they exude both elegance and nostalgia.
Tweedies: These are ideal for a white or green arrangement. They match well with a beach wedding. They're available in pink and white colors, but light blue is the most common.
Fall Wedding Flowers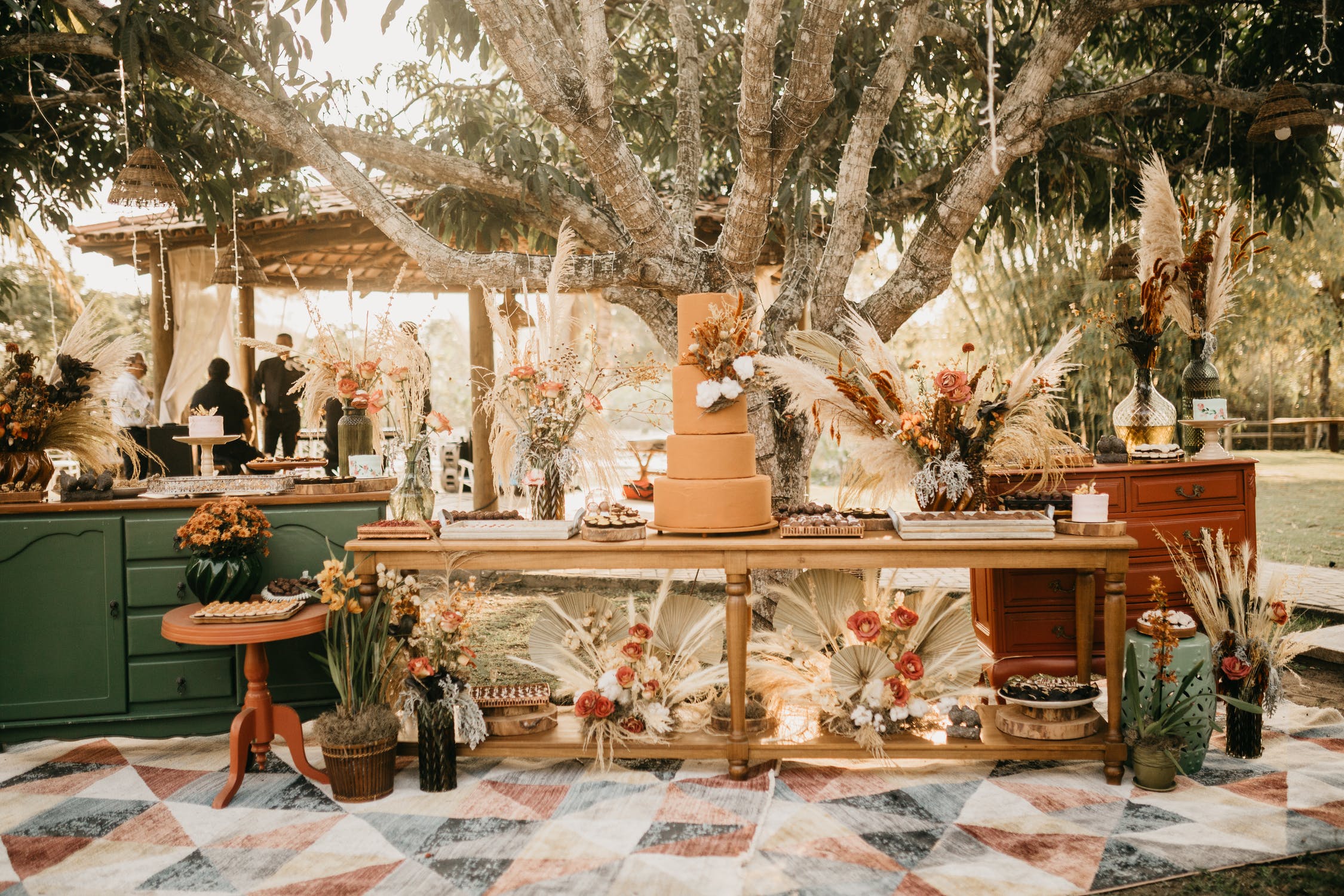 Fall is an excellent time of the year to get married. Flowers in this season range from exotic proteas to classic blossoms.
Here's some inspiration for your fall wedding flower bouquets:
Asters: They're known for being the most striking flowers for weddings. They can be used in various ways to make a wedding look lovely, such as displays or centerpieces. They're even ideal for wedding bouquets or boutonnieres.
Chrysanthemums: The diverse style of chrysanthemums is best seen in wedding bouquets. In a beautiful all-white and soft greenery arrangement, these blooms provide dimension and texture.
Dahlias: In your wedding floral arrangements, dahlias will add sophistication. Their dynamic shape—round petals with points—blends well with many other flowers and foliage kinds.
Marigolds: They're recognized for their bright yellow and gold colors that reflect the sun. They're an excellent choice for weddings, as they're versatile and available in a wide range of colors. They're also great for hung floral displays and flower crowns.
Zinnias: These blooms are soft and feminine, with a daisy-like bloom (zinnia elegans) in the foreground. Other blossoms, such as dahlias, daisies, and mums, are a wonderful combination for a wedding bouquet.
Takeaway
Selecting flowers for your special day is an exciting part of planning your wedding. Whatever the season you hold your wedding, you'll have a wide variety of blooms to choose from.