Marriage is a big step in everyone's lives, and traditionally weddings happen in religious venues such as churches, temples, or mosques. However, if you are one of those people who would like an alternative venue for your wedding, the beach is one of the best places for a wedding ceremony.
An outdoor wedding ceremony can be pretty stunning, which a beautiful beach will only accentuate. There are plenty of wonderful beaches, but not all of them are suitable wedding venues. If you want to have a beach wedding, the following are some of the most stunning venues of all time:
1. Casa Marina, Key West, Florida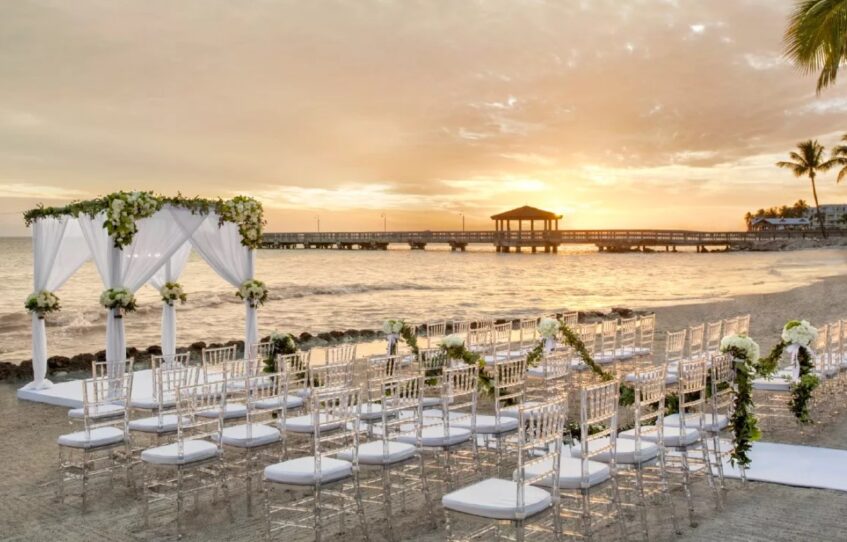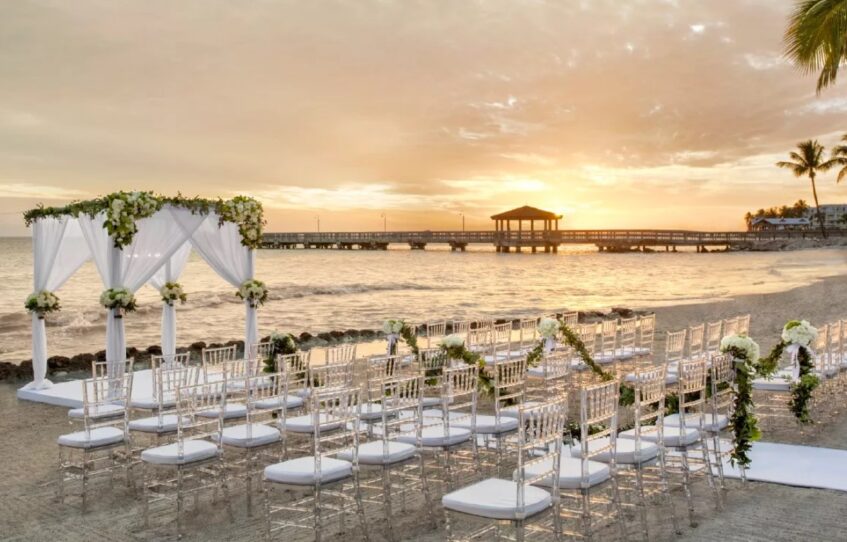 The Florida Keys are a beautiful beach venue for many activities, including weddings. The Casa Marina has won multiple awards as a top beach wedding destination. The venue has terrific white sands, which complement a white-colored or themed wedding very well during the day.
If you prefer to have the wedding at night, your ceremony will be illuminated by the stars, which is equally breathtaking. Casa Marina is a romantic location where you can have a beach wedding, including 200 guests, as it is the largest private beach in Key West. There is also a ballroom fit for hosting a royal wedding where guests can dance all night.
2. San Diego Beaches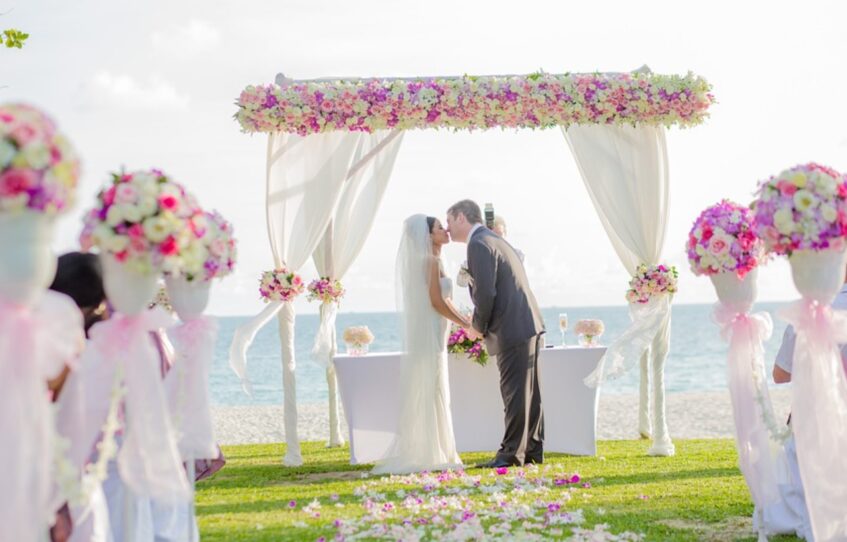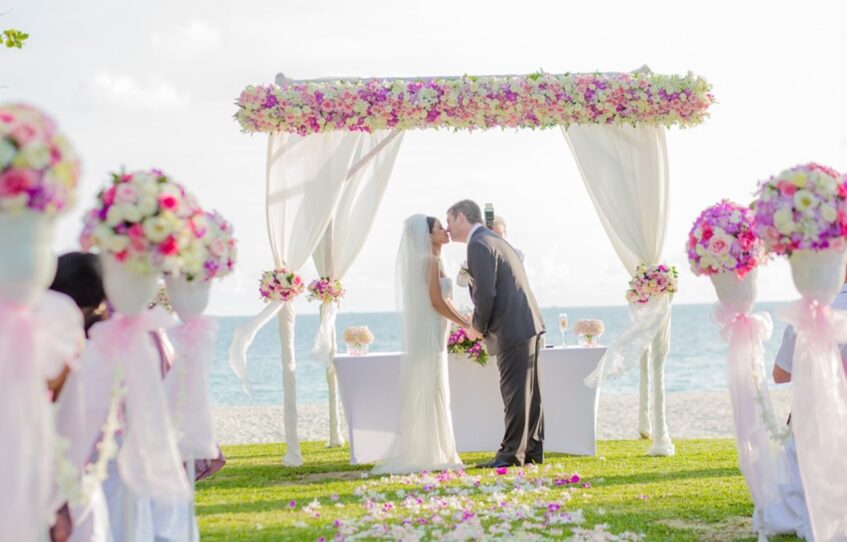 The San Diego region has outstanding beaches that make excellent venues for beach weddings. If you are ever looking for ideas on what to do in San Diego, you should check Viator.
Of course, going to the beach should be among the first options. The white sands and beautiful blue water always lead to a great day in the sun.
Mission Beach is one of the best places in San Diego for a wedding. The public beach is fine if you don't mind a bit of background activity. If you would like a more private setting for your wedding, Mission Beach Women's Club is a private facility with a beach you can rent for the wedding. A club is also an excellent option for a reception.
Sunset Cliffs Natural Park is another excellent venue for a beach wedding in San Diego. Though it is a public park, the cliffs give it a more secluded ambiance. A drawback of the park is that the beach is completely covered during high tide. Therefore, you have to plan to have your wedding during low tide or have it on the cliff.
3. Anantara Dhigu Resort, Maldives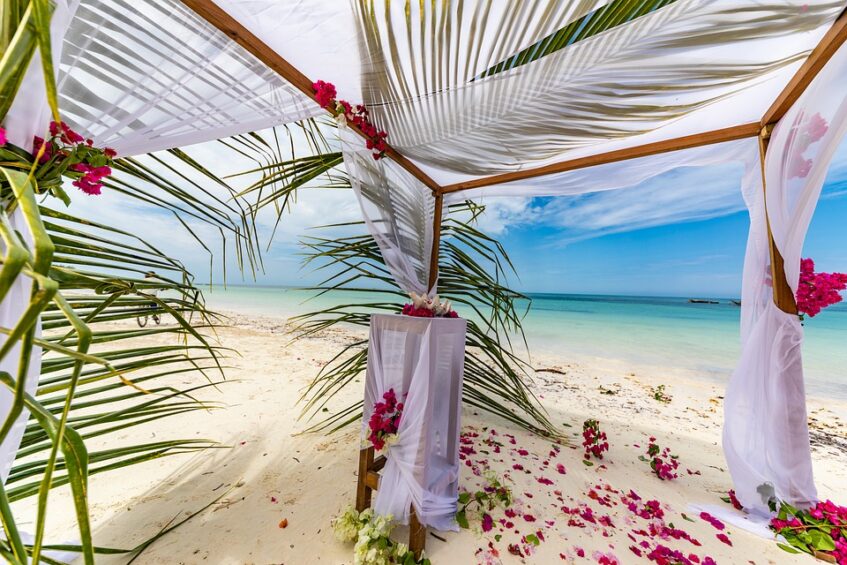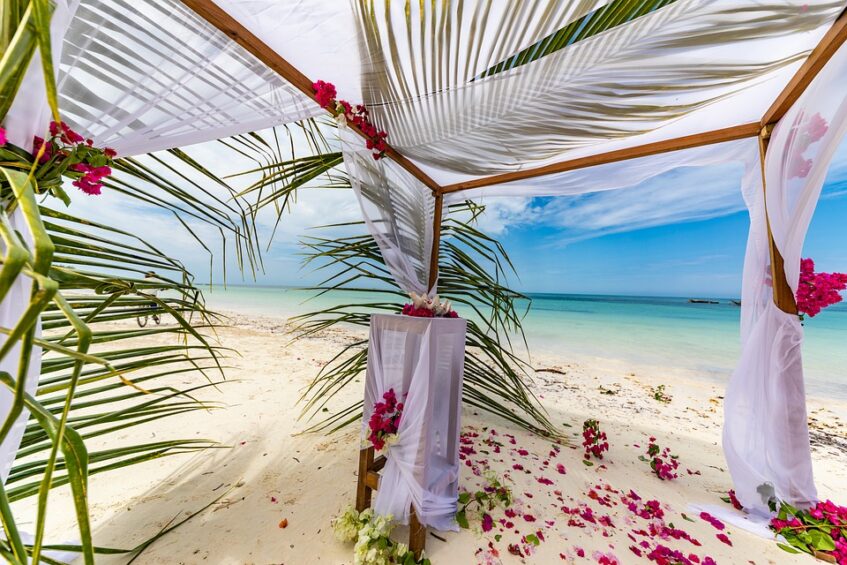 If you want to have a perfect beach wedding, you should consider having it at the Anantara Dhigu Resort in the Maldives. The luxury spa resort is located right by the beach and has pristine beaches that will take your breath away. As seen from the resort, the sunsets are spectacularly romantic, providing you with the ideal setting for a beach wedding.
The hotel itself has plenty of activities for your guests to enjoy during the wedding week, including the spa, snorkeling in the ocean, water sports, and more. The hotel can host a lavish reception too. Otherwise, you can choose beachfront villas, which are part of the resort, but it can be quite expensive if you have many guests—all in all, a location worth considering for a beach wedding.
4. Water's Edge Resort & Spa, Westbrook, Connecticut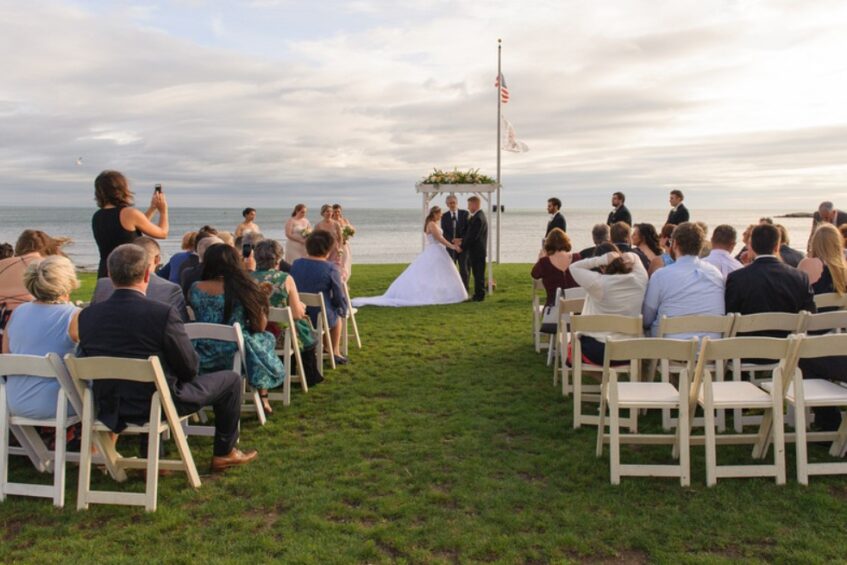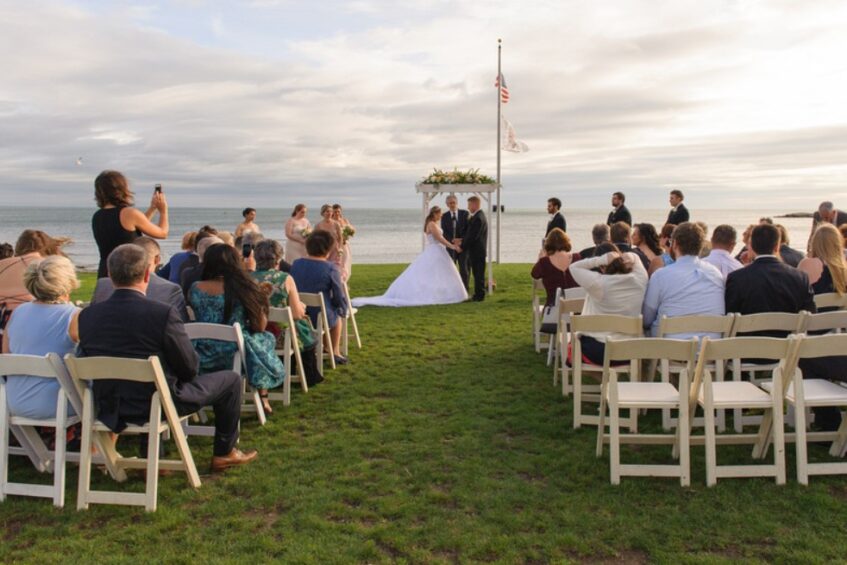 The American east coast offers plenty of venues for a beach wedding, but Westbrook, Connecticut, offers one of the best you will ever see. The Water's Edge Resort and Spa is an exotic location on the Connecticut beach with a great view of Long Island, making a breathtaking backdrop for a beach wedding ceremony.
The resort has an extensive beachfront lawn that can handle a beach wedding of any size. Water's Edge Resort and Spa also have several large ballrooms with sweeping views of the ocean in which you can have a lively and merry reception.
The food served at the hotel has nothing but positive reviews, which you and your guests will enjoy. If you want a great beach wedding close to home, Water's Edge Resort & Spa in Westbrook, Connecticut, will be a neat choice for you.
5. Sand Castle, Franklin Square, New York, USA
Sand Castle, nestled in Franklin Square, is Long Islands top wedding spot, offering couples a dream-like venue for an unforgettable celebration. With its timeless elegance, a blend of indoor and outdoor spaces, including a grand ballroom adorned with crystal chandeliers and meticulously landscaped gardens, Sand Castle creates an enchanting atmosphere.
The dedicated team ensures flawless execution, allowing you to fully immerse yourself in the magic of your special day, whether exchanging vows under a picturesque garden gazebo or dancing the night away in the opulent ballroom.
6. Guana Island, British Virgin Islands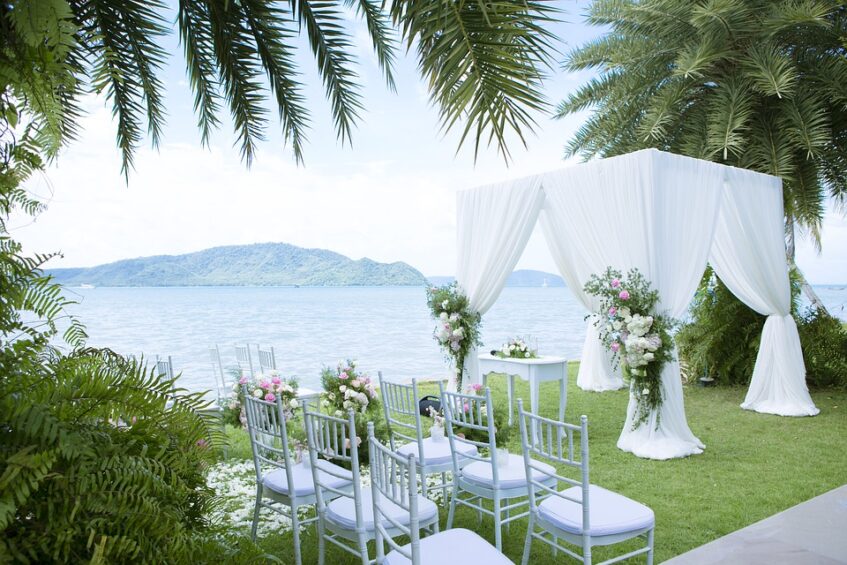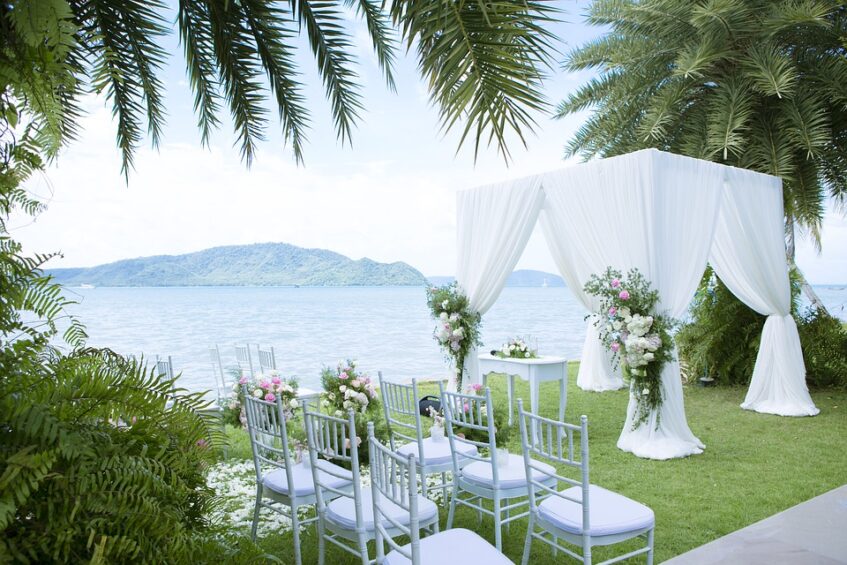 The British Virgin Islands are known for their beauty and are a beach wedding destination worthy of any wedding. Guana Island, in particular, would make an excellent venue for a wedding. The island has a sandy Caribbean bay with sparkling white sand that will complement a white wedding dress and suit perfectly.
The island can only host 36 guests, so it is for those who would like a more intimate beach wedding. To use the island for your wedding, you have to rent it. The island covers 850 acres of pristine nature and beaches. You can choose to have the wedding on the beach or in the hotel garden.
There is only one hotel, Sea View Cottage, but it is excellent, and so is the banquet they will arrange for the wedding reception. You and your guests can spend the entire weekend getting pampered and having fun doing activities like hiking, sailing, and snorkeling. The price of the island will include three daily meals prepared by the hotel for the duration of your stay. Guana Island is a tropical paradise that is one of the most romantic venues for a beach wedding in the world.
7. Fiji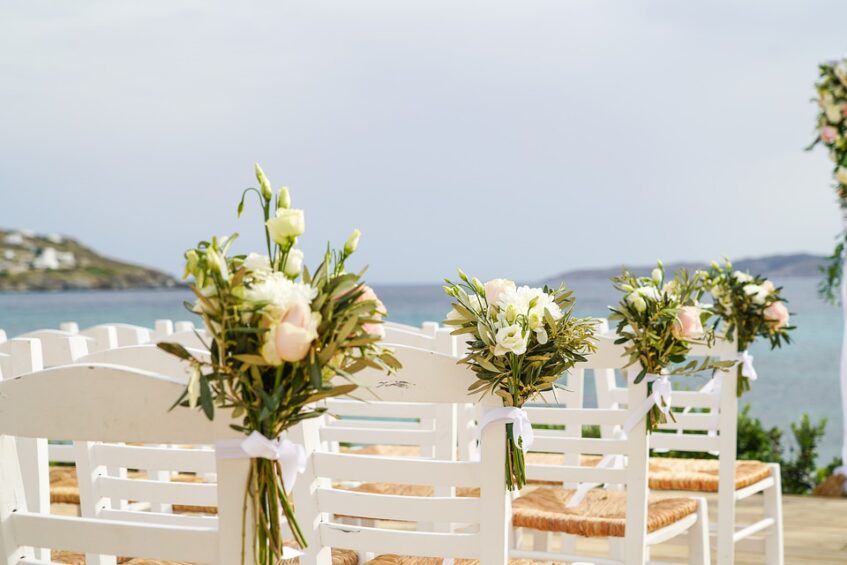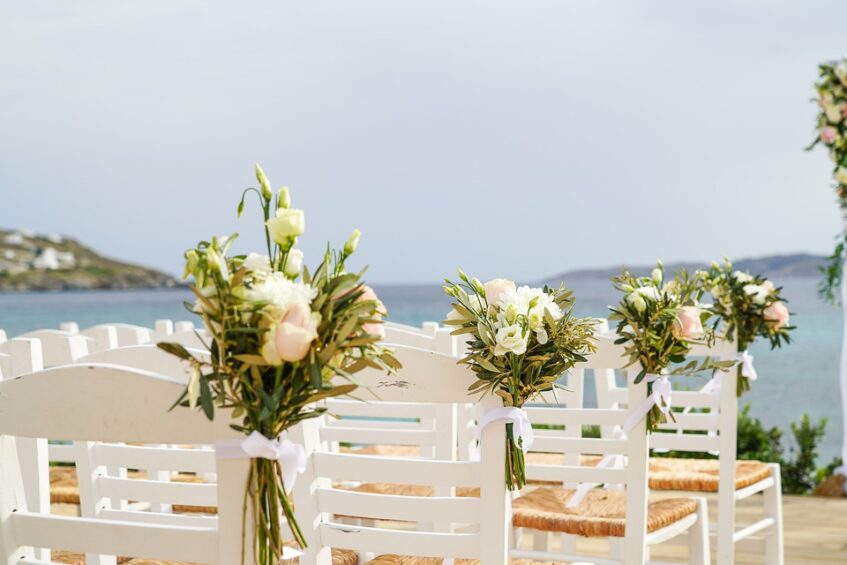 Speaking of tropical paradise, Fiji is an island that repeatedly receives that praise from its visitors. Fiji is one of the best locations for a beach wedding globally and one that you must visit. The country comprises an archipelago of over 300 small islands with glittery sands and turquoise waters that will last long in your memory.
If you want a beach wedding in Fiji, you have the choice of one of the smaller islands for a private and intimate ceremony. There are also larger islands with extensive resorts where you can have a larger beach ceremony. Fijian people are the friendliest in the world, and you will enjoy their costumes as well as their kava drink. After the wedding, you can stay as you will not find a better honeymoon destination.
There are many outstanding beaches worldwide, some of which you can use for a beach wedding. The ones above are some of the best among them. Whether in the United States or abroad, explore them and see if they are to your liking. None of the destinations on this list will disappoint you.