With summer just beginning, the oncoming wedding season is bound to leave you in anxiety as you start planning all the intricate details you had not worried about until now. Your wedding dress may be the loveliest piece of fabric you ever set your eyes on, but you're going to have to start thinking about the kind of hairstyle and hair accessories that will go with it now. But fear not, cause we're here to tell you what the 4 best wedding hairstyles are this floral season.
Apart from having a floral-themed wedding, you may also want to consider what kind of flowers you're going to be using for your hairstyle and bridal bouquet. If you'd like to know more about the best flowers for this summer, check out this blog post for more details. And now without further ado, let's start planning!
1. Button Roses Nestled in a Bun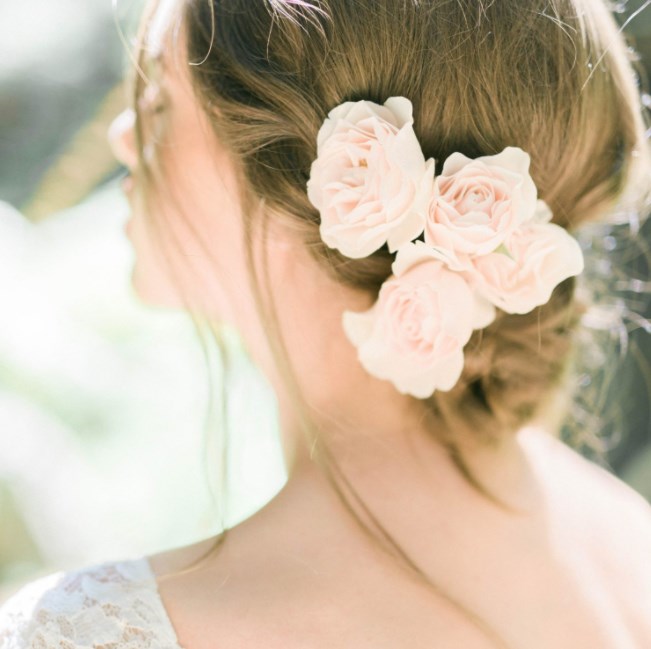 Button roses are one of those delicate buds that look elegant in any hairdo. One way you can combine elegance with chic on your wedding day is by incorporating these buds in a messy bun. For the past few years, messy hairdos have become quite popular as women no longer like the sleek combed down look but prefer the breezy, messy updo instead.
For this look, first, pick the color of button roses you'd want for your hair. If your wedding gown is white then cream and white buds would go just well, but if you're going for a different shade then you could experiment with pink or purple buds too. Next, tie up your hair in a messy bun that looks both boho and effortless. Make sure you've secured the bun with as many hairpins as you need as you'll have to add in the buds on top of this. Once you like the way your hairdo looks, start adding in the roses wherever you feel they're needed. Just be sure to add them all over the bun and not leave any space empty.
The last step is to pinch the hair around the bud in such a way that it looks like the buds are prettily nestled inside the bun. You don't want the buds to stick out at random, so make sure they're all evenly pushed in and look uniform in terms of their size. The last step is to move your head around to ensure that all the bobby pins are in place, especially the ones that are securing the roses. Be sure to run a few test trials before you begin getting dressed as you don't want any of the buds falling loose during the ceremony.
2. A Halo of Ferns and Flowers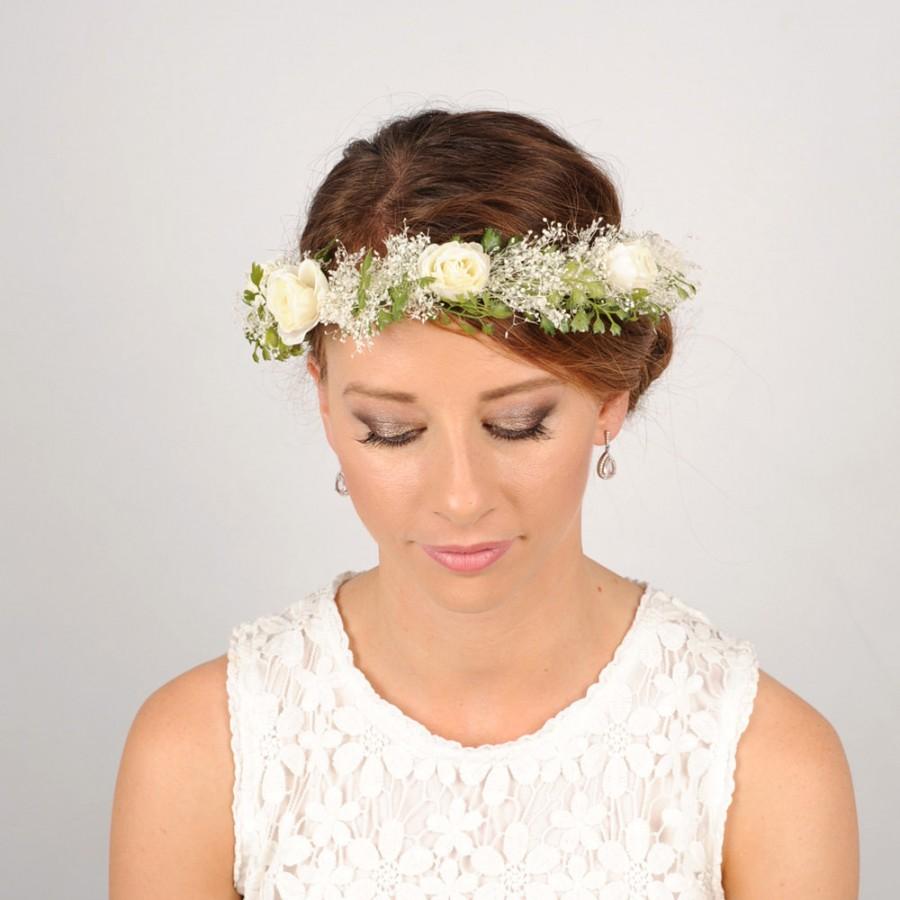 If you're one who personally prefers having an elegant and neat bun like a french knot and doesn't care much for the easy, effortless look, then this hairdo will be perfect for you. Just like the previous style, this hairstyle involves a bun as well, except that it'll look much neater and sleeker.
As for the flowers, you may use any small bud of your choice but be sure to incorporate some greenery as well. You may want to check out bridal ferns or any other leaf that catches your fancy. Once you've picked out the flowers, you may proceed to choose the type of bun you want. There are numerous buns that involve a simple twist and turn but look more elaborate than they really are. The main point to keep in mind is to choose a bun that will be tight and will hold the weight of the halo of flowers you're going to place on top of it.
Once the bun is secure, you may start adding the flowers and ferns alternatively in such a way that it looks like a halo is placed on the upper region of the bun. As mentioned before, secure the bun and flowers with as many bobby pins as you need.
3. The Frida Kahlo Braid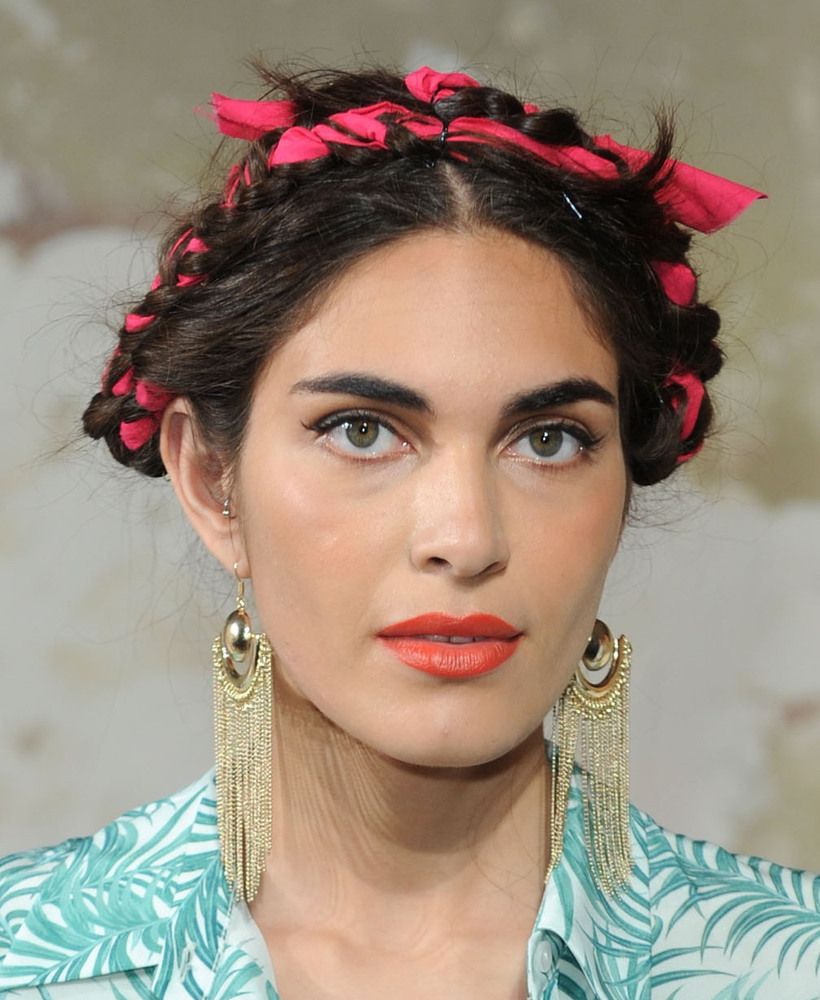 Yes, the Frida Kahlo braid is still in vogue and is one of the trending hairstyles this wedding season. The best part about this is there are hundreds of different ways to do it, so you needn't worry even if your hair is on the shorter side. One of the best parts about this hairdo is that these braids are more sturdy than most other hairdos, so if you want to have a night that's filled with dancing and other fun activities that'll involve a lot of movement then this is the way to go.
As for the flowers, you can pick anything of your choice, but make sure it's proportionate with the size of your braid. If you have long, thick hair then you can go for bigger flowers or buds, but if your hair is on the thinner side then petite buds would look prettier.
Once you've got your braid in place, you can attach the buds at regular intervals and secure them with bobby pins. If you'd like the style to look more boho then feel free to make the braids a little messy by carefully loosening the tight braids.
4. The Waterfall Braid with Wildflowers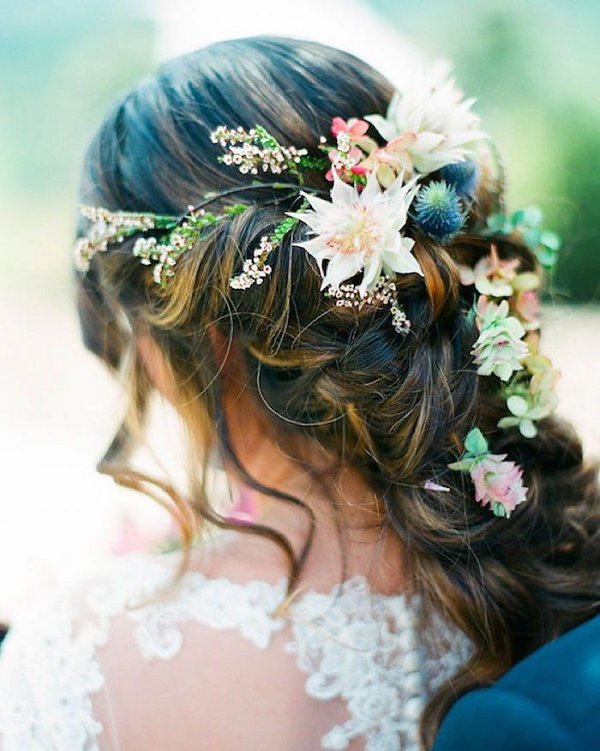 Here's one hairstyle for those of you who wish to leave your hair loose and free to really give off those carefree, chic vibes.
One way you can leave your hair loose while still looking elegant is by going for a braid such as a waterfall braid which only focuses on the upper portion of your hair. The braid is fairly simple and will look lovely no matter what the size or texture of your hair is.
As for the flowers, you can choose a simple sprig of wildflowers that are tied into a small bouquet and secure it at the center of your braid at the back of your head. This also happens to be one of the go-to hairstyles for brides who want to have just a minimal amount of flowers and bobby pins secured to their hair.