Flower arrangements are one of the things that should not be overlooked, whether you're planning a large wedding or a small ceremony. Flowers will bring the ideal touch of sophistication, romanticism, and whimsy to your wedding decor, from bouquets to centrepieces.
According to Thanks A Bunch Florist, who does flower delivery in Melbourne, it's very important to have elegant wedding decor because this is the best way to make a big day a memorable one.
In this blog post, we're going to explore 10 gorgeous flower arrangements that will elevate your wedding decor to the next level. So, let's get started!
Classic Round Bouquet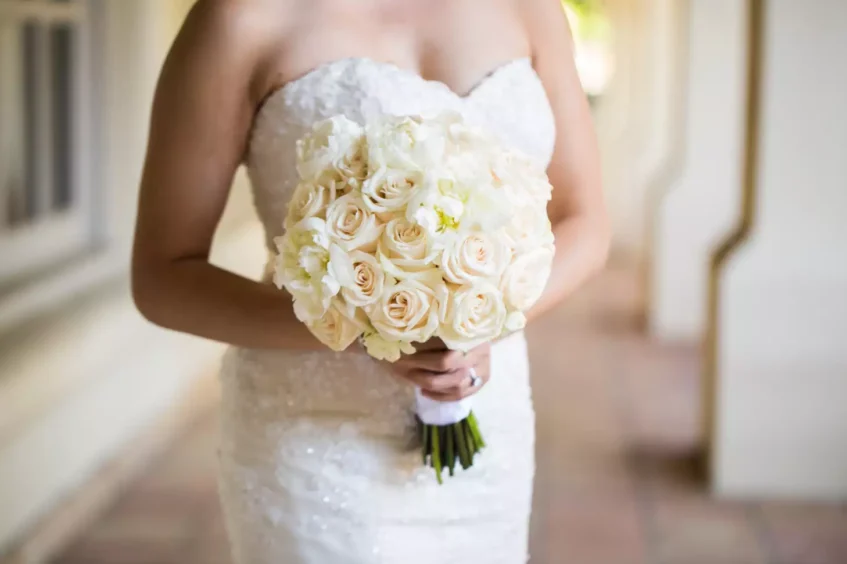 The classic round bouquet is one of the most enduring and conventional wedding bouquets. The flowers in this bouquet are arranged in a circle, typically with a variety of flowers and greenery. It's ideal for brides who choose a straightforward, refined, and timeless appearance. Common flowers that should be added to this are roses, peonies, hydrangeas, and baby's breath.
There are a few things to consider if you decide to use a classic round bouquet. First, think of the colour scheme for your wedding. The bouquet should enhance rather than contrast the overall colour scheme. Second, be sure to select flowers that are widely available and in season. By doing this, you can get the flowers you want while still lowering your prices.
Cascading Bouquet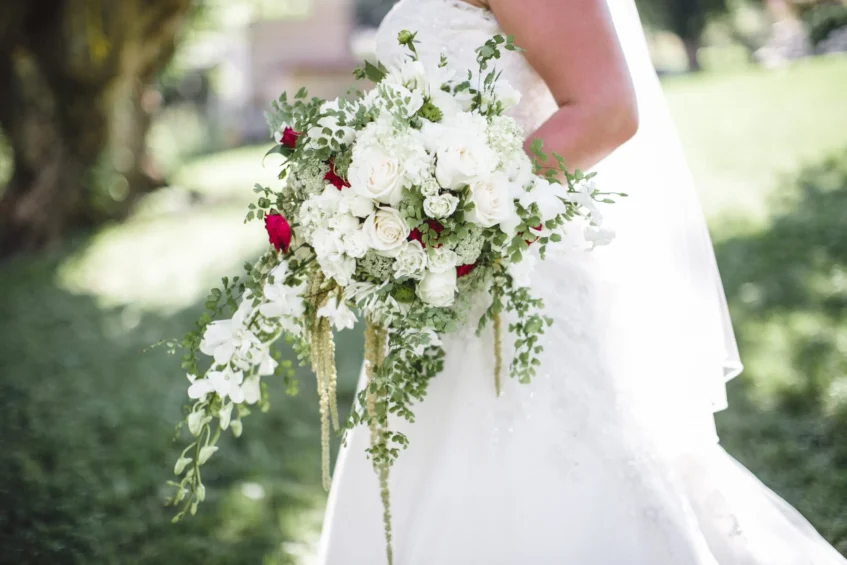 If you want a more dramatic and glamorous look, a cascading bouquet might be the perfect choice for you. This bouquet is designed to "cascade" down the front of the dress, creating a stunning and eye-catching effect. Some popular flowers to use in a cascading bouquet include orchids, roses, and lilies.
Additionally, It's important to work with a talented florist because a cascading bouquet might be a little trickier to make than a classic round bouquet. Also, you should ensure that the bouquet is securely fastened to prevent slipping or sliding while the ceremony is in progress.
Flower Crown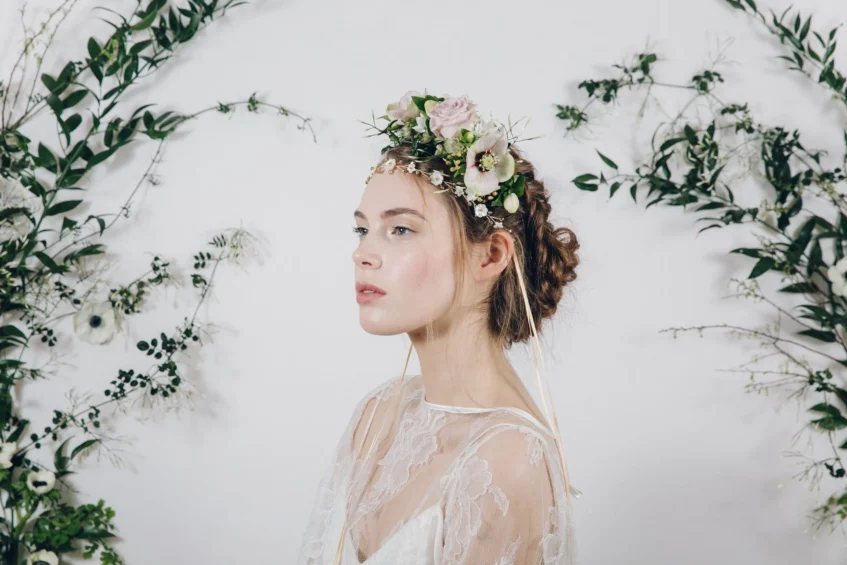 An accessory like a flower crown can be ideal for a bohemian or rustic wedding. The bride, bridesmaids, or flower girls can all wear flower crowns, which are simply flower headbands. Some popular flowers to use in a flower crown includes wildflowers, baby's breath, and daisies.
Also, consider the design of your dress and the overall ambience of your wedding when selecting a floral crown. The flower crown should enhance rather than dominate your appearance. Also, it's critical to select flowers that are resilient enough to endure a full day of use.
Centrepieces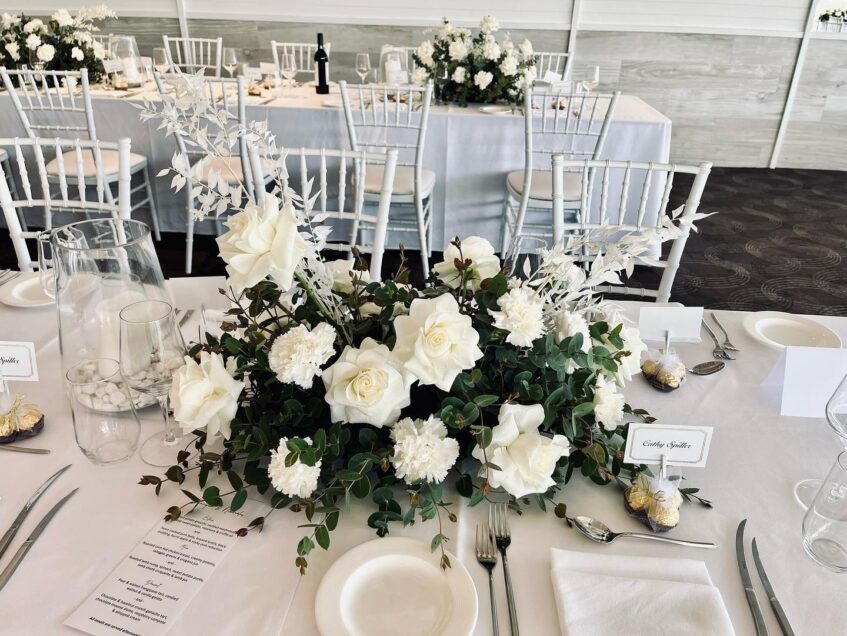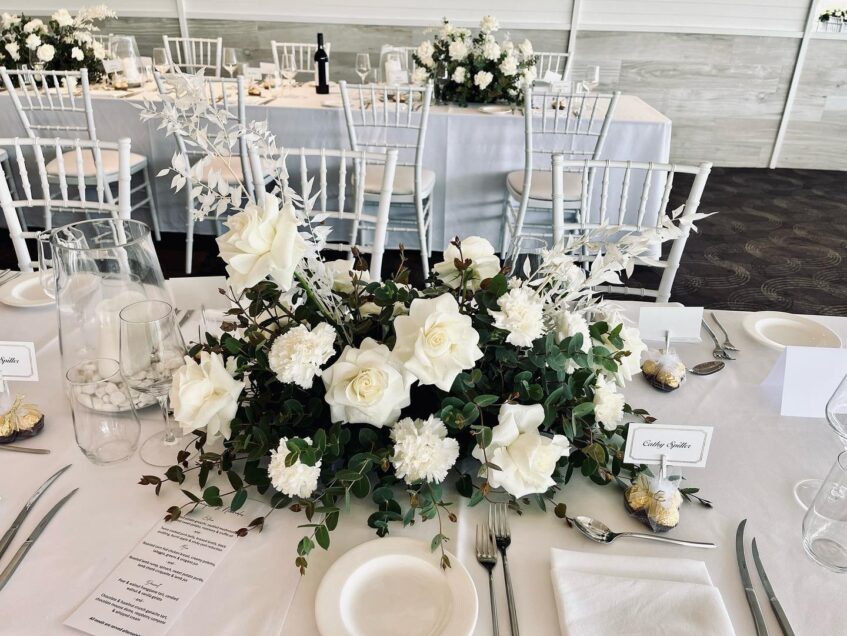 The centrepieces at a wedding are just as significant as the bouquets and other decorations. A centrepiece, which can be tall, short, or in between, is essentially a floral arrangement that is put in the middle of the table. Popular flowers to use in centrepieces include roses, hydrangeas, and peonies.
While selecting centrepieces, keep in mind the size and form of your tables. The centrepieces shouldn't be so large that they obstruct the view or make it impossible for guests to talk to one another. Also, you should ensure that the centrepieces blend in with the overall design and concept of your event.
Boutonnieres and Corsages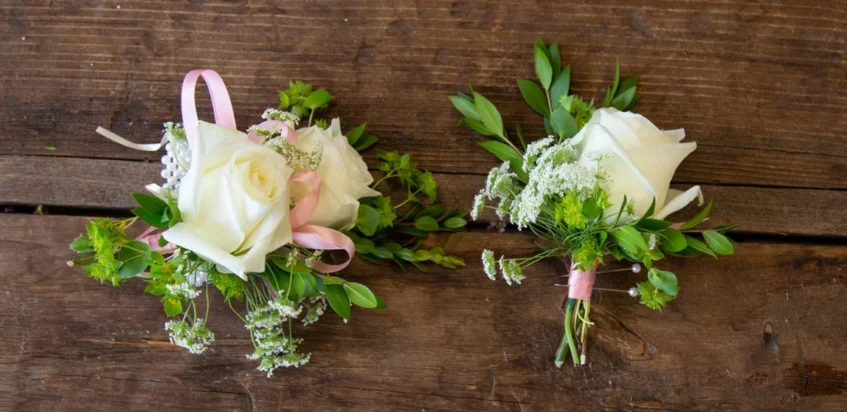 Boutonnieres and corsages are small floral arrangements worn by the groom, groomsmen and bride's family members. These bouquets usually consist of one flower or a few flowers and can add a touch of colour and elegance to the bridal party's outfit.
When choosing boutonnieres and corsages, it's important to consider the colour scheme and style of your wedding. You want these small arrangements to complement the overall look of the wedding, without being too overpowering. Popular flowers for boutonnieres and corsages include roses, carnations, and orchids.
Hanging Floral Installations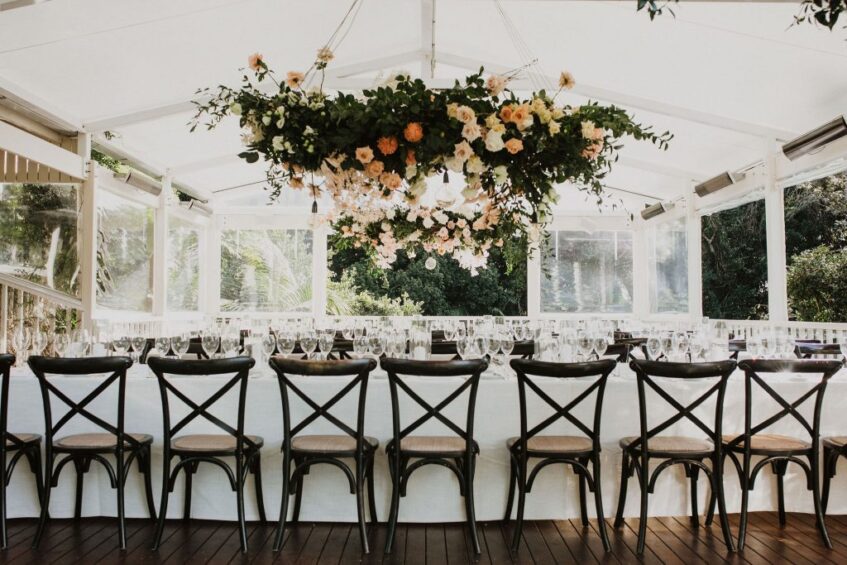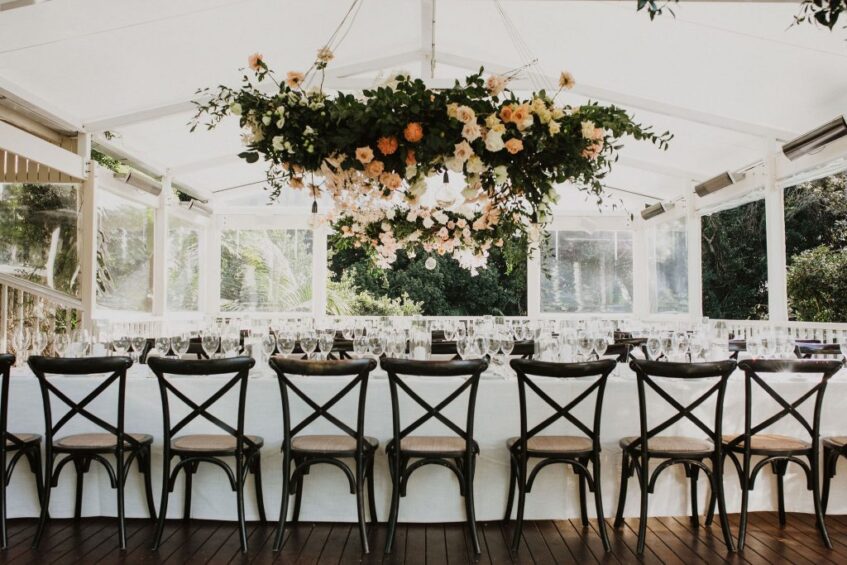 For a truly unique and show-stopping display, consider incorporating hanging floral installations into your wedding decor. These installations can take many forms, from floral chandeliers to suspended flower walls. They can add a sense of whimsy and romance to your wedding, and they make for stunning photo backdrops.
When planning a hanging floral installation, it's important to work with a skilled florist or wedding designer. You must take into account the installation's weight, structure, and any potential safety issues. Also, you'll want to confirm that the installation ties in with the overall design and theme of your event.
Monochromatic Bouquet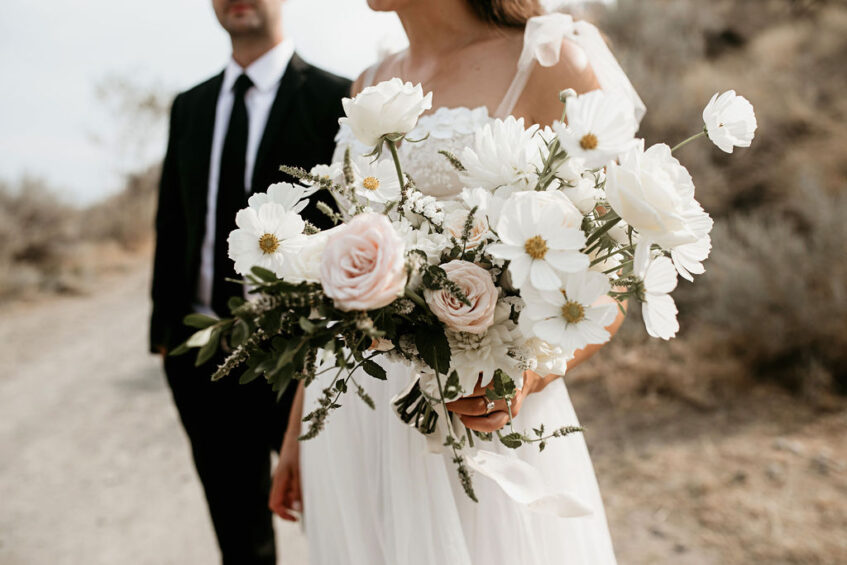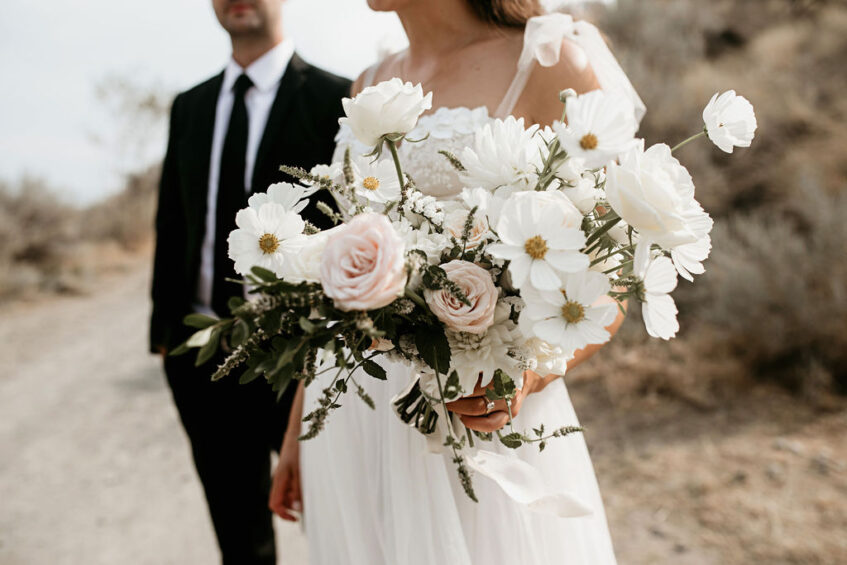 Monochromatic bouquets typically consist of flowers in one hue, using various tints and textures for depth. Popular colours for this type of bouquet are white, pink and red.
A monochromatic bouquet can be a wonderful way to use wedding flowers to make a strong statement. Using flowers with the same colour family but varying hues and textures will provide visual intrigue, so stick to it. Also, greenery is another option for a more organic and natural appearance.
Succulent Bouquet
A succulent bouquet is a unique and environmentally friendly choice. These bouquets, which are made up of various succulent plants, can give your wedding decor a distinctive and unanticipated touch. For outdoor or desert weddings, where more traditional flowers could fade away in the heat, succulent bouquets are a fantastic alternative.
When selecting a succulent bouquet, it is beneficial to determine the shape and size of plants. Also, the bouquet should be visually pleasing and well-balanced. You can also add miniature blossoms or greenery for visual appeal.
Statement Arrangement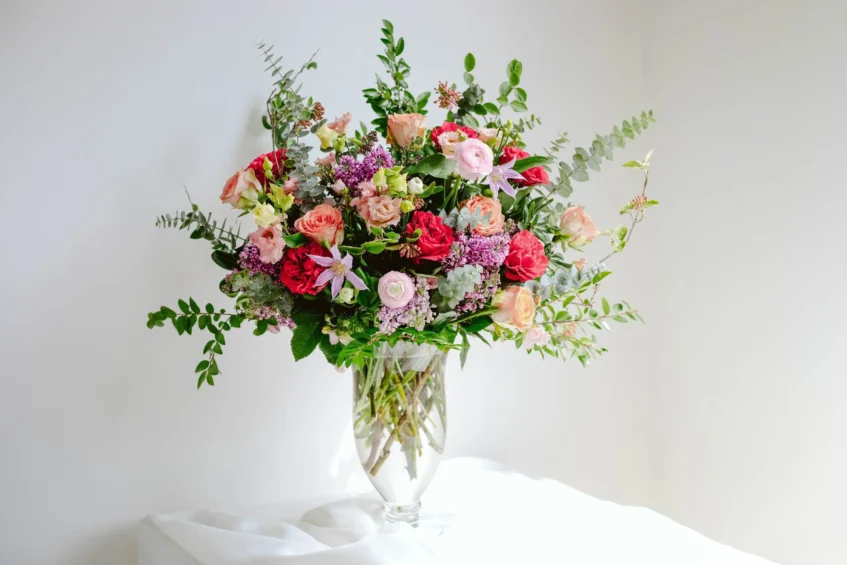 Consider a statement arrangement for a floral display that will be truly memorable. This could be a massive floral arrangement that acts as the main decorative element of your wedding. It could be put in the middle of the reception area or at the ceremony's entrance. Make sure that the arrangement is large enough to provide an impact without dominating the space.
Flower Wall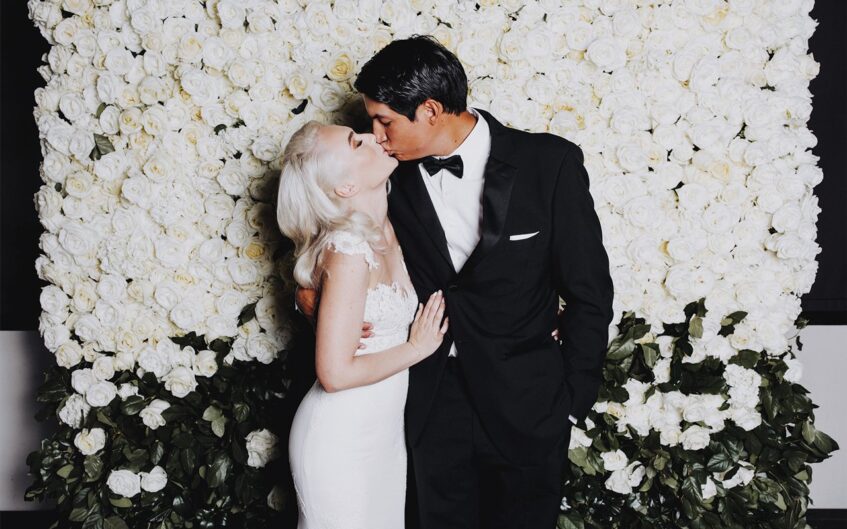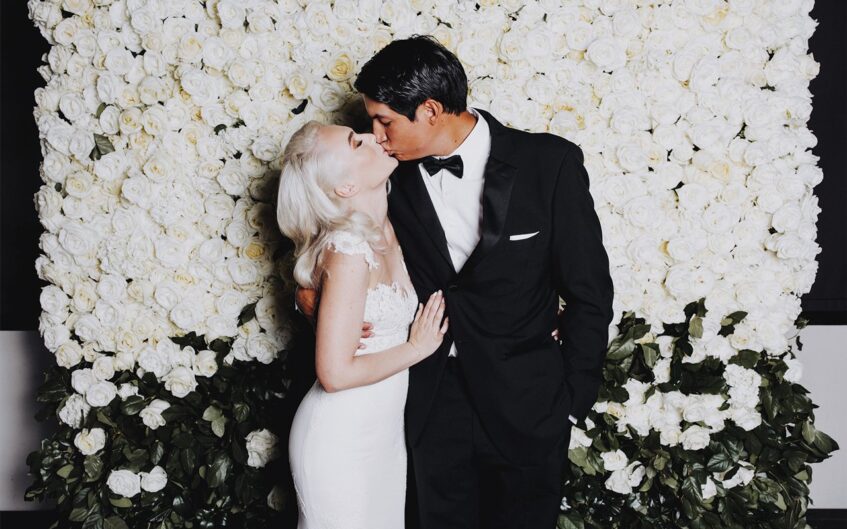 If you want an Instagram-worthy backdrop, you should consider a floral wall. These walls, which are constructed from a variety of flowers and greenery, can serve as a decorative feature for your ceremony or reception venue or as a backdrop for a photo booth.
To have a wonderful flower wall, you should also be careful of the size and area available. Also, make sure that the wall is strong enough and steady.
Conclusion
Your wedding day is a once-in-a-lifetime event, and your floral arrangements can help make it even more memorable. Your wedding flowers should reflect your personality and sense of style, whether you decide on a classic round bouquet or a statement arrangement. Therefore, spend some time considering various possibilities and collaborate with a talented florist to design the ideal floral arrangements for your special day. With these 10 gorgeous flower arrangements, you're sure to elevate your wedding decor to the next level.